Lululemon Bets Big On Millennial Moms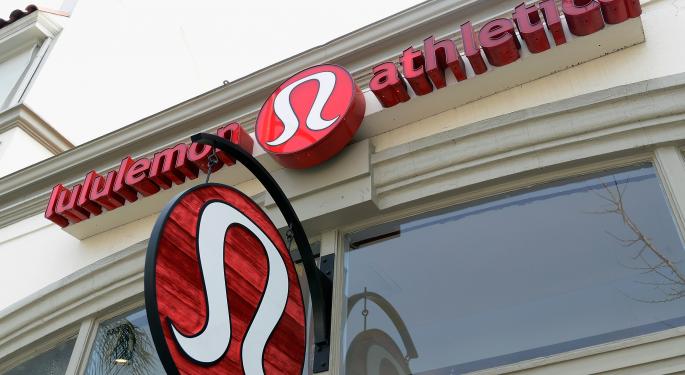 The last missive back in March discussed how subtle changes in Lululemon Athletica (NASDAQ: LULU)'s visual merchandising led me to believe that the company had some very clever— and accretive-- line extensions into higher fashion, higher margin—"off the mat" apparel and a nascent swimwear line.
Much speculation surrounds Tuesday's earnings release, from recent departures of senior level merchants, to the scars from the recent West Coast port crisis, to increased competition from a multitude of new entrants breathing down the long stretched neck of the company.
Competition comes from brands like NikeLab's X Sacai Collection, Alexander Wang for H&M, The Gap's Athleta, Urban Outfitters' Free People, Limited Brands' Victoria's Secret, Ralph Lauren's RLX, and of course Under Armor.
You get the point.
Yet, savvy investors will be prudent to see past all this noise and notice the as the company grows, it not only has its feet planted firmly on the mat with a cult following who pays full price, but also in my opinion, is leveraging that loyal client base in the clever pursuit of its progeny—millennial moms and their spawn. And the crowd cheered, 'IVIVVA!'
Flying under the radar, is this 'Mini Me' offshoot of the brand targeted at young active girls ages 6-12 as millennials pass the 'mating and dating' phase, Lululemon is banking on the hope that these moms seek to introduce their daughters to an active lifestyle with quality apparel that they deem worth the upscale price point.
Remember, to millennials it's all about perceived value and quality. Sure, they could buy 12 outfits at Target, but why?
Full disclosure: My six year old daughter drained my wallet at Lululemon to the tune of $100.00...trust me—it works.
That said, it's not just the reverse 'cradle to the grave' marketing by the company that galvanizes it as a long-term player in the 'athleisure' space. Lululemon is also investing heavily in its 'Digical™' presence-the marriage of physical retail outlets—both in large and smaller footprints—and sophisticated mobile apps and RFID technology, thus smoothing the consumer's experience and hopefully increasing units per transaction simultaneously.
With only 6 percent of all retail sales occurring on line, retailers must continue to fuse technical innovation with physical merchandising innovation to maintain relevance. These outlays along with a consistent and relentless R&D lab, and thoughtful line extensions like men's, women's, swimwear, boys & girls, should help the brand keep its place at the grown ups table- albeit for now.
Also to note, look how the stock trades like a luxury stock in the chart porn below: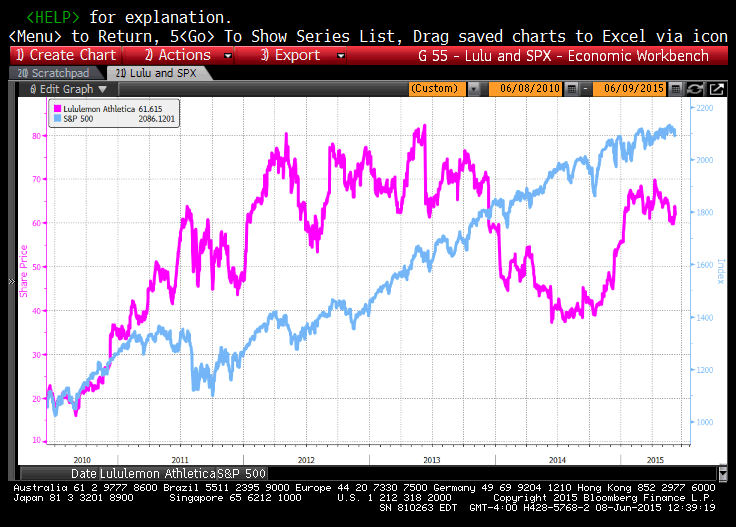 Posted-In: Alexander Wang Athleisure Athleta digical Free PeoplePsychology Opinion General Best of Benzinga
View Comments and Join the Discussion!