Touring Detroit Through The Eyes Of Legendary Silicon Valley Investors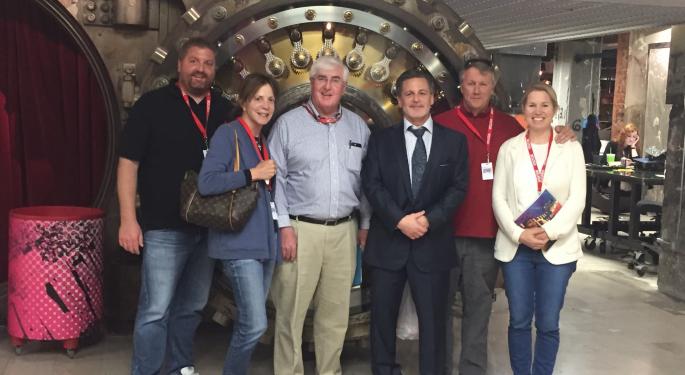 Interest in Detroit is at an all-time high as investors, leaders and innovators from across the world are seeing opportunity. Techstars, a world-class accelerator, realized the potential in the city and announced it will set up shop this summer, and others are traveling daily to tour the city to see for themselves.
The latest example happened when Detroit recently hosted legendary investor Ron Conway of SV Angel and his son, Ronnie Conway of A1 Investing, along with the founders of world-famous startup incubator/seed fund Y Combinator Paul Graham and Jessica Livingston.
The Silicon Valley crew were on a special tour given by Quicken Loans Founder and Chairman Dan Gilbert and his top lieutenants to show what was going on in Detroit.
A packed day was planned to give a glimpse into several of the exciting developments going on in the city and some of the future developments that will be announced in the coming months.
Dan started off by showing a presentation of what has occurred here during the past five years.
Some of the highlights:
Greater Downtown is approaching nearly 85,000 employees with major employers including General Motors, DTE Energy, Blue Cross Blue Shield of Michigan, Compuware, Ally Financial and Rock Ventures/Quicken Loans family of companies.
Since 2010, Detroit has added 16,000 employees.
Demand for downtown living is at an all-time high. The area's residential offerings - mostly apartments and condos in mid- and high-rises - are 98 percent occupied. Major new residential developments are under way in Capitol Park, Grand Circus Park and along Woodward Avenue, totaling over 1,300 new units. There is projected market demand for more than 500 new residential units annually.
'Astonishment' would be an understatement of how to describe the reactions on their faces. Ron Conway was taking meticulous notes during the presentations and Paul Graham was very focused on the Detroit Blight Removal Task Force guidebook that Dan Gilbert contributed to.
Quicken Loans' President Jay Farner and Rockbridge/Detroit Venture Partners head Brian Hermelin relayed some of the success stories that the Quicken Loans Family of Companies have had here.
Y Combinator's Paul Graham said, "I counted Detroit out, and from the looks of it, I was wrong."
After the visit, Benzinga reached out to Ron Conway and asked what he thought of his time in Detroit and its startup scene. He responded, "Dan Gilbert and his team are creating an urban miracle the whole world should follow and learn from," and that the startups he visited were "great," following up with "the more, the merrier."
On Dan Gilbert, Conway said, "Dan is an American hero!!! We should all follow his example and admire his leadership."
When asked how Detroit can attract more talent from out of state, Conway's response was "Based on the progress that has already been made here, just continue to build a bigger ecosystem and it will happen organically."
After the presentation, the crew headed out to see some of the exciting developments taking place around the city. The first stop was at the 'Qube,' as many call it, previously known as the Chase Tower. At the Qube, the Silicon Valley investors had a chance to witness the high-energy and vibrant culture of Quicken Loans.
The Detroit Effect
It's extremely rare to be able to pitch Ron Conway, Paul Graham and Jessica Livingston all in the same room. A few fellow entrepreneurs afterwards were asked what they would do for this opportunity, and all said they'd do 'whatever it takes' to be in front of those investors. To these companies trying to pitch to investors to create a successful business, Ron Conway advises to "focus on the product."
If you're in the startup scene in Detroit, expect these types of opportunities to become commonplace. After his visit, Paul Graham tweeted, "Visited Detroit. Very impressed by what Dan Gilbert has been doing there."
After the colorful Qube, the group then went to the Madison Block, where Gilbert showed the team over 15 startups that are building companies. A couple of the companies were lucky enough to pitch their ideas to this powerful group of investors.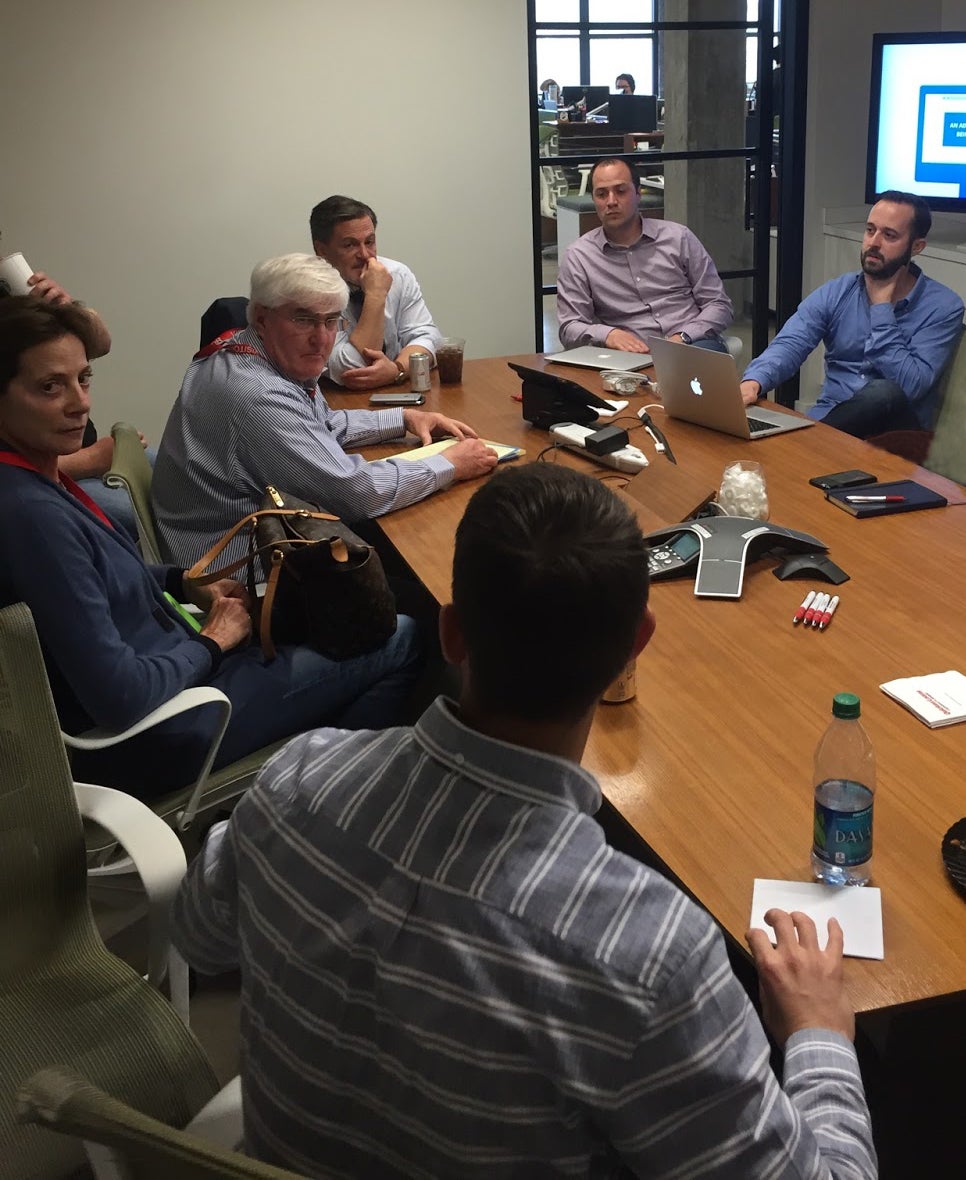 Photo credit: Jason Raznick
The first startup the team visited on the Madison Block was Detroit Labs. Detroit Labs was only an idea three years ago, but today it's a team of 85 building apps for the likes of Domino's Pizza, DTE and GM.
Reflections
It's amazing that a company like Benzinga used to have to be the one traveling to New York, Chicago, etc. to meet with partners and forge relationships. Now, it's refreshing to see that these legends of the startup movement are coming to visit places like Detroit to see what is happening here, instead of having the pitches travel to them.
And big names will continue to flock to Detroit to grab a seat at the table of the city's revitalization. Next week, Sir Richard Branson himself will be in town as part of an action-packed celebration marking the launch of Virgin Atlantic's brand new service between Detroit and London.
One of the highlights will be when Branson and a panel of leading Detroit business owners including Dan Gilbert and Bridget Russo, Director of Marketing at Shinola, give insights and advice on what makes a good business in Detroit. The event will also showcase four of Detroit's most innovative start-ups as they pitch their ideas live to the panel.
The more attention we can draw to the Motor City, the better the opportunities will become for startups and small businesses that have a national reach. The visit by Conway and Graham, as well as Branson's visit next week, are steps in the right direction for making Detroit one of the top innovation hubs and an 'urban miracle', as Ron Conway says.
View Comments and Join the Discussion!
Posted-In: A1 Investing Adriel Thompson Brian HermelinEntrepreneurship Opinion Startups Small Business Exclusives Best of Benzinga