Eliot Spitzer: 'Information Is What Is Going To Solve Market Failure'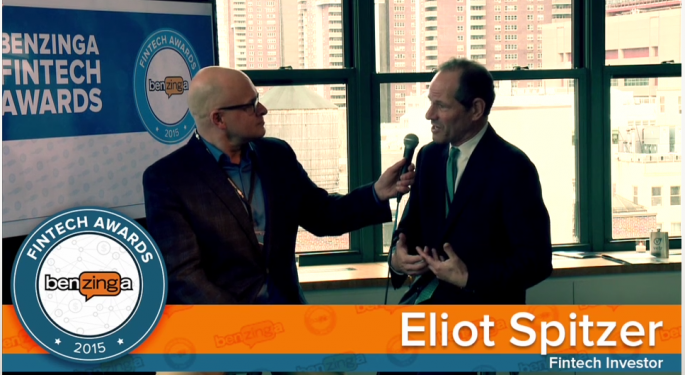 Financial expert and media personality Jeff Macke was the fireside chat host at the 2015 Benzinga Fintech Awards gala in New York on April 8.
Below is the video and full transcript of his talk with Eliot Spitzer, fintech investor and former Governor of New York.
Jeff Macke: And we're rolling. I'm with Eliot Spitzer. You know who he is. He's got quite a resume, you can Google it if you need to. He's also a fintech investor, which brings him to the awards. So tell me- you're long a couple of these companies. You're not just the former governor, raconteur, man about town, but you're actually long some of these companies here.
Eliot Spitzer: I've invested in one company in particular, TipRanks, that's here, and I want to spend the time just promoting them.
But, what I love about these companies, all the companies here, is they're trying to use creativity and the market to bring openness, transparency, and better investing to the ordinary investor. Information, ultimately, is what is going to solve market failure.
You can only regulate so much; you can't insure integrity in the market through regulation. Information and performance, if they're measured. And if information gets to the small retail investors, those are the best metrics, and that is the way you're going to provide the best opportunity for small investors to do well. That's why I love what these companies are doing.
Jeff Macke: So, talk to me, I'm interested in your take on social media when it comes to investing. Because you're seeing stocks that are getting moved 25-35%, because some hedge fund guy will tweet something. Does that seem kosher to you?
Eliot Spitzer: Well, is it kosher? Sure, it may be kosher in terms of legal. Is it smart investing? I don't think you're going to out-perform the market. And this is just me talking. I don't think you're going to out-perform the market, in the long run, with all those transaction costs, riding those very small waves where you believe you have that momentary information advantage based upon social media. I don't think that's the way to do it.
That's why, when I speak to audiences about long-term investing for those who are not mega hedge funds, I say, buy an ETF in a sector, be patient, avoid the transaction costs, because as TipRanks will tell you, most analytical reports are wrong. Most of these waves crest and fail and go back to where they were before, if not below. So that's why you have to take a longer time to rise and make sure your information is good.
And as I said earlier, what I love about the companies here today is that they're providing a window into accurate information, data points that are measureable, so that a retail investor, or a larger investor, depending- it doesn't matter who you are- can go to a screen and see accurate data about performance, about metrics that matter, over any time horizon you care about.
Jeff Macke: The democratization of it is incredible. The opportunity here is huge. Do you think though, from a regulatory perspective, would you start to be cracking down on some of these name-brand funds? Because, again, these stakes are so high. You can take a position and then you start trumpeting it. We had Bill Ackman get long a bunch about Allergen, the head of a Botox...
Eliot Spitzer: I'll tell you. There was a book written about Bill and his dynamic with MBIA. We investigated Pershing Square, and when it was short, MBIA found absolutely nothing wrong. There's nothing wrong with being a short. There's something wrong with manipulation. You can't knowingly manipulate the market, put out false information, lie to people about what you're doing. But if you genuinely believe a company is bad and you explain why? Nothing wrong with that. You may be right, you may be wrong, but that's the way the market is supposed to function.
Any time a company is shorted by somebody, the company claims a manipulation. Sometimes they're right, most often they're wrong. Shorts- look. Would I invest with a short? I'd be very hesitant, for two reasons- they need to be right, and they need to time it perfectly. It takes incredible staying power to maintain a short position if your timing is off- and so, I'm not here to give investment advice, but there's nothing wrong with shorting the market.
In fact, that's part of the function of those who argue the upside or the downside of the market. So, look- I'm game to let hedge funds articulate their positions. That's what they should do. Companies are all the time trumpeting why they're going to be good, what's wrong with somebody explaining why they're bad?
Jeff Macke: I think it's fantastic. I'm a free market guy. But-
Eliot Spitzer: But as a guy who speaks to people who are investing their IRAs, I would say, you don't want to stake your bet on that. What you want to do is take a time horizon that is longer, that is slightly more cautious, that is based upon something you can measure. And that's why, like I said, companies that are here today are providing a lot of those metrics.
Jeff Macke: Which is incredible, I mean, it's a brave new world. Do you think, though, as I've mentioned- we saw it with the .coms, we saw it with the real estate crisis, when the market turns down, that's when all of the sudden it becomes both politically expedient, and also, just from a regulatory perspective, more urgent, more time sensitive, to go after and start chasing these companies down?
Eliot Spitzer: Yes. There's a political imperative when there's been a- when there's blood on the floor, to blame somebody. And sometimes that blame is not properly apportioned, or the finger is not pointed at the right people.
Sometimes, on the other hand, the bubbles were created because there was impropriety. I think we've seen, in retrospect, leading into the 2008 crisis, a lot of stuff happened that shouldn't have happened. Civil wrong, criminal wrong, forget classifying it right now.
Stuff that was being done that shouldn't have been done, marketing techniques that were wrong, and business judgments that were fundamentally off that should have- where wiser voices should have said slow it down, leverage of this magnitude is wrong, no market goes in one direction forever.
Regulators got it wrong. Wall Street got it wrong. I'm not pointing the finger, I'm just saying we can accept that in hindsight. So when you see a bubble, or you're fearful of a bubble, you're going to want to take your foot off the pedal a little bit as an individual investor, certainly, and say, "Wait a minute, is this the moment to take a little bit of money off the table, be cautious, take the long run?"
Jeff Macke: And, this is like unfettered capitalism. This to me is exciting. We've got companies here that are young, these guys should be taking the risk, for the most part, you see the profile, you've got young, successful, bright people. They should be out there on the front line taking risks. But what about the individuals that we're addressing? Is it a fair game for them? Should they be cautioned?
Eliot Spitzer: Again, it depends who you are. That's why we have the principle of accredited investors. We want to say, "Look, if you don't have a net worth of above a certain threshold, it probably is not wise, nor will the government permit you to start throwing chips at certain types of companies."
On the other hand, as you just said, this is the market. The market is- and I think the most dynamic part of our capital markets has always been the VC world, the private equity world. I'm not one who dumps on them, just the opposite, I say, those are the guys taking risks.
If it's done with integrity, if it's done by investors who know what they're doing, that's great. That's what creates wealth, that's what creates innovation, that's why Silicon Valley has driven so much in certain areas. What you're doing here in the financial services sector can do the same thing. And that's what we hope to see out of it.
Jeff Macke: And if you're a 25 year-old right now who knows how to code, you'd be psychotic not to move out to Silicon Valley and try to part of this. I mean, you should be taking the risk, I really do think so.
Eliot Spitzer: Well, look, I have three kids, they're 20, 22, 25. I don't want any one of them to move to California, way too far away. You can do all of that here in New York City. Do you want to be part of that dynamic, exciting world? Absolutely. Do you necessarily want to move as far away from your dad as California? No way.
Jeff Macke: Alright. Eliot Spitzer says, hey, you can make plenty of money if you live at home with dad. It's okay, it's fine. Thanks so much, sir.
View Comments and Join the Discussion!
Posted-In: Benzinga Fintech Awards Eliot Spitzer Jeff MackeOpinion Exclusives Interview Best of Benzinga