Vetr CEO Explains How The Company 'Keeps It Simple' And Promotes Accessibility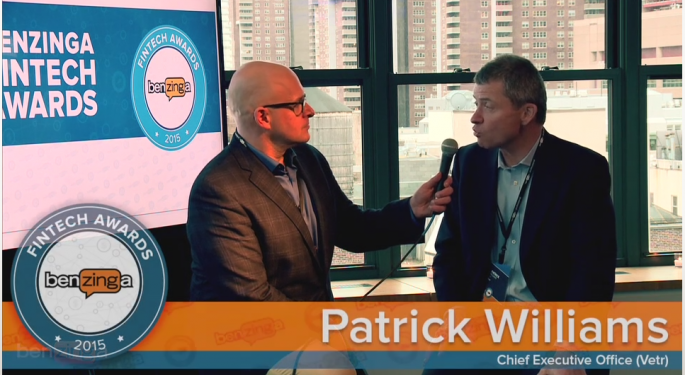 Financial expert and media personality Jeff Macke was the fireside chat host at the 2015 Benzinga Fintech Awards gala in New York on April 8.
Below is the video and full transcript of his talk with Patrick Williams, CEO of Vetr.
Jeff Macke: I'm with Patrick Williams at the Fintech Awards, brought to you by Benzinga, of course! Here to tell us what he's up for is the man himself, Patrick Williams. So, you guys are up for some awards. Tell me about your company, tell me what you do.
Patrick Williams: Thank you very much. We are up for a couple of awards tonight. What we do is, we're a crowd-sourced information research of everyday investors. So, for the 40 million SDIs in North America, what we are is a source to be able to come, rate stocks, rate their experiences with stocks, rate their experience with a company, socialize that through social media, explain that with their friends, have their friends explain it to them, pick up some of the best analysts in the country. But really, nowadays, no one really even goes to a restaurant without looking at Yelp, or buys a book without looking at Amazon. So why would be people now buy a stock without checking what their friends or influences say?
Jeff Macke: That's really cool. So, it's- are you finding that this is kind of a social media type of hook for customers? Or, what brings them to your site in particular? What brings them to Vetr?
Patrick Williams: What brings them to Vetr is amazed about our- most of our people are coming to us through SEO, which is great, that we're beginning to rise on that platform. And they're really coming to us because they're looking into information about a company. And they're finding that a lot of the information that they're getting is white papers from analysts, which is pages and pages long, or, too much information from other firms. Whereas, they come to us and it's simple, it's written by people like them for people like them.
Jeff Macke: Do you worry- and I've done some work on it- that you get into a feedback look of companies that no one wants to criticize, or, people, their natural urge is to look for research that kind of agrees with their book already. Do you think that individual investors, left to their own devices, will find information that they really need? Because some of those white papers are a little dull, but they might have some knowledge nuggets in there that investors might be able to use.
Patrick Williams: I think that the majority of the public right now, they're real opinion of major research is that that research is generally positive. What we are having a great experience with is actual research of the company and the products. So, the people who are writing for us are reviewing the product just as much as they're reviewing the company's performance. So, that gives a real time feedback, not only back to other investors who are looking to invest in the company, but to the companies and the hedge funds who are looking to invest in those companies in a much bigger way. So, I think it's real research, real feedback, and real live people who are dealing with the company.
Jeff Macke: Alright. Super cool. Patrick Williams, good luck tonight, my man. He's with Vetr. Of course, we're at the Benzinga Fintech Awards. Let us know what you think in the space below.
View Comments and Join the Discussion!
Posted-In: Benzinga Fintech Awards Jeff Macke Patrick Williams VetrOpinion Exclusives Interview Best of Benzinga