Streamlining The Loan Process With nCino CEO Pierre Naude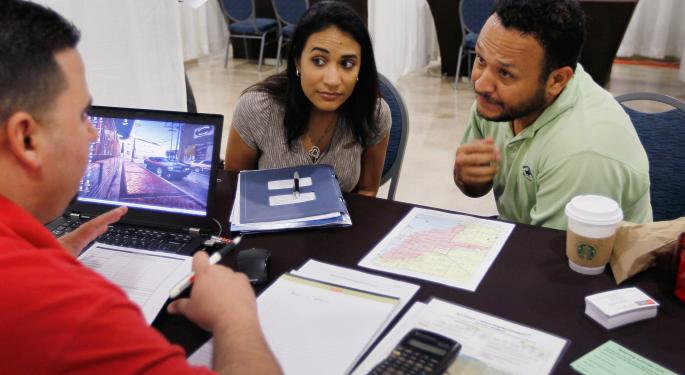 Financial expert and media personality Jeff Macke was the fireside chat host at the 2015 Benzinga Fintech Awards gala in New York on April 8.
Below is the video and full transcript of his talk with nCino CEO Pierre Naude.
Jeff Macke: Alright, we're up. Hey, I'm with Pierre Naude. We're at the Fintech Awards, brought to you by Benzinga. Hey, tell me about your company, tell me what you guys do.
Pierre Naude: You know, if you look at banking today, why is it that OnDeck Capital and Lending Club will come into the market and take business away? It's because the speed, efficiency and compliance. So we automate and make banks more competitive against these outside players and actually drive loan volume up, drive that time to close your loan.
Because if you think about it, a borrower only has two things in mind. Am I approved for the loan? And when can I get the money? And so, if you can't close that thing in time, you lose the deal. We see in our banks a drop off of about 50% of loans they start up to the end. Extremely inefficient.
And once they go in nCino, we can up that win rate and it drives profits, volume, and just more customers into the banking industry.
Jeff Macke: So, what is it about the loan getting processed that's become so entangled? Because I hear that all the time, where, supposedly you can borrow money forever, as long as you just don't need that money at all. It seems like getting a loan has never been harder, despite rates being so low and that push. What's going on with the big boys that we're missing that allows these guys to swoop in?
Pierre Naude: The problem with the loan is actually hurting cast. Think of all the people that has to work on that loan. So, you've got the borrower themselves supplying documents. You've got a lawyer. You've got a CPA. You've got an appraiser, an assessor. All those people have to work together.
They teach our loan system to do these things in a serial fashion. So, you finish one, then the next one. Well, if you get to step 9 and there's a problem, you go all the way back to step 2 and you do it over again. What we do is, just like Facebook, we allow people to go in at the same time and all work on that loan at the same time, resulting in a 40% reduction in that loan closing time.
Second thing is, we track compliance throughout the loan process so that, while getting the speed advantage, you're still compliant, and there's auto-trails tracking throughout the process.
Jeff Macke: Which is super cool. Can you guys hold up through a downturn on the regulators? Is the 'man' gonna start cracking down on companies like yours?
Pierre Naude: Well, I'm sure I can't quote them, but regulators love the system because they can do it remotely. They come into the system, they can see every individual who touches that loan any time, they can see all the exceptions.
You get two types of exceptions: a technical exception and a policy exception. So, whoever approved any exception is in the system. It's traceable and trackable.
So, the regulators can know to be coming, ordered you remotely, 24/7, and understand exactly who's responsible for what action taken.
Jeff Macke: So cool. Well, congratulations. Good luck, my friend. Benzinga Fintech Awards, folks. Changing the world one company at a time. Let us know what you're doing in the space down below.
View Comments and Join the Discussion!
Posted-In: Benzinga Fintech Awards Jeff Macke nCino Pierre NaudeOpinion Exclusives Interview Best of Benzinga