Expert: Here's A Big Clue That Apple Watch Sales Will Be FAR BELOW Expectations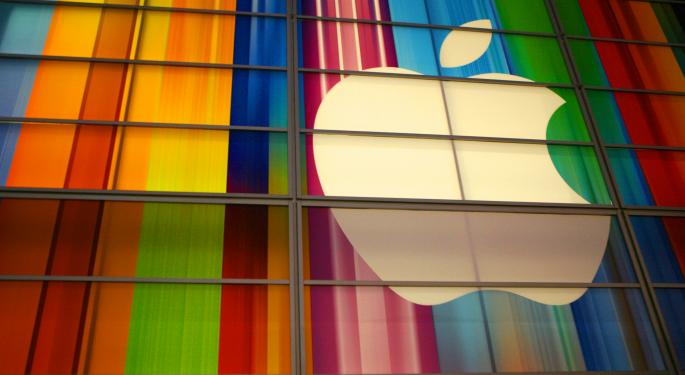 LikeFolio data projects that the Apple Watch will sell 9-14 million units in 2015, well below analyst expectations.
The Apple Watch is the next big launch for Apple Inc. (NASDAQ: AAPL), scheduled to become available in March or April. As usual, it looks like a beautifully designed, power-packed product… and it's getting lots of media hype.
But what about real consumers? How enthusiastic are they to buy the Apple Watch?
Turns out… not so much.
@IrisClasson The Apple Watch looks Plain, cluttered icons, as usual from Apple well over priced. Sad only for #Iphone6 use. Not good.

— Sonny (@sonnyleyba) January 7, 2015
But deeper than one influencer's opinion, we saw a general apathy toward the product from mainstream consumers. Everyone thinks it looks really cool… but few people are actually showing the intention to buy it.
So we dug into the data. All of English-speaking Twitter, to be exact.
We took at look at tweets since the announcement of the Apple Watch and compared those to the same period prior to launch of the iPad in 2010. What we found was interesting to say the least.
In 2010 we found "intent to purchase" indications for the iPad launch running at about 70% of iPhone numbers during that same time period.
Amazingly, during a similar period in 2015, we've found "intent to purchase" indications for the Apple Watch running at just 13% of the iPhone.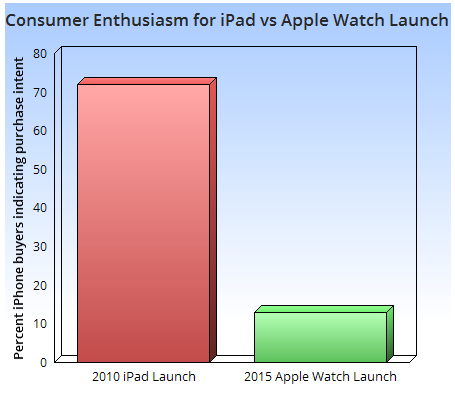 That's right — people in the target market (new iPhone buyers) are less than ONE-FIFTH as excited to purchase the Apple Watch now as they were to buy the iPad a couple months prior to its launch.
So we took that knowledge and applied it to today's market size in order to come up with our sales projection.
14% of iPhone owners bought an iPad in the year after its launch.
We see enthusiasm for Apple Watch at 20% of what the iPad had, so we can project that around 3-4% of the 315mm iPhone owners will get an Apple Watch in the first year.
As a result, we project that the Apple Watch will sell 9-14 million units in 2015, well below analyst expectations of 20-30 million (and above.)
Note— other analysts are using a similar method. They are comparing Apple Watch launch to the iPad launch. The difference is they are going on a survey of 600-1000 iPhone buyers to come up with a projection that 10% of them will buy an Apple Watch.
We like our data more. It's given to us unsolicited, in a MUCH larger sample size, and in consumer's own words.
Obviously, there's a lot that could happen over the next year for the Apple Watch. Apple Pay and 3rd party development breakthroughs could bring excitement into the product that isn't there yet.
But for now, we certainly wouldn't be banking on a huge number of watches moving the needle for Apple.
Andy Swan is the co-founder and CEO of LikeFolio, and can be reached at andy [at] likefolio.com
This article was submitted by an external contributor and may not represent the views and opinions of Benzinga.
View Comments and Join the Discussion!
Posted-In: Andy Swan LikeFolioOpinion Tech Trading Ideas