Don't RATION Me Bro! Port Crisis Gets Real With McDonald's French Fry Shortage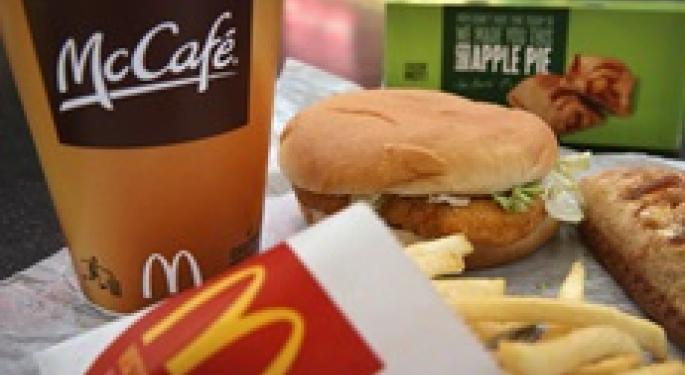 This piece contains the opinions of the author, Kristin Bentz, President at Talented Blonde, LLC, that do not reflect the opinions of Benzinga.com.
I've been lamenting the dangers of the West Coast port slowdown and its harmful effects on Black Friday and the holiday selling season for months now.
To really get a true read on holiday retail sales, investors must look at November and December together. Adding the downside risk to December retail sales is the port delivery slowdown that appears to be impacting the availability of merchandise.
Many choose to ignore the issue, as if it will just go away with discarded wrapping paper and Aunt Della's fruitcake. Until now.
Not Lovin' It
McDonald's (NYSE: MCD) Japan stores began RATIONING French fries on Thursday. No 'Super Size' for you my friend.
You see, processed potatoes from the U.S. are having a difficult time making their way out of 29 ports impacted by the ongoing dispute between the 20,000 longshoreman without a contract since July and the Pacific Maritime Association.
Japan is the second largest market for McDonald's behind the U.S., so one can easily see the disastrous impact the port crisis may exact on its Japanese business as well as its bottom line.
And, McDonald's is not alone.
WILLLLLLLLLLSONN!
FedEx (NYSE: FDX) Chairman, President & CEO Frederick Smith said on an earnings conference call that "The slowdown in the West Coast ports has been a much 
bigger deal than people think, and a tremendous amount of 
inventory was simply not put through the ports in the time frame
 that the retailers had expected."
Indeed, many retailers will see goods held hostage in ports where this alleged 'slowdown' is delaying delivery of goods in and out of U.S. ports.
Lululemon Athletica (NASDAQ: LULU) Chief Financial Officer John Currie, on a December 11 conference call said, "deliveries are behind seven to
 10 days and estimated that Q4 revenues will be hurt 
approximately $10 million."
Attempting to re-route December orders through its headquarters in Vancouver, the company anticipates one to three-day delays.
Wal-Mart (NYSE: WMT) was one retailer that got in front of the port crisis and shipped a large portion of its holiday merchandise early to avoid precisely the same pain retailers who were not so nimble are experiencing now.
"I suspect that you'll see a lot of purchases of gift 
cards in lieu of merchandise," FedEx's Smith said.
Try telling 6-year-olds that they can buy that Elsa Barbie from "Frozen" with a gift card.
Posted-In: Frederick Smith Japan John Currie Pacific Maritime AssociationRestaurants Opinion Exclusives Best of Benzinga
View Comments and Join the Discussion!