4 Most Expensive Games For NFL Week 4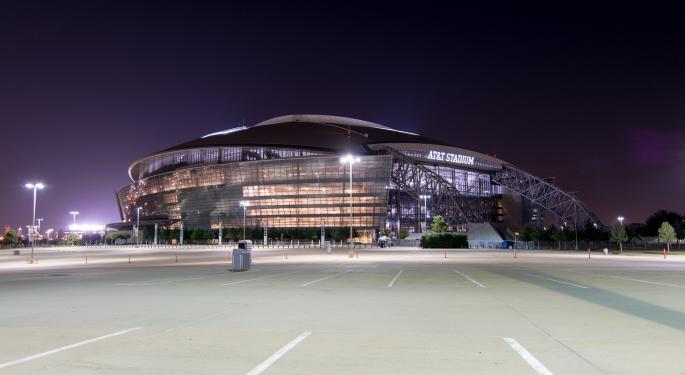 As the NFL season marches on, Week 4 will feature many intriguing matchup's this weekend.
All of this week's most expensive games will be played on Sunday, with a battle between the 49ers and Cowboys serving as the top-priced game of the week.
The Vikings and Giants meet in Minnesota, while the Bears continue to post big prices against the Lions despite their 0-3 start. The Ravens host the Raiders at M&T Bank Stadium while the Falcons and Panthers round out this week's top games list at the Georgia Dome.
View the complete list below, according to data provided by TicketIQ:
Dallas Cowboys @ San Francisco 49ers | Average Price: $379.66 | Get-in Price: $160
It's been a tough two weeks for the 49ers, who dropped consecutive games to the Panthers and Seahawks on the road. They return home hoping to bandage the wounds, and take on the 2-1 Cowboys. As the most expensive NFL game of the week, 49ers tickets on TicketIQ are averaging $379.66. If looking just to get in, the cheapest available ticket is listed from $160.
New York Giants @ Minnesota Vikings | Average Price: $288.79 | Get-in Price: $89
The new U.S. Bank Stadium in Minnesota has opened to rave reviews this season. The 3-0 Vikings will look to continue their winning streak at home against the Giants. Tickets at U.S. Bank Stadium now own an average resale price of $288.79 and the get-in price is $89. The Giants head to Minnesota on the heels of a 29-27 loss to the Redskins last weekend.
Detroit Lions @ Chicago Bears | Average Price: $256.86 | Get-in Price: $97
Despite a meeting between two losing teams, the Bears and Lions still generate big resale price points at Soldier Field. Tickets on the secondary market currently average $256.86 and the cheapest ticket is now $97. Regardless of the high prices, however, it's the second cheapest Bears home game remaining this season behind a December 24 game with the Redskins ($242.75 avg./$46 get-in).
Oakland Raiders @ Baltimore Ravens | Average Price: $223.56 | Get-in Price: $87
The surging Ravens will take on the Raiders at M&T Bank Stadium. At 3-0, the Ravens will look to further their spot atop the AFC North, but the 2-1 Raiders have shown positive signs over the first three weeks of the season. In what will be one of the most anticipated games of the week, Ravens tickets against the Raiders are averaging $223.56 and the get-in price starts from $87.
For more information on NFL ticket price action, check out www.ticketiq.com.
View Comments and Join the Discussion!
Posted-In: Baltimore Ravens Chicago Bears Dallas Cowboys Detroit LionsNews Sports Events General Best of Benzinga