Exclusive: Lion Electric CEO On Amazon Partnership, SPAC Merger, Biden Administration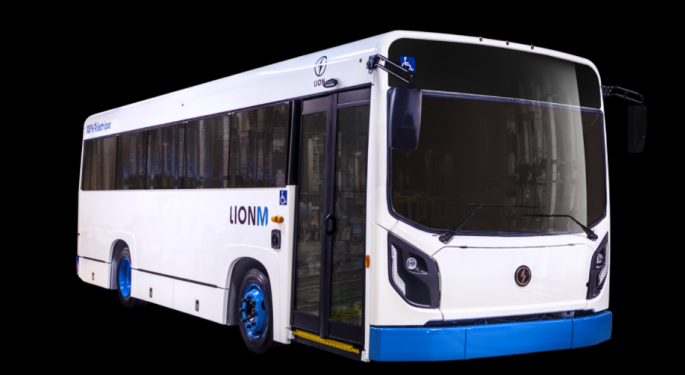 Lion Electric CEO Marc Bedard and Northern Genesis Acquisition Corp's (NYSE: NGA) Ian Robertson joined Benzinga's SPACs Attack show to discuss their merger and growth ahead.
The SPAC Deal: Lion Electric is going public via a SPAC due to the speed to market. The merger will save around a year in time and brought $500 million on the balance sheet to keep the competitive edge, Bedard said.
Lion Electric going public via SPAC helps the company keep its first-mover advantage and stay ahead of competitors, Robertson said.
"The thing that struck us was how conservative they were," Robertson said of Lion's financials. With customers like Amazon.com Inc (NASDAQ: AMZN) and others, the "line of sight to 6,000 vehicles is not just aspirational."
Amazon Partnership: A partnership between Lion Electric and Amazon has been a big headline and helped shares of Northern Genesis trade higher.
The deal is for a maximum of 500 units per year allowing Lion to allocate manufacturing capacity to other customers.
"There's no minimum," Bedard said. "It's up to 2,500 units for the next five years."
For fiscal 2026 to fiscal 2030, Amazon has the option for 10% of Lion's manufacturing capacity. The first two units under a prior ten unit deal with Amazon were delivered over the last few weeks.
Related Link: Lion Electric, Nuvve Complete Vehicle-To-Grid Deployment
New Factory: A new production facility is expected to boost the capacities for Lion Electric. Right now, Lion has a capacity for 2,500 units at its Canadian facility. The new U.S. factory is aiming to build over 20,000 units per year.
"It's going to be in Q1 for sure," Bedard said when asked about the timing of the announcement. Michigan, Illinois and Texas are the finalists, according to the CEO.
Partnerships: Blink Charging Co (NASDAQ: BLNK), Chargepoint and ABB (NYSE: ABB) are all partners with Lion on charging infrastructure.
"We need to provide them with the best equipment," Bedard said on the partnerships helping with customer orders for trucks and buses.
"There is so much more to the Lion opportunity than just the great profitable sale of trucks," Robertson added.
Lion also has partnerships for batteries saying a multi-sourcing strategy helps de-risk the company from potential supply issues. Partners for batteries include BMW and Romeo Power (NYSE: RMO).
Growth Ahead: Lion Electric has over 10 years of experience in the field and sold its first buses in 2016. Bedard believes the company is ahead of competitors in terms of financing, technology and production.
Lion Electric has more products coming in the future with an electric refuse truck, an electric bucket truck and an electric ambulance.
Waste Connections (NYSE: WCN) is a customer of Lion's upcoming refuse truck. Bedard said the company is in talks with several refuse customers, but could not disclose names.
The new administration under Joe Biden could offer growth for a company like Lion Electric with plans for expansion of electric vehicles and electric buses.
"It means a lot to us," Bedard said on the changing of administration. The push for clean energy and electric buses is one reason why Lion is adding production capacity.
"Aren't we at such an incredibly exciting time," Robertson said.
Watch the full interview on SPACs Attack here.
View Comments and Join the Discussion!
Posted-In: clean energy electric bus Electric Truck electric vehiclesSmall Cap Exclusives Trading Ideas Interview Best of Benzinga