Ambarella Would Give Qualcomm 'A New Growth Engine'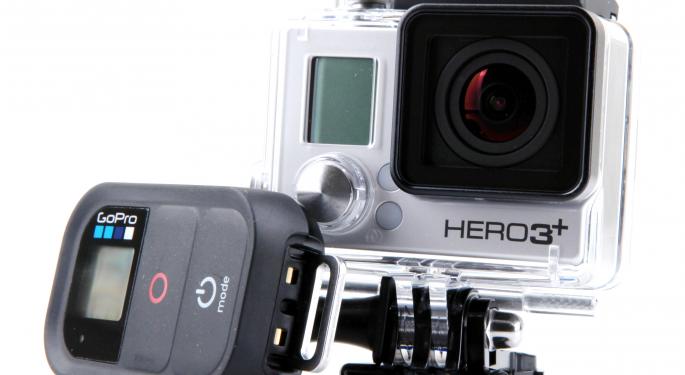 Ambarella Inc (NASDAQ: AMBA) is a hot stock right now, rising more than 75 percent year-to-date. The company (which supplies HD chipsets) has an impressive list of customers, including GoPro Inc (NASDAQ: GPRO), Xiaomi and Huawei.
Some have speculated that QUALCOMM, Inc. (NASDAQ: QCOM) should pick up Ambarella. This wouldn't be a cheap acquisition, however -- the company's market cap currently stands at around $2.8 billion. Any massive chip maker could afford to pay the premium required to take control of Ambarella, but should they?
"It certainly would give Qualcomm a new growth engine," Cody Willard, chairman of Scutify and Futr, told Benzinga. "I consider Ambarella the Intel of wearables."
That begs the question: would Ambarella be a good buy for Intel Corporation (NASDAQ: INTC)?
"Sure," Willard replied. "I've owned Ambarella for more than a year and I'm not expecting these companies to suddenly buy it. I'm not expecting anything like this. [But] as far as strategy and technological roadmaps go, Ambarella would make sense for most any chip company that has the market cap and/or cash to [complete the acquisition]."
Willard said that "anybody with a market cap of more than $10 billion is a potential acquirer."
"I'm sure there are dozens of chip companies that have a market cap measured in tens of billions," he added.
Related Link: GoPro Could Thwart Digital Ally's Growth Potential
Inevitable Threats To Ambarella's Biggest Customer
Brett Golden, president and co-founder of The Chart Lab, told Benzinga that any company could pose a threat to GoPro's future. That isn't necessarily bad for Ambarella, so long as the company supplies all of GoPro's competitors.
"It's a commodity," Golden told Benzinga, referring to GoPro. "There's nothing proprietary about it whatsoever. I don't get it. I would short the stock here, quite frankly."
GoPro hopes to become more of a content company. Golden said that is the "only way to go if they want to justify their multiple."
Related Link: Pacific Crest: Qualcomm Buying Ambarella Is 'Plausible'
Willard also sees a potential threat to Ambarella's empire.
"The flipside of it being a small company is that a big player can squeeze in," said Willard. "But Ambarella has dominated thus far and the longer they build that dominance and the supply chain into these wearables, the harder it becomes to upset them as the de facto standard for video chips."
Fast-forward two years from today and Willard said there will be a "plethora of GoPro-like [devices] and new form factors of video recording wearables."
However, there is one potential competitor that could spell trouble for both GoPro and Ambarella: Sony Corp (ADR) (NYSE: SNE).
"Sony is one of the potential competitive threats to Ambarella in the long run anyway," said Willard. "Ambarella is very richly priced right now. Ambarella is positioned as well as it possibly could be."
Disclosure: At the time of this writing, Louis Bedigian had no position in the equities mentioned in this report.
Posted-In: Brett Golden Cody Willard The Chart LabRumors Exclusives Tech Best of Benzinga
View Comments and Join the Discussion!