PetSmart vs. Staples - Who Packs A Better Investment?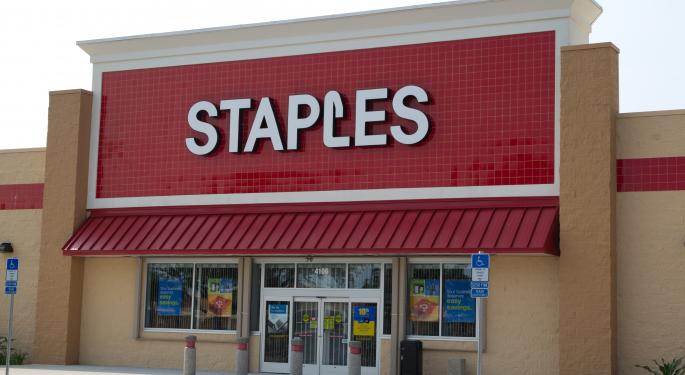 In the 1990s, the United States saw the proliferation of the big-box store, which saw warehouse-sized store locations housing hundreds of options for the consumer to choose from. Though they had existed before the '90s, it was about 20 to 25 years ago when the warehouse-sized store concept really took off.
All of a sudden industries that had been dominated for decades by small retailers were swallowed whole by supersized competitors. Two of the companies thatrose to prominence during the '90s were PetSmart (NASDAQ: PETM) - retailer of pets and pet supplies, and Staples (NASDAQ: SPLS) – office supply megastore. In the years since their rise to prominence, both of these companies have seen their ups and downs. Let's see how they did over the past 13 or so months – since the beginning of 2013.
Through 2012, PetSmart's stock price had been on a steady climb. But as 2013 came into view the company's stock had begun to stall, and even retreat. On January 2, 2013, an investor could purchase a share of PetSmart for $69.00. The stock quickly sank in the beginning months of the year, and pulled back in under $63.00 in April, which would represent the stock's yearly lows.
Related: Radio Shack vs. General Mills: Which Would You Rather - Super Bowl Edition
From there it was mostly uphill for the stock, which rose until it saw a yearly high of $77.32 on October 1. Though PetSmart did pull back from its high, it managed to close at $72.75 for the year. Overall, the stock closed up just a few percentage points for the year.
Interestingly, investors who were disappointed in the stock's performance for 2013 would have been wise to sell the year-end price, considering what the new year had in store. January 2014 for PetSmart stock was bad news, with the sock finishing the month at just $63.00.
Staples opened 2013 in the range of $11.50, after falling in early 2012 and trading in a narrow range for the rest of the year. After surging to $17.30 in mid-August, which would have represented a 50 percent increase year-to-date, the stock literally jumped off a cliff. By August 22 the stock was trading under $14 per share. Staples stock did show that it had some fight in it, and clawed back over $15 to close the year. In fact, its $15.89 closing price represented a 38 percent increase in the stock's value over the course of 2013.
Some wonder if the era of the big box store has come and gone. Though general big box companies like Wal-Mart and Target are still thriving, some of the more specialty warehouse chains seem to be fighting against the tide.
But investors know that a company does not have to be in a growing marketplace in order to see an increase in share price. Sometimes a company doesn't even have to grow at levels that analysts expect, but only has to avoid failing as quickly as the consensus predicted. As such, there is still money to be made with stocks from big box stores, as can be seen by the 2013 performance of Staples.
Posted-In: Target WalmartRetail Sales Markets Best of Benzinga
View Comments and Join the Discussion!