How Much Does Berkshire Hathaway Like Consumer Goods?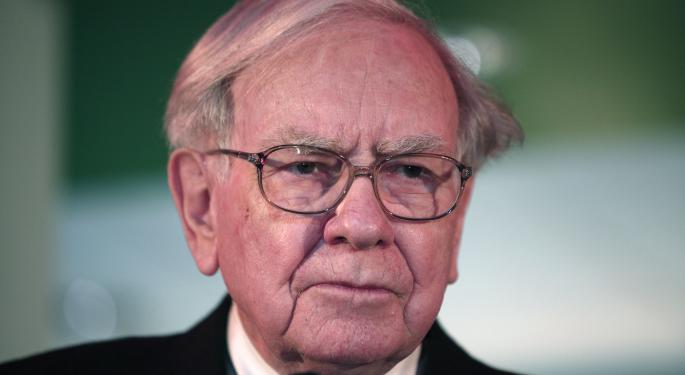 Berkshire Hathaway Inc. (NYSE: BRK-A) and Warren Buffett have long-standing investments in the financial sector, including early investments in insurance. What may not get as much attention is another area that Berkshire likes holding for the long-term: consumer goods.
According to the firm's 13F filing, Berkshire Hathaway allocated nearly 30 percent of its portfolio in consumer staples and consumer discretionary companies.
Some of the firm's larger holdings include companies like The Coca-Cola Company (NYSE: KO), Wal-Mart Stores, Inc. (NYSE: WMT) and Procter & Gamble Co (NYSE: PG).
Related Link: Should Investors Ever Bet Against Warren Buffett?
In addition to publicly held companies, there are private ones as well. Berkshire Hathaway took a 50-percent stake in H.J. Heinz in 2013, and it was announced Thursday that the firm is acquiring Duracell from Procter & Gamble.
Other acquisitions include Dairy Queen in 1997, Fruit of the Loom in 2002, See's Candies in 1972, investments in Wm. Wrigley Jr. and Furniture Mart in Buffett's hometown of Omaha, Nebraska, in which he took a majority stake in 1983.
The above examples are just a sampling of Buffett's activity in the consumer goods sector over many decades.
The reason for Berkshire's interest in the consumer sector can be summed up by Buffett himself who has been widely quoted as saying, "We see change as the enemy of investments...so we look for the absence of change. We don't like to lose money. Capitalism is pretty brutal. We look for mundane products that everybody needs."
The consistency and predictability of the consumer goods sector seem to be what Buffett likes, while avoiding speculation in unproven technologies or businesses.
Buffett told Businessweek in 1999, "Our approach is very much profiting from lack of change rather than from change. With Wrigley chewing gum, it's the lack of change that appeals to me. I don't think it is going to be hurt by the Internet. That's the kind of business I like."
Berkshire Hathaway recently traded at $218,750, up 0.3 percent.
Posted-In: BusinessWeek DuracellM&A Success Stories Best of Benzinga
View Comments and Join the Discussion!