Old Dominion's Q3 Results: Best In Class LTL And Getting Better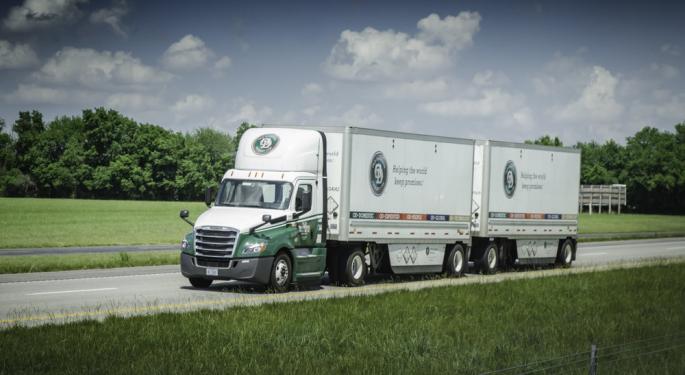 Old Dominion Freight Line (NASDAQ: ODFL) reported impressive revenue and earnings growth on a call with equities analysts this morning. President and CEO Greg Gantt and Adam Satterfield, SVP and CFO, led the presentation.
OD's top line revenue grew 21.2 percent year over year to $1.06B and earnings per share swelled 71 percent to $2.12. Even more impressively, Old Dominion achieved a 78.4 percent operating ratio, a company (and possibly industry) record and 280 bps improvement over Q3 2017.
"The 21.2 percent growth in revenue over the same period of last year included a 12.5 percent increase in LTL revenue per hundredweight and an 8.1 percent increase in LTL tons," Gantt said. "The increase in LTL tons resulted from an increase in LTL shipments of 9.7 percent that was partially offset by a 1.4 percent decrease in LTL weight per shipment." Gantt explained that the decrease in weight per shipment was due to deliberate operational changes made by OD to take some of the heaviest, undesirable shipments out of its network. OD also took advantage of strength in the trucking cycle to reprice its less profitable accounts.
"Ongoing demand continues to be strong and we wanted to protect service and capacity for average-weighted LTL," Gantt said. "We haven't seen anything at this point be it the macroeconomic numbers we look at or customer feedback that would suggest any kind of slowdown."
Old Dominion plans to continue taking market share (currently about 9.5 percent of LTL) by adding more service centers to its network, which stood at 234 facilities at the end of the quarter.
Don't miss MarketWaves 18. Register today
Analysts repeatedly noted Satterfield's conservative guidance for operating margins of 20-5 percent, which the company has managed to surpass fairly consistently.
"When is operating margin going to go down?" asked Amit Mehrotra from Deutsche Bank. "With pricing seeming quite strong, a small weight per shipment headwind, tonnage positive but tough comps, better book of business… why shouldn't incremental margins stay at 30-5 percent?"
Satterfield said that Old Dominion maintains a long-term, strategic focus on its plan to take more market share by acquiring real estate and building service centers in dense lanes. It may make sense to invest in the business and expend capital even if the short-term top line revenue trend is moving in the other direct, Satterfield reasoned.
Ari Rosa from Bank of America Merrill Lynch asked if investors should be concerned that if there is a slowdown that OD could be left with idle capacity.
"Right now we don't have that concern. This gets back to how we plan to grow. Owning our real estate is a competitive advantage. We see one or two more openings in the fourth quarter, and looking into next year, expect us to open a fair number of service centers. If there's any short term lull, we have to think about longer term, not managing to short term expectations," said Satterfield.
In response to a related question, Gantt confirmed that it appears that truckload capacity has "loosened somewhat." Gantt also said that fourth quarter comps will be toughed, but that OD can drive its operating ratio lower.
"We believe Old Dominion is in a unique position in the LTL industry," Gantt said.
View Comments and Join the Discussion!
Posted-In: FreightEarnings News Guidance Management