Canadian National Saw Performance Drop In Third Quarter As Capital Projects And Repairs Slowed Railcars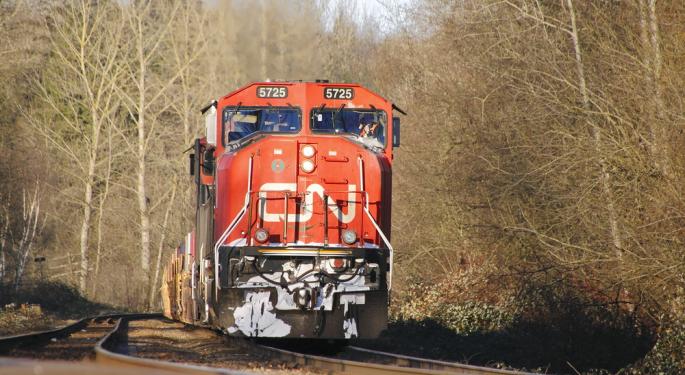 Crude-by-rail is big growth driver for quarter as rail remains key outlet for Canadian crude.
Canadian National Railway (NYSE: CNI) became the latest railroad to beat earnings estimates thanks to the growth in bulk commodities such as crude, grain and coal. But operating ratios weakened as costs rose and performance measures also deteriorated.
The fifth largest railroad by revenue, Canadian National saw revenue rise 14 percent to $3.69 billion Canadian dollars. Adjusted net income rose 11 percent to $1.1 billion with earnings per share rising 15 percent to $1.50, which was better than the $1.48 per share consensus estimate.
But the operating ratio deteriorated to 59.5 percent, 230 basis points higher than last year. The decline came as operating expenses rose 19 percent to $2.2 billion.
The company cited higher fuel costs, which rose 33 percent year-on-year, and higher labor and training expenses as the company ramped up hiring. CN's headcount rose 2,715 employees over the past year, bringing total employees to 26,143.
The hiring and training new employees, combined with completion of capital projects and track maintenance, reduced train velocity 12 percent to 22.5 miles per hour. Terminal dwell also increased slightly to 16.9 hours.
Chief executive Jean-Jacques Ruest says CN had a "challenging September as we were completing many construction projects under heavy heavy in the busy western corridor."
But he says hiring will slow and the capital projects will mean additional volumes in the coming quarters. Revenue ton miles (RTM) in the third quarter were up 4 percent. But Ruest says RTM through October has improved to 9 percent.
Bulk commodities led revenue growth. Petroleum and coal revenues rose 25 percent for the year, with crude-related revenue up $80 million from last year. As much of Canada's crude oil remains landlocked due to the lack of pipeline capacity, producers are turning to rail to bring oil from Alberta to U.S. Gulf Coast export terminals.
"We think next year will be very solid for crude-by-rail," Ruest said.
Lumber and wood panel revenue was up 17 percent thanks to U.S. housing starts. Coal revenue was up 25 percent. Metals and minerals and grain each rose 15 percent.
Intermodal, CN's largest segment, saw revenue growth of 8 percent. Ruest credited growing volumes from the Port of Prince Rupert and the Port of Montreal, which saw new liner service from Maersk. Automotive saw revenue growth of 3 percent.
Ruest says CN's construction and maintenance projects limited intermodal's ability to take share from trucking in the third quarter. But he says CN plans to ramp up chassis and container capacity in the fourth quarter to bring in more long-haul business.
"We didn't go out and exploit what the over-the-road market made available to railroads," Ruest said. The extra capacity means CN "will be able to compete with truck market."
Ruest says there has been a pull-forward in container volumes coming into North America due to U.S. tariffs imposed on Chinese imports. But he says Chinese container volumes may be offset as production moves to countries not under U.S. tariffs.
"We got the sense that we had an earlier peak this year," Ruest said. "The fall peak came in earlier because producers in Asia shipped ahead of duties coming in."
"The product will come from somewhere," he added. "Factories move very quickly. A number of them already moved out of China to Vietnam, Bangladesh, Indonesia. Overall, we are pretty bullish on trans-Pacific trade from Asia to North America in 2019, but it might be coming from different ports of origin."
Posted-In: Freight tariffsEarnings News
View Comments and Join the Discussion!