Checking In On The Global Economy With Caterpillar Earnings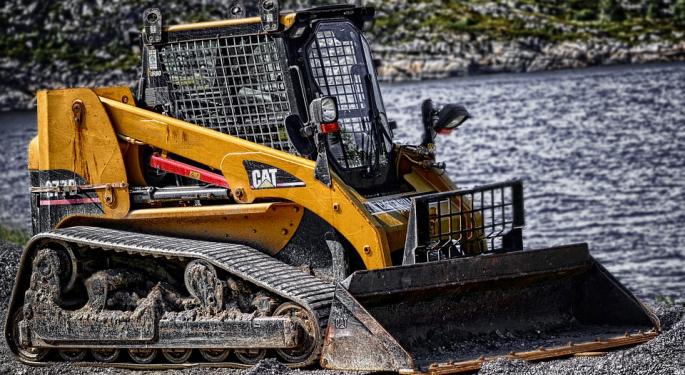 There has been more uncertainty regarding trade and economic growth these past few months. This week, investors might get an idea of whether this is translating into broader economic impacts when heavy equipment maker Caterpillar Inc. (NYSE: CAT) reports earnings before the open on Tuesday, Oct. 23.
For Q3, CAT is expected to report adjusted EPS of $2.85 on revenue of $13.29 billion, according to third-party consensus analyst estimates. In the same quarter last year, adjusted EPS was $1.95 on revenue of $11.41 billion.
Naturally, tariffs and the global trade tensions have been a topic of concern among many analysts. During the company's last report, Joe Creed, who was interim CFO at the time, said he expects tariffs would add between $100 million and $200 million to material costs in the second half of the year.
At the same time, CEO Jim Umpleby said that they hadn't seen any material impact on CAT's business in China due to trade tensions. It has been a few months since then and the situation has evolved, so management might provide an update on whether or not much has changed for them.
While tariffs have added some headwinds, management cited several positives that they expect will offset tariffs and higher material costs. The first being that CAT had implemented price increases on July 1 this year. The company has also focused on what it calls its "Operating & Execution Model", which is partially designed to maintain structural cost control.
Overall, analysts are still widely positive on the economic backdrop for the company. Global growth remains strong in many major economies like the U.S. and China, although opinions vary widely on how long this level of growth can be maintained. Many countries, including the U.S. and China are still focused on infrastructure spending as well.
And almost across the board, commodity prices have stabilized and are well off their lows a few years back, which has aided the recovery in CAT's mining, farming, and oil and gas businesses. In oil and gas and mining, CAT said in July that they were seeing "strong demand and taking orders for delivery well into 2019." When it reported Q2 results, CAT's backlog was at $17.7 billion, up slightly from $17.5 billion in Q1 2018.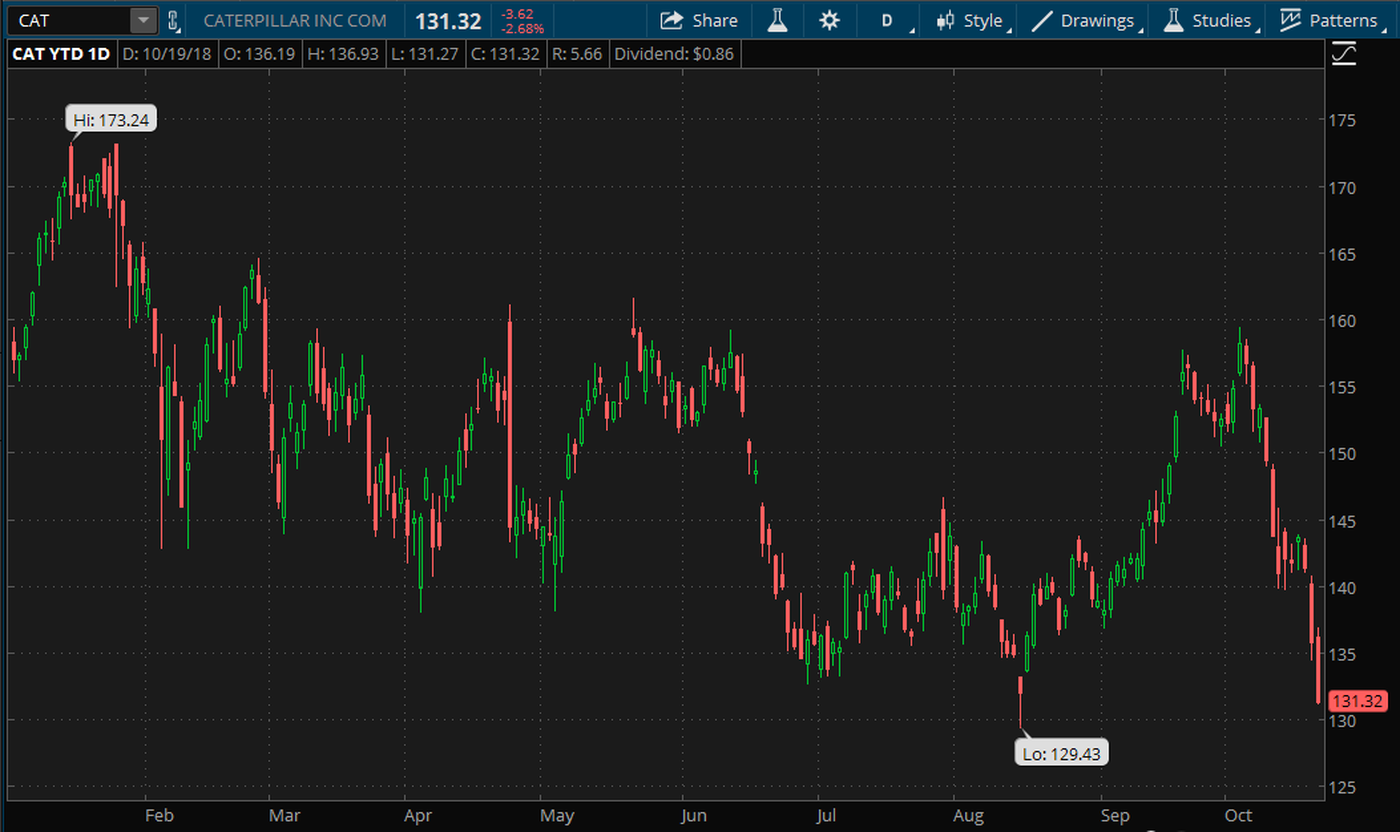 Down at the Lows. CAT has rallied substantially from its 2016 low of $56.36, but the stock has pulled back a bit in 2018. Outside of a few green days, CAT has dropped rapidly over the course of October, going from a slight gain on the year to about a 17 percent decline. Chart source: thinkorswim® by TD Ameritrade. Not a recommendation. For illustrative purposes only. Past performance does not guarantee future results.
Around CAT's earnings report, options traders have priced in a 5 percent stock move in either direction, according to the Market Maker Move indicator on the thinkorswim® platform. Implied volatility was at the 81st percentile as of this morning.
In short-term options trading at the Oct. 26 weekly expiration, call volumes have been lighter in recent trading and there's just been a smattering of activity from the 133 strike price up to the 138 strike. On the put side, however, there was a lot of action during Friday's session.
21,505 contracts traded at the 132-strike put and 15,470 contracts traded at the 130-strike put, versus open interest of 274 contracts and 111 contracts, respectively. This was largely due to several large block trades—three orders alone accounted for 28,149 of the volume traded at those strikes.
Looking further out at the Nov. 16 monthly expiration, calls have been active at the 145 strike price and activity has been picking up at the 135 and 140 strikes as well. For puts, recent trading has been concentrated at the 130 and 135 strikes. There is also a sizable amount of open interest at the 145-strike put with 16,589 contracts.
Note: Call options represent the right, but not the obligation, to buy the underlying security at a predetermined price over a set period of time. Put options represent the right, but not the obligation to sell the underlying security at a predetermined price over a set period of time.
Posted-In: TD AmeritradeEarnings News Previews Options Markets Trading Ideas
View Comments and Join the Discussion!