Benchmark Nears Benchmark: 10-Year Close To 3% Ahead Of Earnings Deluge
A boatload of earnings drop anchor in coming days along with key U.S. housing data and a meeting of the European Central Bank (ECB). This comes after the old week ended with a thud, potentially putting the market on somewhat precarious ground. Meanwhile, the benchmark 10-year yield is on the verge of hitting 3 percent for the first time in more than four years.
Caution continues to be the watchword after stocks skidded Thursday and Friday, and there really isn't much direction evident. Range-bound activity could continue for a while. On the positive side, the major stock indices managed to end last week narrowly higher, and a few areas sometimes seen as barometers for the broader economy — including transports, copper, and S&P 500 industrials, energy and financials — gained over the course of the week.
The key earnings report today comes from Alphabet Inc. (NASDAQ: GOOG) (NASDAQ: GOOGL) after the close. For Q1, GOOGL is expected to report adjusted EPS of $9.21, up from $7.73 in the prior-year quarter, on revenue of $24.29 billion, according to third-party consensus estimates (revenue estimates are on a net basis excluding traffic acquisition costs). Revenue is projected to grow 20.7 percent year over year, while coming in shy of Q4 2017's $25.9 billion, which is typically the company's busiest quarter.
Even though Google's advertising business is now bundled within Alphabet's subsidiaries, as its largest source of revenue it's still the primary focus among analysts and investors.
GOOGL kicks off one of the busiest earnings weeks of the quarter. So far, results look pretty good across the board, but the lesson to date is that companies could need to tear the cover off the ball to get any respect. A slight beat of expectations might give a company a small edge, but any miss on the revenue line or disappointing guidance could result in a stock getting hammered. There's no reason to necessarily believe this will change as earnings season continues. It's still a "show me" market.
Stocks edged slightly lower for the most part in Europe and Asia overnight, and oil weakened a little.
Mystery of the Missing Bank Rally
The mystery of the month seems to be the divergence between rising benchmark 10-year yields and lack of vigor in financial sector stocks. The financial sector barely moved Friday even as 10-year yields hit a new four-year high of 2.96 percent (they climbed all the way to 2.99 percent by early Monday). Higher yields often tend to help big bank stocks, but there's little sign of that yet. It was very odd to see none of the banks having a big day Friday even as yields popped. One possible reason for bank stocks' lethargy could be that investors have seen 10-year yields come close to these levels a few times over the last three months only to fall back, so maybe people are worried they might get burned again if they jump into financials at these yield levels.
The other issue could be that higher yields have people worried about inflation and potentially a more hawkish Fed. If the Fed raises rates four times this year instead of what most people expect to be three rate hikes, that could slow down the overall economy and put banks in a tough situation. Investors watching big bank earnings earlier this month probably noticed that some of them missed numbers in their loan business. If rates go higher loans could become even less attractive, and higher rates could also slow down trading in fixed income. None of this would help banks.
As of the end of last week, Fed funds futures pointed toward a nearly 100 percent chance of another rate hike by June, which would be the second of the year. Chances of a third rate hike by September are above 75 percent. The thing to watch is expectations of a fourth hike by the end of the year, odds of which climbed above 40 percent recently. That's up from only around 25 percent earlier this month after a pretty weak jobs report.
Key Earnings Ahead for Telecom, Info Tech, Industrials
Some huge U.S. industrial companies report Q1 results in the days ahead, including Caterpillar Inc. (NYSE: CAT) on Tuesday and Boeing Co (NYSE: BA) on Wednesday (see below). Investors will also hear from two of the telecom industry's biggest names in AT&T Inc. (NYSE: T) and Verizon Communications Inc. (NYSE: VZ) this week, while info tech takes center stage Wednesday with Twitter Inc (NYSE: TWTR) and Facebook, Inc. (NASDAQ: FB).
The tech sector really comes into the spotlight as the week continues with Microsoft Corporation (NASDAQ: MSFT) and Amazon.com, Inc. (NASDAQ: AMZN) due after the market close Thursday, followed by a word from the energy sector Friday morning as Chevron Corporation (NYSE: CVX) and Exxon Mobil Corporation (NYSE: XOM) step forward. In a world where oil prices keep climbing, the energy stocks might draw more attention than usual.
Don't forget to watch for earnings from two stalwarts of the U.S. automotive industry with Ford Motor Company (NYSE: F) on Wednesday afternoon and General Motors Company (NYSE: GM) on Thursday morning. These results, as well as AMZN's, could go a long way toward telling investors whether U.S. consumers are out there spending with unemployment near 20-year lows and the new tax reform plan in effect.
While earnings take center stage for much of the week, keep in mind some other undercurrents that could influence market action. These include the ECB meeting which ends Thursday, as well as existing home sales this morning and new home sales Tuesday. Also, Apple Inc. (NASDAQ: AAPL) shares took it on the chin Friday after analyst reports forecast slower smartphone sales.
Stocks stumbled for the second straight session Friday and the S&P 500 Index (SPX) settled for the day right at 2670. That had been a point of upward resistance earlier in the week, but may represent technical support now.
Rising Oil Prices Bring Concerns
Another undercurrent, which came into sharp focus late last week, is general strength in commodity prices. Crude oil recently reached three-year highs near $70 a barrel.
U.S. crude production recently reached 10.5 million barrels a day, the highest in nearly 50 years. Last week, the total U.S. rig count rose by 5 to 1,013, according to Baker Hughes' latest weekly survey. The question is how much more runway U.S. producers have to raise output, already at historic highs.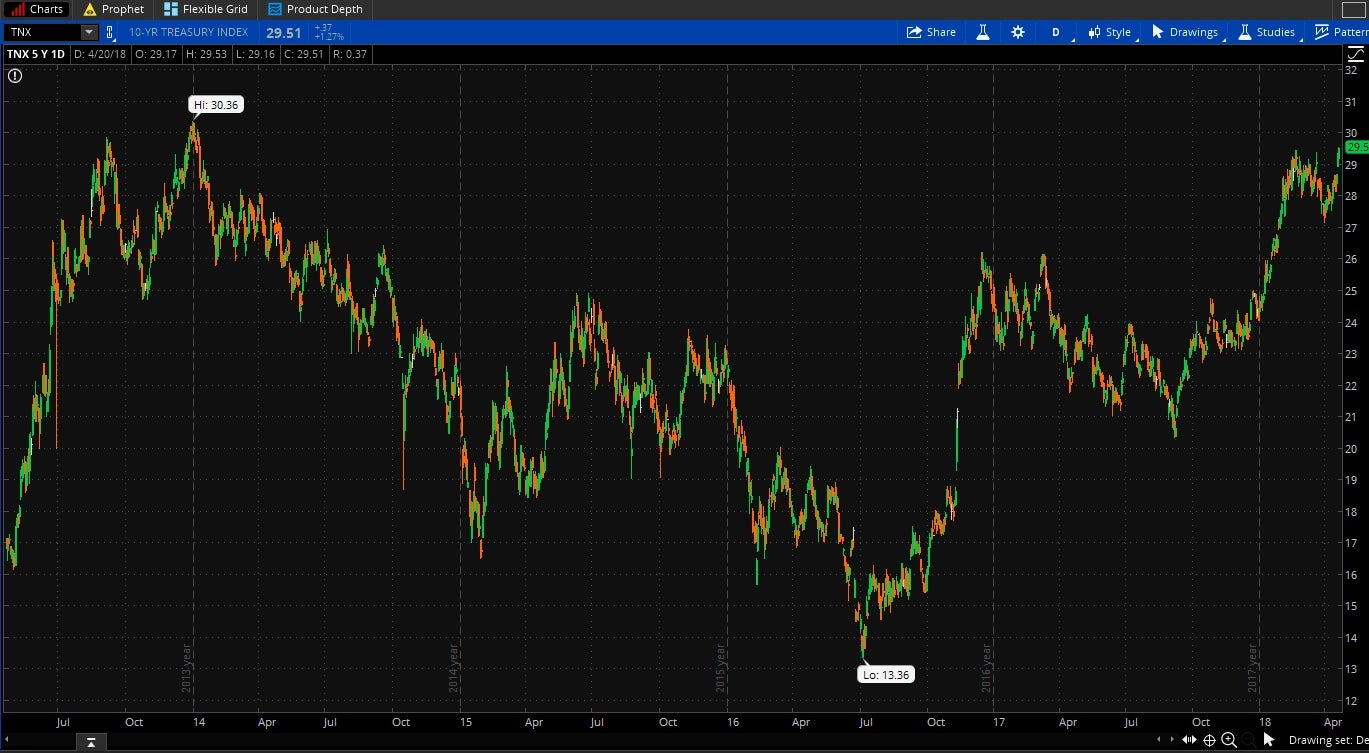 FIGURE 1: LONG ROAD BACK. This five-year chart of the benchmark 10-year Treasury yield shows what a long road it's taken to come back toward 3 percent after last hitting that mark back in early 2014. At one point in 2016, it fell to historic lows below 1.4 percent. Could this be the week it touches 3 percent again? Stay tuned. Data source: CME Group. Chart source: The thinkorswim® platform from TD Ameritrade. For illustrative purposes only. Past performance does not guarantee future results.
Renewed Trade Focus
Worsening trade relations between the U.S. and China drew some attention at the International Monetary Fund's (IMF) meeting in Washington last week, and could come into focus again as key U.S. industrial companies report in the days ahead. In particular, investors might want to listen to earnings conference calls from Caterpillar (CAT), which reports before the market open on Tuesday; and from Boeing (BA), which reports early Wednesday. Few U.S. companies have a bigger stake in China than BA, and CAT has a growing presence in the country. It's worth noting, however, that since the U.S. and China started talking tariffs, a number of analysts have said fears about the effect on BA's business might be overblown.
Guidance Corner
Although many stocks haven't rallied in response to positive earnings numbers yet, one exception was American Express Company (NYSE: AXP) last week. Shares had a nice response to earnings, jumping more than 7 percent. One reason could be AXP's decision to raise guidance. General Electric Company (NYSE: GE) also got a boost Friday when the company left guidance unchanged instead of lowering it, as some analysts had feared. Honeywell international Inc. (NYSE: HON) raised guidance and found some traction in the market Friday, too. As we noted earlier this month, many investors appear more interested in the future than in what companies accomplished last quarter, so positive guidance from any company might receive a hearty reception.
Looking for a Home? Pay Up
It's getting harder for Americans to find affordable homes, Though mortgage rates remain low historically, the 30-year fixed rate mortgage reached 4.42 percent last week, up from 3.95 percent at the start of the year. Home prices also continue to rise. First-time home buyers might be hurt the most, because starter homes have seen the steepest price increases lately, the Associated Press reported. Keep this in mind as home builder earnings and home sales data start pouring in over the next week or two.
Information from TDA is not intended to be investment advice or construed as a recommendation or endorsement of any particular investment or investment strategy, and is for illustrative purposes only. Be sure to understand all risks involved with each strategy, including commission costs, before attempting to place any trade.
Posted-In: JJ Kinahan TD Ameritrade The Ticker TapeEarnings News Commodities Markets
View Comments and Join the Discussion!