Previewing The Tech Sector As Earnings Season Looms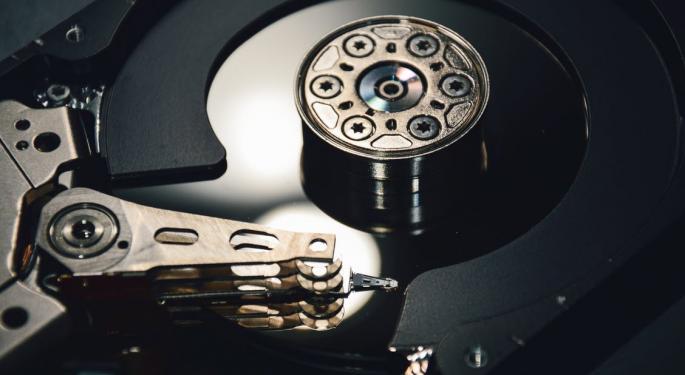 After the tech sector's high-flying performance in 2017, and several years of outperforming the S&P 500 (SPX), there were some mixed opinions at the start of the year among analysts about whether or not that could continue in 2018.
A couple of common worries among analysts were the potential for profit taking, combined with speculation that investors would start to rotate out of the heavily crowded tech sector and into other sectors that were expected to benefit more from lower corporate tax rates after U.S. tax reform.
So far though, despite the increased volatility in 2018, the tech sector has been one of the best-performing sectors this year. The S&P Technology Select Sector Index (IXT) and the tech-heavy Nasdaq 100 (NDX) were both up about 5% as of Mar. 21, compared to less than a 1% increase in the SPX.
Ahead of Q1 earnings reports, the S&P 500 tech sector is expected to report 20.9% earnings growth and 14% revenue growth, according to FactSet as of Mar. 16. Since Dec. 31, the projected earnings growth for the sector has increased from 18.1%, however, the projected revenue growth dropped from 15%.
As far as individual companies go, here are some of the confirmed earnings-release dates so far: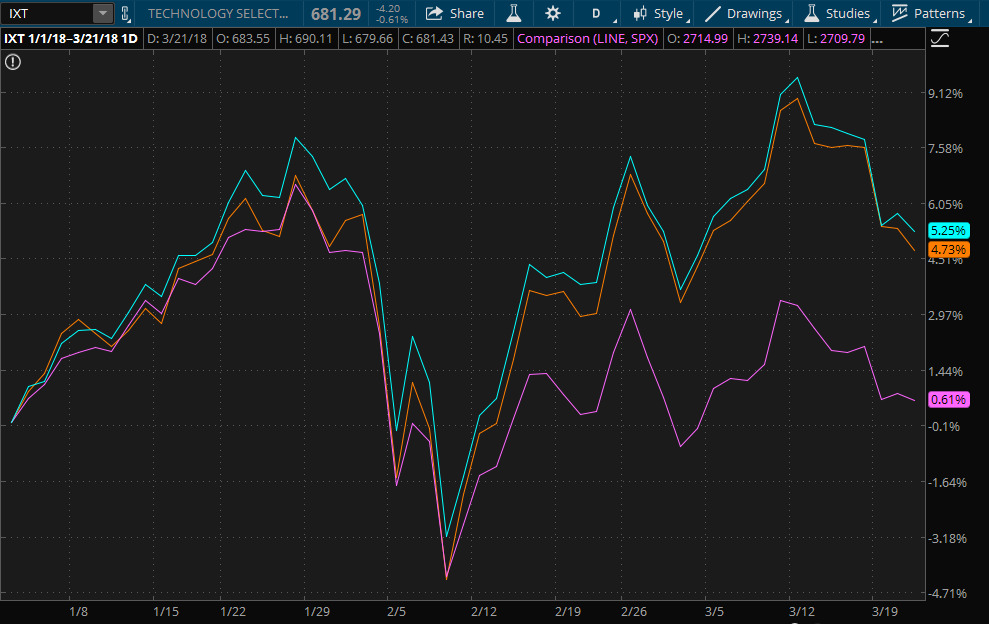 TECH SINCE START OF 2018. The chart above shows the S&P Technology Select Sector Index's (IXT, orange line) performance from Jan. 1 to Mar. 21, compared to the Nasdaq 100 (NDX, teal line) and the S&P 500 (SPX, purple line). Chart source: thinkorswim® by TD Ameritrade. Data source: Standard & Poor's. Not a recommendation. For illustrative purposes only. Past performance does not guarantee future results.
FAANG Stocks and Blue Chips
Markets have increasingly been driven by the major tech stocks as they have grown to occupy a larger part of the major indexes. Tech companies now account for roughly 25% of the SPX, according to S&P Global. Over the course of 2017, Apple (AAPL), Microsoft (MSFT), Amazon (AMZN) and Facebook (FB) routinely made up about 10% of the entire SPX (AMZN is technically classified as a consumer discretionary company, although it's often lumped in with tech). Within the NDX, it's even more concentrated. AAPL alone makes up about 10% of the NDX, according to Nasdaq's figures.
The FAANG stocks—Facebook, Inc. (NASDAQ: FB), Amazon.com, Inc. (NASDAQ: AMZN), Apple Inc (NASDAQ: AAPL), Netflix and Alphabet—have been the ones regularly dominating the headlines and there isn't as much discussion about some of the older companies that were looked at as the common blue-chip stocks. Overseas tech giants, such as Alibaba (BABA) and Tencent (TCEHY), have also increasingly become a part of the conversation. It seems like the definition of blue chip has been shifting for a lot of investors.
Heard on Earnings Calls
For investors that listened to a lot of the earnings calls from the tech sector last quarter, management from a lot of different companies was talking about global growth, seeing a recovery in business in Europe and Asia, and the U.S. economy improving as positive tailwinds.
Recent tax reform was another topic of discussion as many large tech companies took tax charges on profits held overseas. Now that they've paid taxes on that overseas cash and it's a little further into 2018, management might provide some additional details of how they're planning on using it.
Regulatory Concerns Adding to Choppy Trading
Congress has called on executives to testify from many different industries in the past, and the major tech companies have been under more scrutiny regarding privacy, security, and the way data is being used. FB, Twitter Inc (NYSE: TWTR) and other stocks have seen heightened volatility and knee-jerk swings over the past few days as concerns again cropped up that Washington might be considering regulatory action.
On top of that, the debate around net neutrality hasn't stopped with the FCC's recent repeal, another source of some volatility over the past few months in the tech sector. Remember to look at the facts and keep your emotions in check when you're trading. Headlines can drive a quick market reaction, but when the details actually emerge, it provides investors more info to analyze and decide the course of action they want to take.
It's good to acknowledge and evaluate potential risks, but consider focusing on what you can control. Check in on your investments on a monthly, or at least quarterly basis, to ensure that your portfolio is in line with your goals and needs. If it's not, take some time to look at what moves you might want to make.
Posted-In: JJ Kinahan The Ticker TapeEarnings News Previews Markets Trading Ideas
View Comments and Join the Discussion!