Under Armour Shares Soaring On International Sales Growth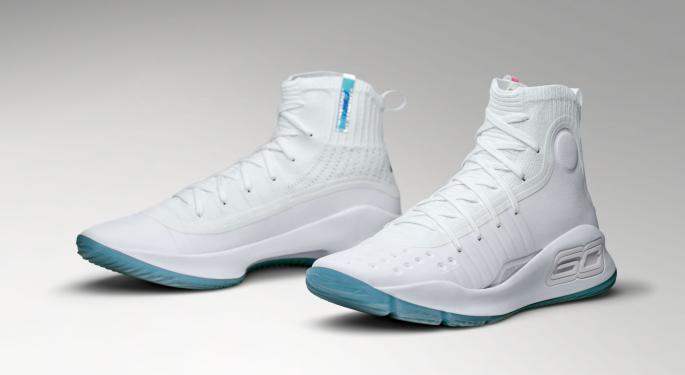 Under Armour Inc (NYSE: UAA) has certainly suffered some hardships over since its peak in 2015, but its fourth-quarter report is breathing some life into the sportswear brand's future.
Shares of the Baltimore-based brand soared over 15 percent Tuesday after Under Armour reported before the open with $1.37 billion in revenue, topping consensus estimates by $60 million. Earnings came in flat, in-line with consensus.
Footwear, one of company's most important segments, grew 9 percent in the quarter to $246 million. Under Armour recently introduced its HOVR cushioning, which is expected to be the company's largest marketing rollout ever.
International sales are also shaping up to be a solid contributor to the business, with revenues up 47 percent. International sales contributed to 23 percent of the company's overall revenues.
'The Perceived Weakness ... Is Going To Be Our Strength'
Under Armour has learned its lesson from struggles in 2016 and 2017, CEO Kevin Plank said during the earnings call, expressing confidence in the company's strategy.
Plank, who has been criticized for UA's poor performance and even had his loyalty questioned, acknowledged Under Armour's shortcomings and vowed to improve the direction of the brand.
With the industry in a heavily non-performance market and Under Armour being known for its performance products, Plank will attempt to turn this weakness into an advantage.
"The current perceived weakness of performance is going to be our strength," he said.
"We know who we are. We get it. Every product we make has to be stylish but it has to perform. With UA it has to be: 'what does it do?' It's not just a sweatshirt — you can wear it in a storm. Under Armour product does something and it makes you better. We will be market- and trend-right."
Industry Observer Says UAA Is Correct Path
Under Armour's improved self-awareness comes from a company that lost significant momentum due to some severe missteps in product releases and overall direction.
"The brand has acknowledged where they fit. They did this last year and said they would improve marketing. They didn't, but the 360-degree roll out of HOVR was solid. It could have been better, but it's clear they have a direction and they haven't ever had their own direction before," Chris Burns, founder of the sneaker blog Arch-USA.com, said after the earnings call.
Sports industry analyst Matt Powell's position on Under Armour has not wavered, despite negative headlines over the past two years.
"Under Armour is showing the first signs of its recovery. I expect that 2018 will be a challenging year, but they are doing all the right things to get the brand back on track," Powell said.
"UA is a great brand and has a bright future."
Related Links:
Nike Back On Top With Best-Selling Shoe Of 2017
Puma Delivers A Record 4 Billion Euros In Sales In 2017
Photo courtesy of Under Armour.
View Comments and Join the Discussion!
Posted-In: Chris Burns Kevin Plank Matt PowellEarnings News Top Stories Movers Best of Benzinga