Buckle Your Belt: Wild Ride Continues As VIX Remains Up, Stocks Face Pressure
For all of you keeping score, the word today remains volatility. The worst of the selling could be over after Tuesday's late recovery, but pre-market trading Wednesday pointed toward another possible dip. That said, earlier losses had eased significantly as the opening bell approached.
The CBOE volatility index rose nearly 4% and is back above 31. And perhaps ominously, considering the events of the last week, Treasury yields are creeping back up. European stocks rose, but stocks in China felt pressure and crude oil prices continued to fall.
Volatility is just something investors might have to get used to. Typically, it takes two to three weeks for volatility to settle down after an event like the 4% one-day dip seen on Monday. Think of a big bell that's been rung and continues to reverberate. After spending most of the last year below the mid-teens, and a good chunk of it around 10, the CBOE Volatility Index (VIX) spiked to a high last night of 50.3. While Tuesday's late stock market bounce allowed the VIX to pull back to around 30, the reading reflects a still-heightened sense of fear. If the markets stabilize over the coming days, VIX may further recede, but it may be a while before it tests the single digits again.
Wall Street analysts generally agree that from an economic perspective, things continue to look strong. The fundamentals of companies didn't necessarily change from Friday morning until today. The economy is still humming along, inflation remains muted (though still a concern), energy prices aren't out of hand, and borrowing costs remain low. Looking over this market correction, people seem to be focusing on several factors that might have helped lead to it, including bets by some investors on continued low volatility that blew up when volatility started to spike over the last week. Interest rate fears are another issue, with 10-year Treasury yields creeping back up to 2.79% early Wednesday after falling to 2.7% earlier this week.
Lost in all this, we're still in earnings season, despite the distractions of the last few days. Attention today zeroes in on Tesla Inc (NYSE: TSLA), which reports after the close. For several quarters now, the primary focus among analysts has been on the company's ramp-up of Model 3 production. And it doesn't seem likely to change. Twitter inc (NYSE: TWTR) is among the companies reporting Thursday morning.
Looking back at Tuesday's results, General Motors (GM) delivered a winning quarter as it beat Wall Street analysts' expectations for revenue and earnings per share. The company reported record sales of more than four million vehicles in China last year, with Cadillac sales there rising 51%.
Walt Disney Co (NYSE: DIS), Michael Kors Holding Ltd. (NYSE: KORS), and Snap inc (NYSE: SNAP) all beat in a large way. DIS rode the strength of its Parks segment, KORS got a boost from the Jimmy Choo brand, and SNAP rose sharply in pre-market trading as world-wide users were higher than expected. Chipotle Mexican Grill, Inc (NASDAQ: CMG) also rose on earnings after beating Wall Street analysts' expectations convincingly on earnings per share. However, CMG missed on two important factors: Same store sales and margin.
Today also brings some Fed speakers, who might give their insight into the events of the last 72 trading hours. Wednesday's calendar includes Dallas Fed President Robert Kaplan, San Francisco Fed President John Williams, Chicago Fed President Charles Evans, and New York Fed President William Dudley. The gang's all here, so to speak.
The Washington gang is also in town and on the market's radar this morning. It's the same story we've heard over and over: Politicians have until tomorrow to pass a spending bill, or the government shuts down. It's tempting to consider all this as simply noise, considering how many times it's happened lately. Stocks didn't react much last month when the government shut down for a short time. However, uncertainty is never helpful, and if Congress can find a solution, it might give stocks a short-term boost by removing one source of uncertainty in these uncertain days.
While there's no way to avoid the market's ups and downs, the key is to have a good idea of what you're invested in, be aware of the fundamentals behind the stocks you trade, and not get complacent. We stress all the time how important it is to do a mid-year and an end-of-year checkup of your portfolio and make sure you ask yourself the tough questions. Investors who do this don't necessarily escape the consequences of a downturn, but they can be better prepared for one.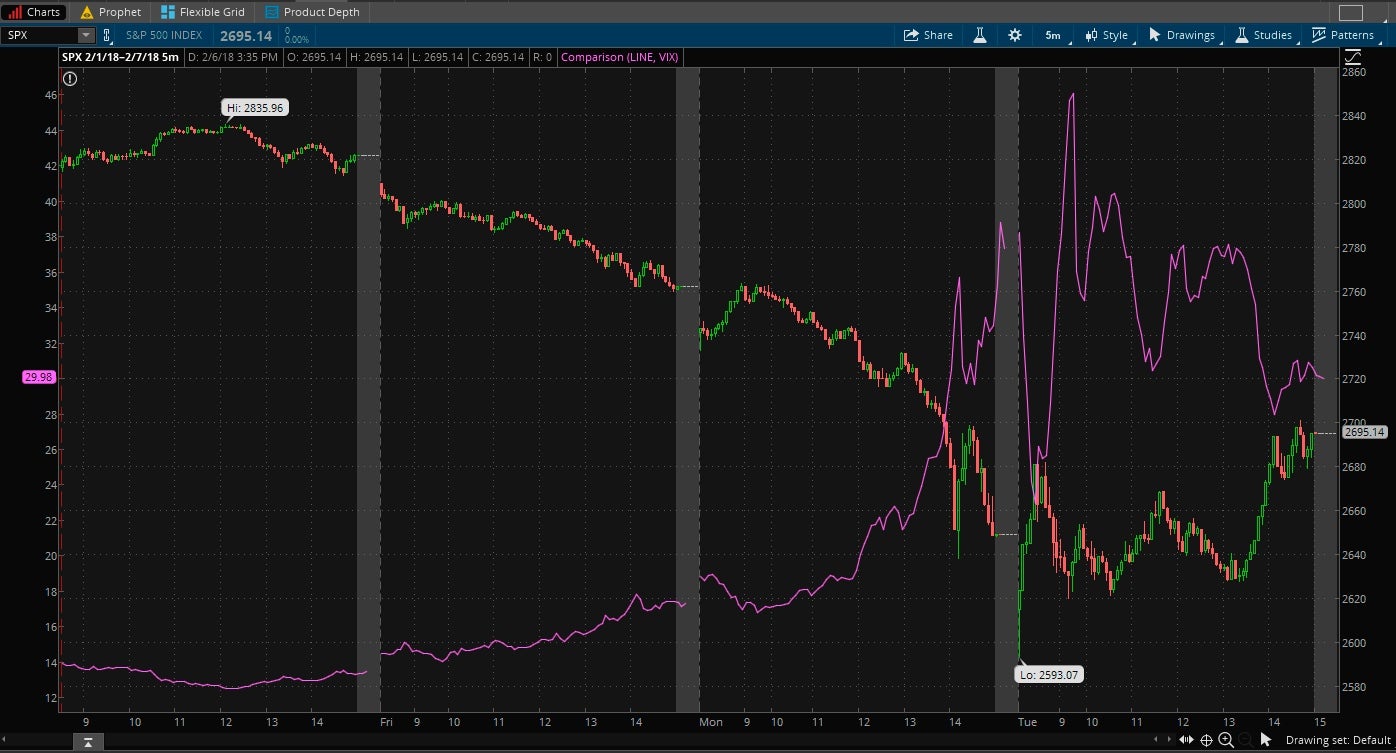 FIGURE 1: WILD RIDE This five-day chart shows the S&P 500 (SPX, candlestick), getting battered and bruised as VIX (purple line) shoots straight up early in the week. VIX remains elevated, still above 30 as of Wednesday morning. Data sources: Standard & Poor's, CBOE. Chart source: The thinkorswim® platform from TD Ameritrade. For illustrative purposes only. Past performance does not guarantee future results.
January Effect Debated
A lot of people talk about the so-called "January effect," in which stocks typically rise for the year after a strong January. This year, there's going to be some skepticism about that, considering January's gains melted down just a few days into February. Historically speaking, in all but one year since World War II, the SPX has posted annual gains when it's climbed 5% or more in January, according to research firm CFRA. This January, the SPX rose 5.6%. The one exception was 1946, when the SPX fell nearly 12% for the full year after rising 7% in January. This doesn't mean it's OK to get complacent, because there's no reason the market necessarily would repeat past performance. Still, the so-called "January effect" is one of those legends of Wall Street that sometimes can be fun to think about as long as investors don't place trades based on them.
Comfort Zone
In these volatile days, the importance of caution is hard to overstate. If you're trading for the short term, it can be important to define your time frame. Know the level where you're comfortable getting in, and make sure you have an escape plan. The shorter your timeframe, the more volatility you potentially open yourself up to. When the market moves as fast as it has the last few days, getting out at a comfortable level can sometimes be difficult, so short-term traders either need to expand their comfort zone a bit or just wait things out and come back to the market when fluctuations settle down a bit. When that might happen is hard to say, but we could face two to three more weeks of these sharp market turns, if the past is any guide.
Hunkering Down
It's a bit different if you're trading for the long-term. While the past isn't necessarily precedent, most of the recent market downturns haven't lasted, and if you're looking at your long-term goals like retirement or college education funding, there's not necessarily a reason to make big moves at this juncture. That over-used credo of "slow and steady wins the race" often applies if you're in the market long-term, because over time, that's worked for many investors. The U.S. economy and corporate profits are still growing, and Asian and European markets also look healthier than they've been in a while. So fundamentally, the warning lights aren't really flashing too bright. In the meantime, hopefully you made the effort to re-balance recently so your portfolio had some protection.
Information from TDA is not intended to be investment advice or construed as a recommendation or endorsement of any particular investment or investment strategy, and is for illustrative purposes only. Be sure to understand all risks involved with each strategy, including commission costs, before attempting to place any trade.
Posted-In: JJ Kinahan TD Ameritrade The Ticker TapeEarnings News Commodities Markets
View Comments and Join the Discussion!