Earnings Preview: Tech Giant Intel To Report Tomorrow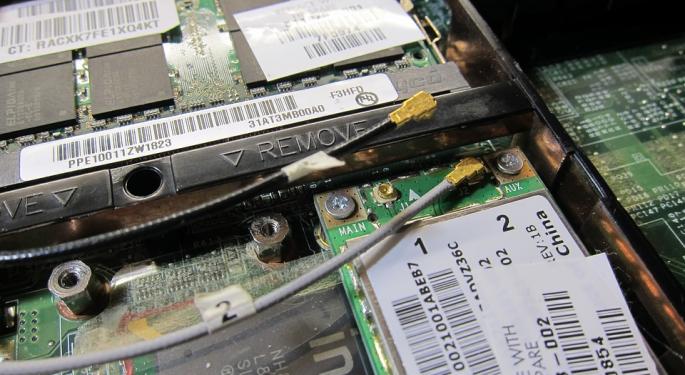 The earnings parade continues with chipmaker Intel Corporation (NASDAQ: INTC) scheduled to report Q4 results after market close on Thursday, Jan. 25.
When it last reported, both revenue and earnings topped analyst's expectations and shares gapped up in trading the next day. INTC also raised its full-year outlook and said it expected adjusted earnings per share (EPS) of $3.25 on revenue of $62 billion in fiscal 2017, up from its previous guidance for adjusted EPS of $3.00 on revenue of $61.3 billion.
In Q3, INTC reported $8.9 billion in revenue for its largest segment, client computing, which was flat to last year. For the next largest segment, INTC reported that data center revenue increased 7% year over year to $4.9 billion. The company's remaining segments, Internet of Things, non-volatile memory solutions, and programmable solutions all generated less than a billion in revenue, but they were the fastest growing segments coming in at year-over-year growth of 23%, 37% and 10%, respectively.
In recent quarters, analysts have been optimistic about the company's diversification away from PC-based business, including its $15.3 billion acquisition of Mobileye, a developer of technology for self-driving cars. Worldwide shipments of traditional PCs have been declining for more than five years, although the market has started to show some signs of stabilization, according to research firm IDC.
For Q4, INTC is expected to report adjusted EPS of $0.86, up from $0.79 in the prior-year quarter, on revenue of $16.31 billion, according to third-party consensus analyst estimates. Revenue estimates are pretty much flat compared to the $16.37 billion the company reported in Q4 2016.
Several of the semiconductor stocks, including INTC, have been more volatile in trading over the past few weeks as news came out about the discovery of security flaws that are present in a wide range of computer processors. After the news broke, INTC announced that it is working with a range of tech companies, including chipmakers Advanced Micro Devices (AMD) and ARM Holdings, to develop an industry-wide approach to resolving the flaws known as 'Spectre' and 'Meltdown'.
The topic was one of the main focuses in CEO Brian Krzanich's keynote address at CES 2018 and the company has regularly made announcements since the issues were discovered. After all the news about it over the past few weeks, it is likely to be a topic of discussion on tomorrow's earnings call.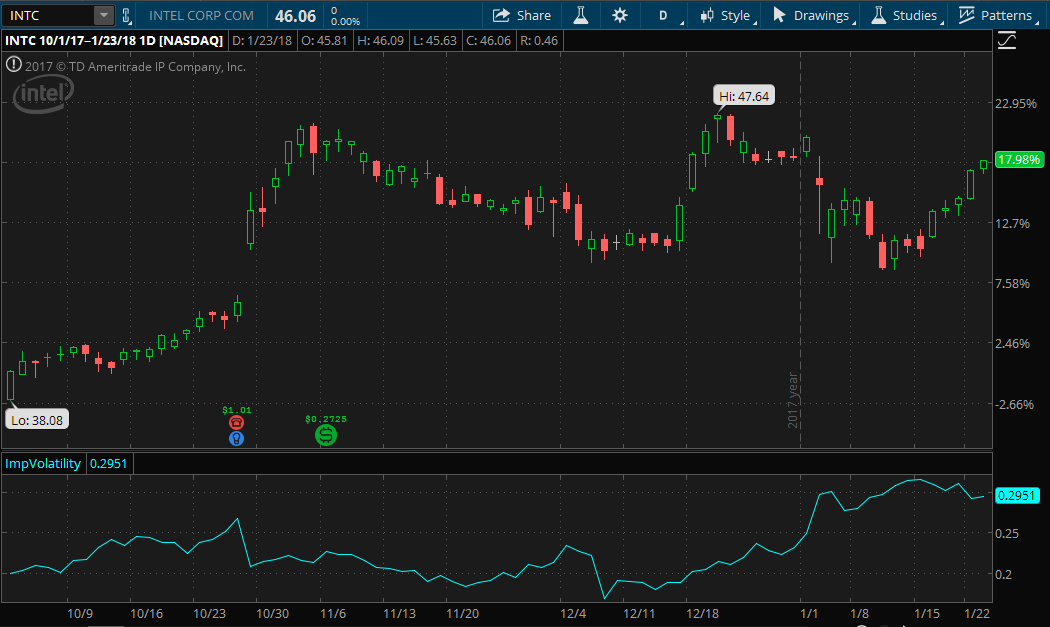 A LITTLE CHOPPY. The chart above shows Intel's (INTC) performance since the start of Q4. Since the start of the new year, shares have been a little choppier in trading as news continued to come out about security flaws present in a wide range of computer processors. After an initial drop, the stock has since climbed higher and is up 17.98% since the start of the fourth quarter. The bottom chart shows implied volatility, which has been elevated since the start of the year. Chart source: thinkorswim® by TD Ameritrade. Not a recommendation. For illustrative purposes only. Past performance does not guarantee future results.
Intel Options Trading Activity
Around INTC's upcoming earnings release, options traders have priced in about a 3.5% potential stock move in either direction, according to the Market Maker Move indicator on the thinkorswim® platform. Implied volatility has been elevated since the start of the year and sits at the 91st percentile as of this morning.
In short-term trading at the January 26 expiration, both calls and puts have been active at the 45 strike. There's a decent amount of open interest spread out across quite a few different strikes for both puts and calls.
At the February 16 monthly expiration, there's been quite a bit of trading at the 45 and 46-strike calls, with open interest at 32,829 and 60,017 contracts, respectively. On the put side, trading has been a little lighter and more concentrated at the 42 and 46 strikes, while open interest is the highest at the 43-strike put with more than 34,000 contracts open.
Note: Call options represent the right, but not the obligation, to buy the underlying security at a predetermined price over a set period of time. Put options represent the right, but not the obligation to sell the underlying security at a predetermined price over a set period of time.
Looking Ahead
The World Economic Forum continues in Davos this week and wraps up on Friday, the same day the U.S. government's first estimate for Q4 gross domestic product (GDP) comes out. Next week, January unemployment and non-farm payrolls are scheduled to be released in the morning on Friday, Feb. 2. The Fed also kicks off its first meeting of 2018 on Tuesday, Jan. 30. And if you're looking for more details on market activity and what else is going on, check out today's Market Update.
A tech-heavy week of earnings reports is coming up as well. Microsoft Corporation (NASDAQ: MSFT) and Facebook Inc (NASDAQ: FB) report after market close on Wednesday, Jan. 31, and Apple Inc. (NASDAQ: AAPL), Amazon.com, Inc. (NASDAQ: AMZN) and Alphabet Inc (NASDAQ: GOOG) (NASDAQ: GOOGL) are scheduled to report after market close on Thursday, Feb. 1.
Posted-In: JJ Kinahan TD AmeritradeEarnings News Previews Options Markets Trading Ideas
View Comments and Join the Discussion!