Dow Earnings: Big Expectations For Caterpillar And 3M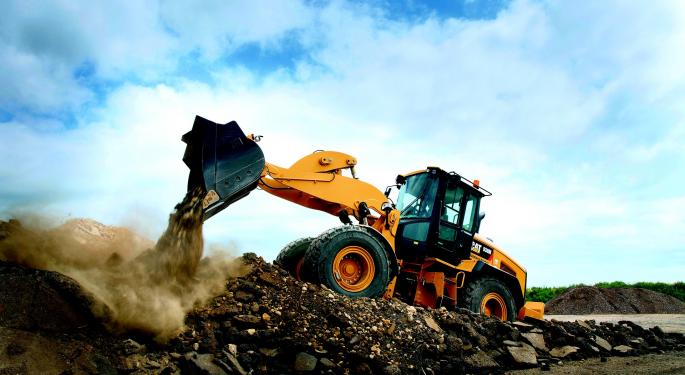 Nine Dow components will post their quarterly results this week.
Two of them are among the most heavily weighted Dow stocks.
Analysts have high expectations for their top and bottom line results.
The new earnings season is in full swing this week. Among the many companies expected to share their most recent results are nine of the Dow Jones Industrial Average components. Two of those are among the most heavily weighted in the price-weighted index and could help push the Dow to yet further new highs.
For the period when Caterpillar Inc. (NYSE: CAT) was showing its strongest sales and earnings performance in years and appeared to finally be on the comeback trail, the consensus forecast calls for strong growth on both the top and bottom lines in the three months that ended in December.
Analysts are looking for solid earnings and revenue growth from 3M Co (NYSE: MMM), when compared to the results in the same period of last year. During the most recent quarter, the diversified industrial products giant continued to sell off businesses and was even rumored to have caught the eye of Amazon.com.
Caterpillar
When this Peoria-based construction and mining equipment maker shares its fourth-quarter results before the opening bell on Thursday, the analysts on average predict that it will post $1.79 per share in earnings. That would be up from the 83 cents a share it reported a year ago. The $11.92 billion in expected revenue would be the highest quarterly figure seen in the past two years. It also would be more than 24 percent higher year over year.
The forecast from 44 Estimize respondents is more hopeful. It sees Caterpillar's earnings per share coming in at $1.81, and their consensus revenue estimate for the most recent period is pegged at $11.97 billion. Like the Wall Street analysts, Estimize underestimated both top and bottom line results in the previous three quarters.
See also: Wall Street Previews Netflix's Q4 Earnings: Rising Subscriber Numbers Drive Bullish Projections
3M
Wall Street's consensus forecast calls for this Minnesota-based company's profit to have risen by 15 cents per share from the same period of last year to $2.03. Note too that the 23 Estimize respondents have a consensus estimate at $2.04 a share for the three months that ended in December. Also, note that the EPS results beat both Estimize and Wall Street expectations in the previous period, after a big miss in the one before that.
Estimize underestimated revenue in the prior quarter, and this time the respondents are looking for $7.87 billion. That would be the same as the Wall Street revenue forecast and up from the $7.33 billion posted in the year-ago quarter. It also would be the greatest level seen in the past two years. Look for the company to share its fourth-quarter results first thing Thursday morning.
And Others
Other Dow companies that will post top and bottom line growth this week, if the analysts are correct, are Johnson & Johnson, Procter & Gamble and Verizon. The consensus forecasts for General Electric, Intel, Travelers and United Technologies call for mixed results.
In addition, other prominent companies that are predicted to show at least some year-over-year earnings growth when they share their results this week include Abbott Laboratories, AbbVie, Capital One Financial, Comcast, Ford, Freeport-McMoRan, Halliburton, Honeywell, Kimberly-Clark, Netflix, Northrop Grumman, Southwest Airlines, Starbucks, Texas Instruments, Union Pacific and Western Digital.
But consensus estimates anticipate shrinking profits from American Airlines, Rockwell Automation, Royal Caribbean Cruises, United Continental and Whirlpool. The per-share earnings at Colgate-Palmolive are expected to be the same as a year ago.
After that, keep an eye out for upcoming quarterly reports from Dow components Apple, Boeing, Exxon, McDonald's, Microsoft, Pfizer and Visa.
View Comments and Join the Discussion!
Posted-In: 3M CaterpillarEarnings News Previews Top Stories Trading Ideas Best of Benzinga