Upcoming Earnings: Heavy-Equipment Maker Caterpillar And Pharma Giant Eli Lilly Report On Tuesday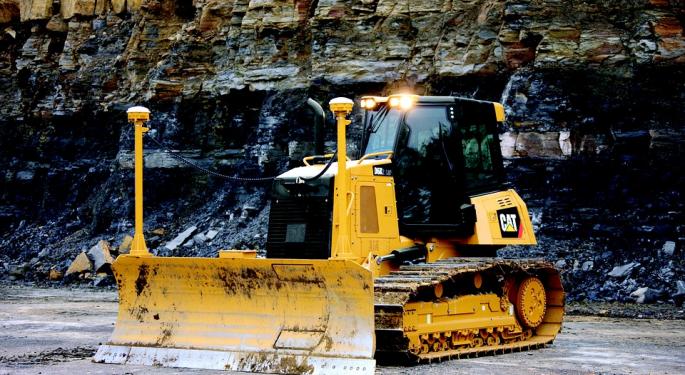 The earnings parade continues with Caterpillar Inc. (NYSE: CAT) and Eli Lilly & Co (NYSE: LLY) scheduled to report early next week. Both companies are expected to release results before market open on Tuesday, October 24.
Caterpillar Earnings and Options Trading Activity
CAT has had quite the run-up over the past year and that rally has continued in the recent quarter. Since the start of November 2016, the stock has increased about 60% and is up 14.85% since it last reported earnings on July 25. There has been a number of catalysts that have helped push shares higher.
Expectations for the potential passing of the Trump Administration's $1 trillion infrastructure package, continued global economic recovery, development in emerging markets, a weakening U.S. dollar and a recovery in commodity prices were some of the catalysts. The extent of the recovery in commodity prices has varied across energy and metals, but overall prices are still well off 2016 lows, when companies had significantly slashed capital expenditures to deal with the downturn.
In the second quarter, CAT reported an acceleration of year-over-year growth compared to the first quarter in its three main segments: construction industries, resource industries, and energy and transportation. On a year-over-year basis, construction industries revenue grew 11% to $4.93 billion, resource industries grew 21% to $1.76 billion and energy and transportation grew 5% to $3.94 billion. The fastest growth CAT reported was in its construction and energy and transportation segments in the Asia/Pacific region. The former grew 44% year-over-year to $1.28 billion while the latter grew 32% to $452 million.
After reporting second-quarter earnings, CAT raised its 2017 outlook, citing increased demand across end markets and its ongoing cost control efforts. It raised its revenue outlook from a midpoint of $39.5 billion to $43 billion and increased its adjusted earnings per share outlook from a midpoint of $3.75 to $5.00. The company has said it expects to incur $1.2 billion of restructuring costs in 2017 and highlighted weakness in the Middle East and Latin America, and geopolitical and commodity risks as potential risks to this outlook.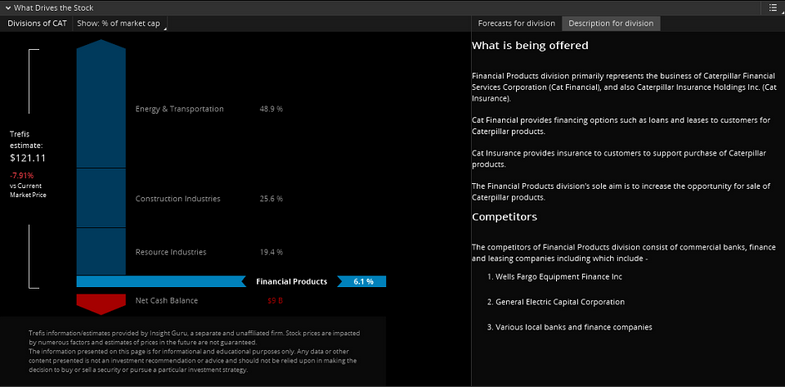 FIGURE 1: CATERPILLAR COMPANY DIVISIONS. While often thought of for its iconic construction equipment, the energy and transportation segment is the largest portion of its business. The smallest portion, financial products, exists to provide leasing, financing and insurance services to help facilitate purchases. TD Ameritrade clients can analyze a company's potential revenue drivers on the Fundamentals tab on the thinkorswim® platform. Trefis information and estimates used in Company Profile are provided by Insight Guru, a separate and unaffiliated firm. Not a recommendation. For illustrative purposes only. Past performance does not guarantee future results.
For the third quarter, CAT is expected to report adjusted earnings of $1.22 per share, up from $0.85 in the prior-year period, on revenue of $10.61 billion, according to third-party consensus analyst estimates. Revenue is projected to increase 15.8% year-over-year.
Options traders have priced in about a 1.5% potential share price move in either direction around the earnings release, according to the Market Maker Move indicator on the thinkorswim® platform. Considering that the stock moved up roughly 6% to 8% after its last two quarterly reports, the expected move is on the smaller side this quarter.
In options trading leading up to earnings at the October monthly expiration, there was a significant amount of activity at the 125-strike calls and puts, which is where the stock has been trading from the end of September and into early October. At the October 27 weekly expiration, most of the call trading was concentrated at the 131 and 132 strike prices and on the put side trading has been spread out over a range of strikes. As of this morning, the implied volatility is at the 44th percentile.
Note: Call options represent the right, but not the obligation, to buy the underlying security at a predetermined price over a set period of time. Put options represent the right, but not the obligation to sell the underlying security at a predetermined price over a set period of time.
Eli Lilly & Co Earnings and Options Trading Activity
So far this year, LLY shares are up about 16%, lagging the S&P Healthcare Select Sector Index (IXV) by a little less than 4%. LLY has faced a couple of different challenges in recent weeks and it seems like a lot of questions that were up in the air for analysts have been answered prior to the earnings call.
First, the company announced it would cut 8.5% of its global workforce, which CEO David Ricks said will allow them to focus on newer drugs. Then, it announced the U.S. Patent and Trademark Office recently upheld the vitamin regimen patents for its blockbuster oncology product Alimta. Several analysts had warned that if the case was lost, it would have likely resulted in generic versions of the drug being launched, pressuring management's goal of a 5% targeted compound annual growth rate for revenue through 2020.
While the decision on Alimta was a positive one, several analysts have still expressed concerns about the upcoming loss of patent protection on some of the company's major drugs like Cialis and Strattera. Patent protection inevitably expires at some point, or a patent might be challenged, new drug development is a key area for pharma and biotech companies to deliver growth.
To that end, LLY recently announced a collaboration with CureVac focused on "the development and commercialization of up to five potential cancer vaccines" using CureVac's messenger RNA technology.
However, patent protection doesn't keep competitors from developing new drugs to treat the same diseases. Danish company Novo Nordisk has developed a drug to treat diabetes called semaglutide and an advisory panel for the U.S. Food and Drug Administration (FDA) recently recommended the drug's approval. According to Reuters, on average analysts expect semaglutide's sales to reach $3.17 billion and LLY's Trulicity to reach $3.71 billion by 2023.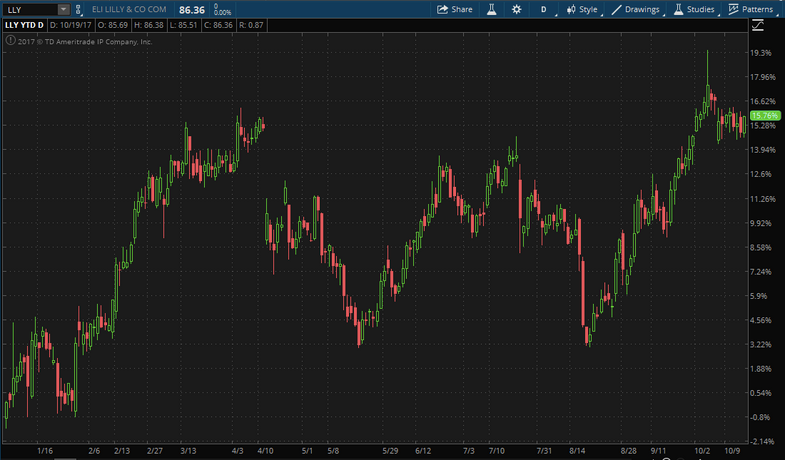 FIGURE 2: ELI LILLY YTD PERFORMANCE. Eli Lilly (LLY) shares have been on a bit of a roller coaster ride this year as shares moved up and down with different announcements regarding the company's patents and drug trials. Shares have dropped in recent weeks from a 52-week high of $89.09, but are still up about 16% for the year. Chart source: thinkorswim® by TD Ameritrade. Data source: Standard & Poor's. Not a recommendation. For illustrative purposes only. Past performance does not guarantee future results.
For the quarter, LLY is expected to report earnings of $1.03 per share, up from $0.88 in the prior-year period, on revenue of $5.51 billion, according to third-party consensus analyst estimates. Revenue is expected to increase 6.2% year-over-year. Management has attributed top-line growth in the second quarter primarily to growth in Trulicity, Taltz and some of its other new pharmaceutical products.
Around the upcoming earnings release, options traders have priced in less than a 1% potential share price move in either direction, according to the Market Maker Move indicator. In short-term trading at the October 27 expiration, calls have been active at the 86 strike price. On the put side, there hasn't been a whole lot of activity in upcoming expirations. Looking further out to the November monthly expiration, a majority of the trading for calls and puts has been at the 85 strike. The implied volatility has been low and as of this morning it is at the 12th percentile.
Looking Ahead
Earnings season kicks into full gear next week, with major companies across sectors expected to report results. Thursday is a tech-filled day, with Microsoft Corporation (NASDAQ: MSFT), Alphabet Inc (NASDAQ: GOOG) (NASDAQ: GOGL), Intel Corporation (NASDAQ: INTC) and Amazon.com, Inc. (NASDAQ: AMZN) all report after market close on Thursday, October 26. Oil giants Chevron Corporation (NYSE: CVX) and ExxonMobil Corporation (NYSE: XOM) report before market open on Friday, October 27. If you have time, make sure to check out today's market update to see what else is happening.
View Comments and Join the Discussion!
Posted-In: JJ Kniahan TD AmeritradeEarnings News Previews Options Markets Trading Ideas