Oracle Set To Report First Quarter Earnings For Fiscal 2018 On Thursday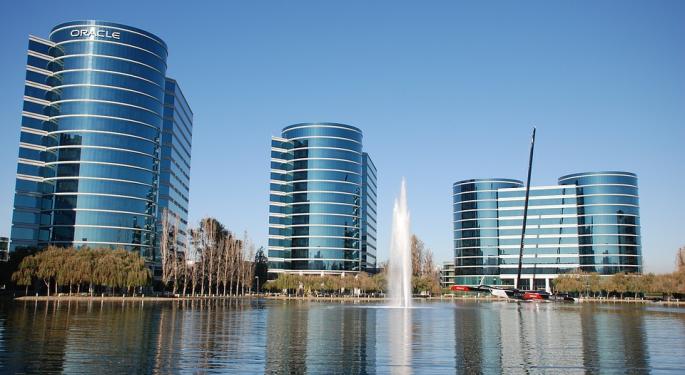 Oracle Corporation (NYSE: ORCL) reports earnings for its fiscal first quarter after the market closes on Thursday, September 14. In the past several weeks, the company has received several upgrades from analysts on top of string of upgrades the company received after reporting last quarter's results.
Some of the reasons analysts have cited for their positive sentiment include continued growth in the company's Software as a Service (SaaS), Platform as a Service (PaaS) and Infrastructure as a Service (IaaS), the ongoing transition of legacy customers to its cloud offerings and the potential for continued margin expansion in its cloud businesses.
The company made some reporting changes in the last quarter that included breaking out the results of its SaaS business and combining its IaaS and PaaS businesses. In the fourth quarter of fiscal 2017, SaaS revenue grew 67% year-over-year, to $964 million. Management also highlighted gross margin expansion in its SaaS business, which increased to 65% from 54% in the same period last year. On last quarter's earnings call, Oracle CEO Safra Catz said management expects "to see further improvement in FY18 and remain committed to our goal of 80% SaaS gross margins over time."
Oracle reported that revenue in its PaaS and IaaS businesses increased 40% year-over-year to $397 million in the last quarter. Gross margins in these businesses declined to 47% in fiscal Q4 of 2017, down from 54% in the prior-year quarter.
Management attributed those declines to its geographic expansion ahead of the bulk of revenue recognition in those businesses. After "narrowing notably over the past few years," CFRA analysts have said they expect annual gross margin to stabilize around 81% through fiscal 2020 due to positive trends for cloud offerings and pricing.
Despite growth in its cloud offerings, slow or declining sales in the company's legacy businesses, which make up a larger portion of the company's sales, have muted that growth. In the last quarter, Oracle reported its hardware revenues declined 13% year-over year to $1.11 billion and its total on-premise software revenues declined 1% to $7.52 billion.
Oracle Earnings: Fiscal First Quarter of 2018
Oracle is expected to report adjusted earnings of $0.60 per share, up from $0.55 in the prior-year quarter, on revenue of $9.02 billion according to Wall Street consensus analyst estimates. In the last quarter, both revenue and adjusted earnings per share came in above analyst expectations, beating consensus estimates by $482 million and 10 cents, respectively.
CFRA analysts have projected revenues will increase 4% in both fiscal 2018 and 2019 as a result of "strong gains from cloud offerings, declines from legacy software offerings and continuing challenges related to hardware."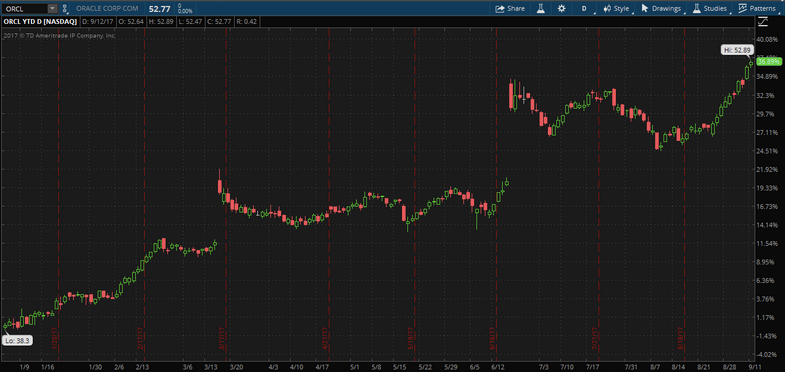 FIGURE 1: RISING AHEAD OF EARNINGS. Leading up to this quarter's earnings report, Oracle shares have risen almost 10% in since August 18. So far this year, the stock is up 36.89%, outperforming the S&P Technology Select Sector Index's 26.69% year-to-date increase. Chart source: The thinkorswim® platform by TD Ameritrade. Data source: Standard & Poor's. Not a recommendation. For illustrative purposes only. Past performance does not guarantee future results.
Oracle Trading Activity
Oracle stock gapped up after its last two earnings reports, but in the two quarters before that it dropped after the company released its quarterly results. More recently, Oracle shares traded down to $48.31 on August 18 and have climbed just over 9% since then, closing at $52.77 yesterday. With the stock's recent gains, it has increased 36.89% year-to-date.
Options traders have priced in about a 4% potential share price move in either direction around ORCL's earnings release, according to the Market Maker Move indicator on the thinkorswim® platform.
In short-term trading at the September 15 expiration, calls have been active at the 52.5 the 55 strike prices, while puts have been active at the 50 strike. As of this morning, the implied volatility sits at the 96th percentile, an elevated level for the stock.
Note: Call options represent the right, but not the obligation, to buy the underlying security at a predetermined price over a set period of time. Put options represent the right, but not the obligation to sell the underlying security at a predetermined price over a set period of time.
Looking Ahead
It's still a pretty quiet time for earnings and things will start picking back up in October. Turning to economic data, the Producer Price Index (PPI) came out this morning and was up 0.2% in August, versus expectations for a 0.3% increase. More inflation data is coming out tomorrow, with August's Consumer Price Index (CPI) being released, and retail sales come out on Friday. If you have time, make sure to check out today's market update to see what else is happening.
Posted-In: JJ Kinahan TD AmeritradeEarnings News Previews Options Markets Trading Ideas
View Comments and Join the Discussion!