Macy's Gears Up To Report Q2 Earnings On Thursday
There's no denying that it's been a tough time for brick-and-mortar retailers as more consumers increasingly shop online, and less consumers shop at malls and major department stores. That trend has led many companies with large store presences to adjust their strategies to adapt.
Macy's Inc (NYSE: M) is one of those retailers that has adjusted strategies and over the past several years and has announced new training and development programs, restructuring initiatives and other steps to develop a more robust omnichannel strategy amid declining revenue and profit.
How those initiatives are progressing and the impact on the overall business will likely be a big focus among analysts when the company reports second-quarter earnings before the opening bell on Thursday, August 10. Between the company's planned store closings, monetizing real estate assets and increased focus on e-commerce, there's a lot for management to talk about on the Q2 earnings call.
In regards to store closings, when it reported last quarter M announced the sale and intended closure of its store at Temple Mall in Texas, part of the company's previously announced plans to close 100 locations. As M has continued to work through store closings, it also announced it is repurposing and monetizing some of its real estate assets.
In November 2016, M announced it had formed a strategic alliance with Brookfield Asset Management (BAM) to develop plans on how to maximize the value of some of its properties. In the first quarter, the company reported it had booked $68 million in real estate gains and is also under contract to sell two additional floors of its Downtown Seattle store, with the transaction expected to close in fall 2017.
At the same time it has been focused on repurposing, closing and monetizing some of its stores, M has pushed to grow its e-commerce business. CFRA analysts have highlighted the online sales growth as a positive sign, but they've also expressed concerns that online growth will pressure margins, largely a result of increased shipping costs.
M has also shaken up management with a focus on its digital capabilities. At the beginning of June, Yasir Anwar was promoted to chief technology officer. Regarding Mr. Anwar's promotion, CEO Jeff Gennette said "bringing the Macy's technology teams together under Yasir's leadership will result in faster time to market and decision making through a streamlined IT organization that will create nimble platforms for continuous business transformation."
Ultimately, it is likely to take a while for the effects of the company's efforts to play out, but bullish analysts have highlighted M's dividend yield as one attraction for the stock. While it currently provides a yield of about 7%, bearish analysts have called into question whether or not that high yield is worth all the other risks that accompany it.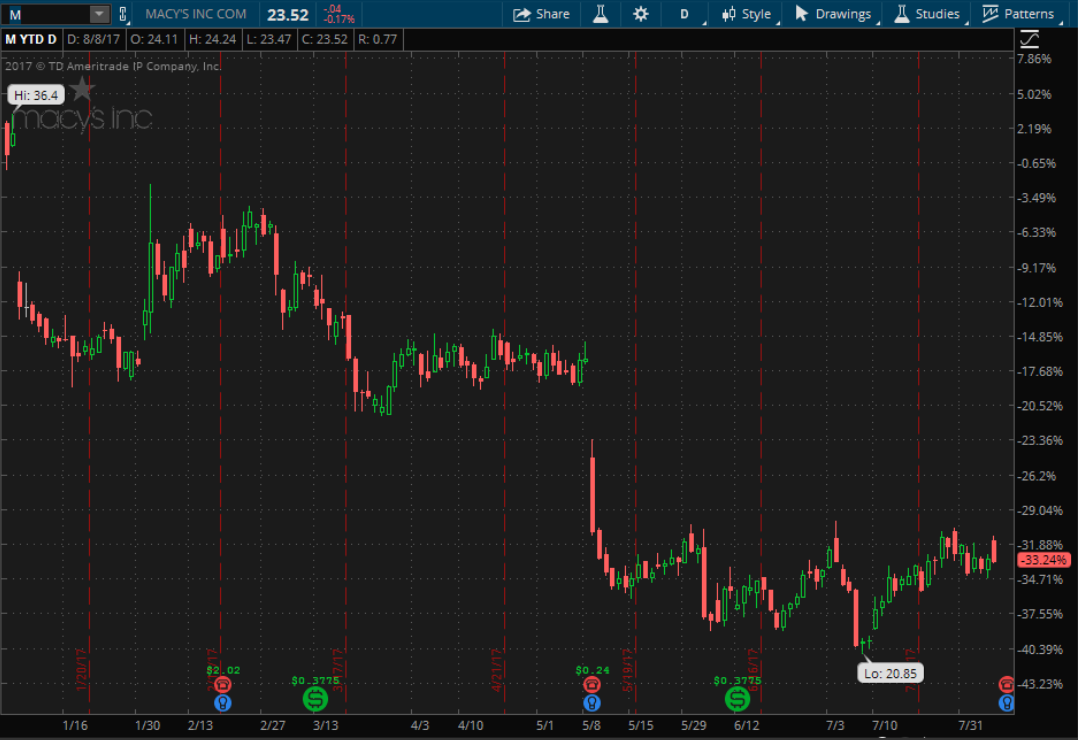 MACY'S YTD PERFORMANCE. Macy's (M) stock has suffered a couple of big drops so far this year, and has declined about 33% year to date. When it last reported results in May, the stock dropped more than 17% on the day it released first-quarter earnings. Chart source: thinkorswim® by TD Ameritrade. Data source: Standard & Poor's. Not a recommendation. For illustrative purposes only. Past performance does not guarantee future results.
Macy's Earnings and Trading Activity
For the second quarter, M is expected to report earnings of $0.44 per share, down from $0.54 in the prior-year period, on revenue of $5.5 billion, according to Wall Street consensus analyst estimates.
M has dropped significantly since the start of the year, declining 33% year to date compared to a 10% increase in the S&P 500 (SPX). The last time the company reported, shares dropped more than 17% in trading the day it released results. Around the upcoming earnings release, options traders have priced in about a 8.5% potential share price move in either direction, according to the Market Maker Move indicator on the thinkorswim® platform.
In short-term trading at the August 11 weekly expiration, calls have been active at the 26 strike, while puts have been active across a range of strikes, with the heaviest activity at the 22 and 23.5 strikes. The implied volatility is at the 97th percentile.
Note: Call options represent the right, but not the obligation, to buy the underlying security at a predetermined price over a set period of time. Put options represent the right, but not the obligation, to sell the underlying security at a predetermined price over a set period of time.
Looking Ahead
M is just part of the larger retail earnings parade this week. Kohl's Corporation (NYSE: KSS) also reports before the opening bell on Thursday and Nordstrom, Inc. (NYSE: JWN) reports the same day after market close. After that, J C Penney Company Inc (NYSE: JCP) is set to report before market open on Friday, August 11.
Posted-In: JJ KinahanEarnings News Previews Retail Sales Markets Trading Ideas
View Comments and Join the Discussion!