Big Telecom Earnings Recap: Sprint Ticks Higher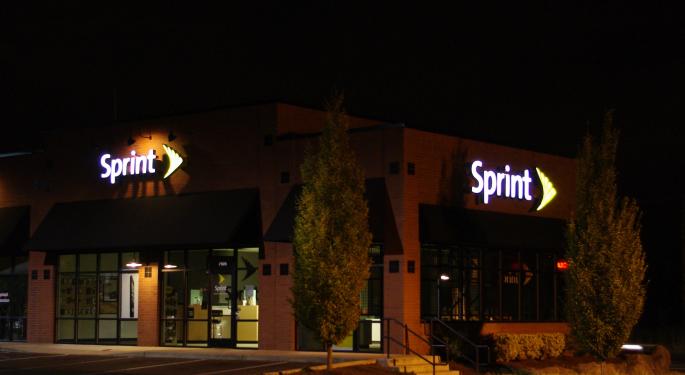 Sprint Corp (NYSE: S) reported its fiscal first-quarter results Tuesday, which sent the stock higher by more than 3 percent.
Aside from AT&T Inc. (NYSE: T), all of the major wireless telecom providers have reported their most-recent quarter earnings.
Here is a recap of how the companies performed in the quarter.
Sprint (Aug. 1)
Sprint earned 5 cents per share in the first quarter on revenue of $8.16 billion.
Revenue grew year-over-year for the fourth consecutive quarter.
Net income reached profitability for the first time in three years and rose from a loss of $302 million a year ago to positive $206 million.
Postpaid net additions of 88,000 marks the eighths consecutive quarter of net additions.
Verizon (July 27)
Verizon Communications Inc. (NYSE: VZ) earned 96 cents per share in the second quarter on revenue of $30.5 billion.
Wall Street analysts were expecting the company to earn 96 cents per share on revenue of $29.91 billion.
Net income for the quarter rose from $831 million a year ago to $4.478 billion.
Verizon reported 614,000 retail postpaid net additions, including 590,000 postpaid smartphone net adds.
The company guided its full year 2017 revenues to be "fairly consistent" with 2016.
T-Mobile (July 19)
T-Mobile US Inc (NASDAQ: TMUS) earned 67 cents per share on revenue of $7.445 billion.
By comparison, the company earned 25 cents per share in the same quarter a year ago on revenue of $6.888 billion.
Net income rose 158 percent from a year ago to $581 million.
T-Mobile reported total net additions of 1.3 million which marks the 17th straight quarter of adding at least one million subscribers.
The company also reported 817,000 total branded postpaid net additions and expects to lead the industry for the sixth consecutive quarter.
Related Links:
Call Disconnected: Charter Spurns Sprint's Advances
3 Reasons Comcast Should Acquire Verizon, And Why This Cost Dish A Downgrade
image: M.O. Stevens (Own work) [GFDL (http://www.gnu.org/copyleft/fdl.html) or CC BY-SA 3.0 (http://creativecommons.org/licenses/by-sa/3.0)], via Wikimedia Commons
Posted-In: telecom Telecom Earnings Wireless TelecomEarnings News Best of Benzinga
View Comments and Join the Discussion!