Gildan Investors Have Much To Be Thankful For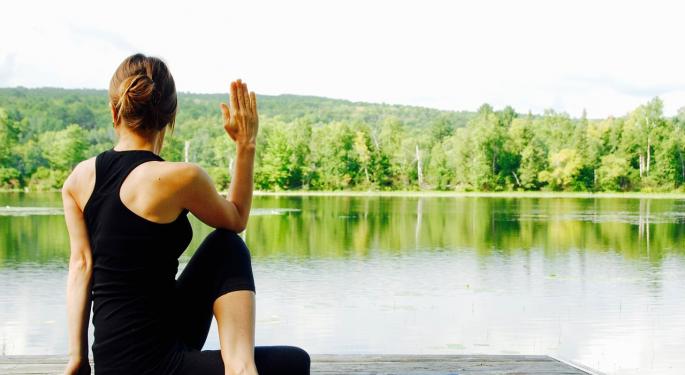 The first quarter of 2017 could prove to be one of inflection for Gildan Activewear Inc (USA) (NYSE: GIL). While its Q3 earnings report missed the mark on both the top and bottom lines, investors quickly forgave and forgot, as evidenced by the rebound in share price from a low of $24.80 the day of the report to a high of $26.72 in Tuesday's trading.
An American Acquisition
One thing that might have filled Gildan investors with cheer was news of Gildan's proposal to acquire the American Apparel brand. While no brick-and-mortar assets will be included in the $66 million deal, Gildan would acquire separately enough inventory to ensure no interruption in the supply of goods as the brand is integrated into its Printwear business.
Printwear is Gildan's largest segment and saw a year-over-year increase in the company's most recent quarter due in part to a recent acquisition. But anyone looking for any outlook on American Apparel's potential to be accretive to the top line will have to wait.
"At this point, we're in the early stages of a process," Gildan Vice President of Marketing and Communications Garry Bell told Benzinga. American Apparel is in the midst of bankruptcy proceedings. The bankruptcy courts need to approve the bidding procedure, American Apparel could seek competitive bids, or there could be an auction. "For all those reasons, we're not providing any commentary on what this potentially could impact in terms of financial results."
Industry Woes
Teen apparel isn't the booming-est of businesses these days, however, and to top that off retail has been combating some weather-related headwinds courtesy of an unusually warm fall, and Gildan has been no exception.
Gildan VP of Investor Communications Sophie Argiriou told Benzinga, "We believe the warm weather is impacting retail. We've seen it in our Printwear business, in the retail business, we've seen it affecting store traffic, affecting fleece sales."
With all this in mind, one might wonder what gave Gildan the confidence to make such an investment. "American Apparel is a brand that has existed for many years in the Printwear segment of our business," Bell explained. "Gildan is now the owner of a portfolio of brands, so we essentially see this as a relatively easy integration into our Printwear business. It's one of the stronger brands in that fast-growing fashion basics side. There are some high-level synergies there."
Gildan expects by the end of November to have an indication as to whether the bankruptcy courts will accept the bidding procedure, at which point it will have the option to match or counter any competitive bids or withdraw the offer.
"It's an iconic brand," Bell added. "It has a significant consumer following and brand recognition and brand equity. We recognize there is an inherent part of that brand that's been built upon the 'Made in the USA' characteristic, which is something we fully intend to continue to focus on."
Looking Ahead
If all goes well, the brand acquisition should close in the first quarter of the new year. In terms of upcoming tailwinds, it won't be alone.
Gildan has a large licensed program that saw its shipment bumped from Q4 of 2016 into Q1 of 2017. While the company won't name the retailer, sources familiar with it told Benzinga it is a fairly large program for the customer involved and Gildan has a piece of it.
The company has also increased its dividend each year since 2013. While it has no formal dividend policy, Argiriou said Gildan will continue to look for tuck-in acquisitions like American Apparel and continue capital returns to shareholders through dividends and share buybacks as it continues to generate significant free cash flow.
Gildan shares traded higher late in Tuesday's afternoon trading at $27.12.
View Comments and Join the Discussion!
Posted-In: activewear American ApparelEarnings M&A News Movers Trading Ideas Interview Best of Benzinga