Will Kohl's Or Macy's Beat Low Earnings Expectations?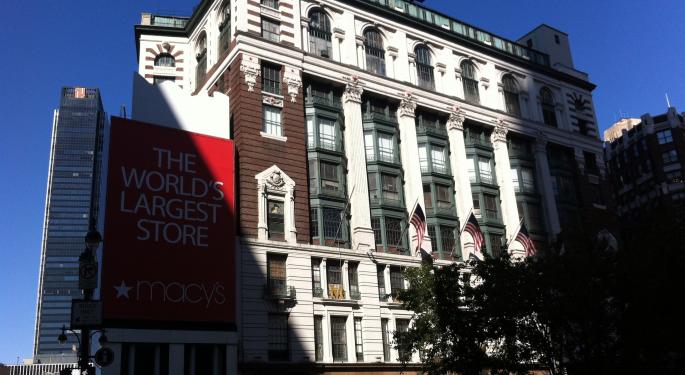 The parade of earnings reports from big retailers begins this week.
Wall Street forecasts see lower earnings for two leading department store operators.
However, both handily beat earnings expectations in the previous quarter.
It's about that time when big retailers begin to take their turns on the earnings stage. The latest quarterly numbers from department store operators Kohl's Corporation (NYSE: KSS) and Macy's Inc (NYSE: M) will be among the highlights this week.
Wall Street analysts by and large expect to see declines on the top and bottom lines from both of them. This past quarter included the back-to-school shopping season, and Macy's announced more store closures.
Kohl's
When Kohl's shares its fiscal third-quarter results, the Wall Street forecast is that its earnings per share will have shrunk by about a nickel year-over-year to $0.70 per share. The $4.33 billion in predicted revenue would be more than a 2 percent slip. This mainly bricks-and-mortar retailer did handily best the EPS estimate in the prior quarter, though the latest estimate has ticked down by a penny in the past 30 days.
The forecast from 10 Estimize respondents sees EPS from the Wisconsin-based company coming in at $0.69. And the consensus revenue estimate for the three months that ended in October is $4.32 billion. However, Estimize, like the Wall Street analysts, underestimated Kohl's earnings and revenue in the previous quarter.
Macy's
Wall Street's consensus forecast for Macy's calls for EPS to have retreated more than 26 percent from the same period of last year to $0.41. The Cincinnati-based retailer hasn't fallen short of EPS expectations in the past three quarters. The 15 Estimize respondents are more optimistic, with an estimate of $0.44 per share for the three months that ended in October.
Like Wall Street, Estimize underestimated revenue in the previous quarter, and this time the respondents are looking for $5.64 billion. That would be almost 4 percent lower than in the year-ago period. Wall Street is in the same ballpark with its consensus forecast of $5.65 billion. Either estimate represents the lowest top line figure in the past eight quarters.
Kohl's is scheduled to report its latest results before the opening bell on Thursday, while Macy's is on tap before trading begins on Wednesday.
Best Of The Rest
Other retailers also scheduled to report this week include CVS Health, J.C. Penney and Nordstrom. Earnings growth, a narrower net loss and a shrinking profit, respectively are predicted by analysts. Fashion designer and retailer Michael Kors is likewise expected to show an earnings decline.
Keep up with all the latest breaking news and trading ideas by following Benzinga on Twitter.
Posted-In: kohl's macy'sEarnings News Previews Trading Ideas Best of Benzinga
View Comments and Join the Discussion!