Earnings: How are WMT's Recent Investments Panning Out?
Wal-Mart Stores, Inc. (NYSE: WMT) faces challenges as it seeks new ways to grow annual revenues that are already approaching $500 billion. Investors will find out what's working and what needs more tweaking when the world's largest company by revenues reports Q1 results ahead of the market open Thursday.
Like many other retailers, Amazon.com, Inc. (NASDAQ: AMZN) dominance in e-commerce competes with WMT's online sales. This competition prompted WMT to invest big into upping its "omni-channel" game. The company also aims to better compete in home delivery and generic prescription drugs, for example. But WMT is also getting nipped by smaller players ranging from deep-discount grocery stores to so-called athleisure apparel retailers.
What's more, WMT has warned investors that its margins would be pinched by the $5 billion in recent investments including raising in-store wages, improving staff training, reconfiguring stores for better efficiency, and cutting prices to keep its "Save money. Live better." mantra intact. What can all this mean to the bottom line?
At Thomson Reuters, many analysts are projecting a -15% drop in profits to $0.88 cents a share on a 1.4% decline in top-line sales to $113.2 billion. The strength of the dollar for this multinational giant is another risk to contend with. In the last quarter, annual revenue tumbled for the first time since WMT went public in 1970, partially because of foreign-currency risks.
Short-term options traders have priced in a potential 3.5% share price move in either direction around the earnings release, according to the Market Maker Move indicator on the thinkorswim® platform by TD Ameritrade.
Going into earnings the 65- and 64-strike puts were active. There was a lot of activity at the 67.50-strike calls when the stock was trading higher recently. The implied volatility is at the 62nd percentile. (Please remember past performance is no guarantee of future results.)
Note: Call options represent the right, but not the obligation, to buy the underlying security at a predetermined price over a set period of time. Put options represent the right, but not the obligation, to sell the underlying security at a predetermined price over a set period of time.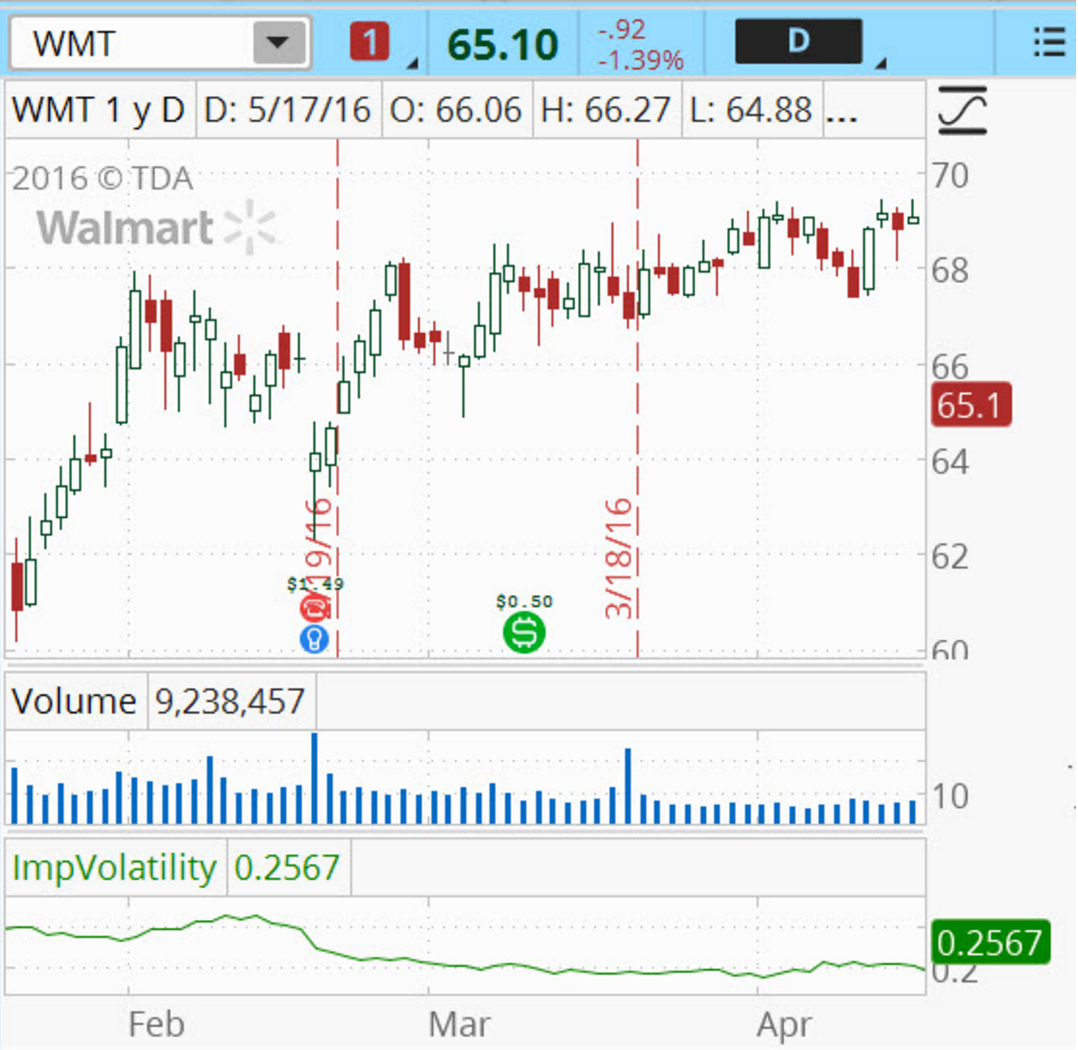 Probability analysis results from the Market Maker Move indicator are theoretical in nature, not guaranteed, and do not reflect any degree of certainty of an event occurring.
TD Ameritrade and all third parties mentioned are separate and unaffiliated companies, and are not responsible for each other's policies or services.
Inclusion of specific security names in this commentary does not constitute a recommendation from TD Ameritrade to buy, sell, or hold.
Market volatility, volume, and system availability may delay account access and trade executions.
Past performance of a security or strategy does not guarantee future results or success.
Options are not suitable for all investors as the special risks inherent to options trading may expose investors to potentially rapid and substantial losses. Options trading subject to TD Ameritrade review and approval. Please read Characteristics and Risks of Standardized Options before investing in options.
Supporting documentation for any claims, comparisons, statistics, or other technical data will be supplied upon request.
The information is not intended to be investment advice or construed as a recommendation or endorsement of any particular investment or investment strategy, and is for illustrative purposes only. Be sure to understand all risks involved with each strategy, including commission costs, before attempting to place any trade. Clients must consider all relevant risk factors, including their own personal financial situations, before trading.
TD Ameritrade, Inc., member FINRA/SIPC. TD Ameritrade is a trademark jointly owned by TD Ameritrade IP Company, Inc. and The Toronto-Dominion Bank. © 2016 TD Ameritrade IP Company, Inc. All rights reserved. Used with permission.
View Comments and Join the Discussion!