EXCLUSIVE: Re/Max CEO And CFO Explain Low Guidance, Say Co. Isn't Rate-Sensitive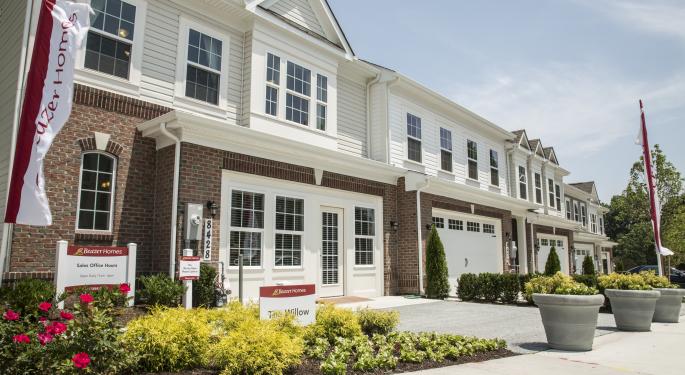 Correction: An earlier version of this story incorrectly stated Re/Max said revenue would have increased 5 to 6 percent in Q1 after adjustments.
Re/Max Holdings Inc (NYSE: RMAX) CEO Dave Liniger and CFO Karri Callahan explained the company's lowered guidance in exclusive interview with Benzinga after the company beat Street expectations in its Q4 report on Thursday.
The expected decrease in revenue is due to company's shift to entirely franchised brokerages, explained Callahan. Decreased costs from the brokerage sales bumped the company's Q4, but cutting off corporate from the brokerages' sales will decrease revenue in the near term. Callahan explained that after adjusting for the brokerage sales, revenue would have increased by an estimated 4 to 5 percent over Q1 2015.
Labor Force Hasn't Returned
Liniger focused on concerns in the larger housing market, and said builders are holding up the pipeline of new homes. "A lack of inventory" is hurting the market "despite pent-up demand," Liniger said. He said during the housing crash, builders were stuck with excess inventory, and cut machine supply and labor to make up costs. That labor force has not yet returned.
Related Link: How To Invest In A Healthy Housing Recovery
Some builders also hold out for high-price deals, given their high margins. "Some builders would rather build one $5 million house" than a few sub-million homes, Liniger said. Builders need stronger financing and to increase their labor pools.
Rate Hike Won't Matter For Re/Max
Liniger was not concerned about the effects of a potential March rate hike by the Federal Reserve.
"Many people don't think this, but we are not interest-rate sensitive," Liniger said. "Jobs, the economy affect us more. A quarter point, half-point increase matters little to us."
Liniger noted that in the 1982 market crash, Re/Max sold homes at 17 percent interest rates -- buyers assumed they could refinance.
Investors were spooked by Re/Max's report, sending the stock crashing to a floor of $32.31 on Friday morning. By Friday afternoon, the stock had recovered to $33.07, down 3.6 percent on the day.
Posted-In: Earnings News Guidance Top Stories Economics Exclusives Hot Interview Best of Benzinga
View Comments and Join the Discussion!