Kroger And Lululemon Highlight A Short, Quiet Earnings Week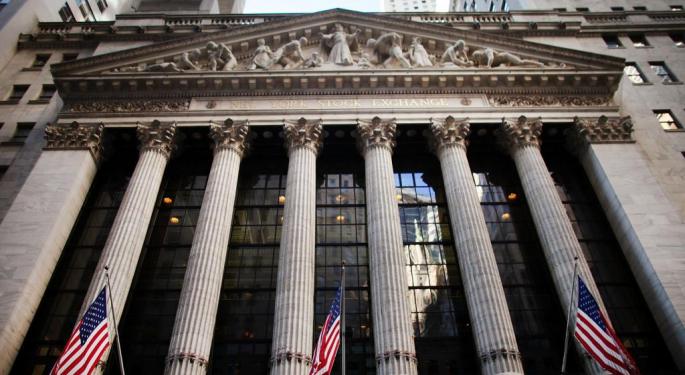 Traders and investors will come back from their holiday breaks or summer vacations to find just a few earnings reports of note for the rest of the week.
The week's highlights may be the most recent quarterly results from Kroger Co (NYSE: KR), the second-largest U.S. retailer, and from leading yoga-apparel company Lululemon Athletica inc. (NASDAQ: LULU). Wall Street analysts expect modest bottom line growth but flat revenue year-over-year from the former, but flat per-share earnings with strong top line results from the latter.
Also notable this week are the contrasting expectations for HD Supply Holdings Inc (NASDAQ: HDS) and Hovnanian Enterprises, Inc. (NYSE: HOV). Consensus forecasts call for strong earnings growth but with a sharp drop in revenue from the industrial equipment wholesaler; for the homebuilder, double-digit percentage revenue growth but a swing to a net loss from the year-ago profit.
Below is a quick look at what is expected from these and some of the week's other most prominent reports.
See also: Ken Langone: 'Banks Were Made The Scapegoats...Beaten Up Mercilessly, Unfairly'
HD Supply
This Atlanta-based company will post $0.54 earnings per share for its fiscal second quarter, if Wall Street's consensus forecast is accurate. That would be up from a profit of $0.45 per share in the same period of last year. But note that analysts overestimated EPS in the past four quarters.
Revenue for the three months that ended in July is predicted to have slumped from $2.45 billion in the year-ago quarter to $2.00 billion. A double-digit earnings decline is anticipated in the current quarter as well. Watch for the company to report before Wednesday's opening bell.
Hovnanian
When it shares its results early Wednesday, the consensus forecast of analysts is that this New Jersey-based company will post a net loss of $0.01 per share. That compares to a profit of $0.11 per share in the same period of last year. In the past two quarters, net losses were much larger than analysts expected.
Yet, revenue for the three months that ended in July will be around 11 percent higher than a year ago to $611.95 million, if the analysts are correct. However, top line growth in the current quarter is so far expected to be much more modest, albeit up sequentially.
Kroger
The fiscal second-quarter forecast for this retailer calls for EPS to have risen from $0.35 in the year-ago period to $0.39, according to a consensus of 12 Estimize respondents. Also, revenue is expected to have risen from $25.31 billion to $25.76 billion, for the three months that ended in July.
Note that the EPS estimate is the same as Wall Street expectations, but analysts have a revenue projection of just $25.51 billion for the period. They see top line growth a little stronger in the current quarter. Kroger is scheduled to release its results Friday before the regular trading session kicks off.
Lululemon
EPS of $0.34 for the fiscal second quarter are anticipated from this Canadian company. That comes from 49 Estimize respondents, but it is higher than either Wall Street expectations or company guidance. Lululemon posted EPS of $0.34 back in the second quarter and $0.33 in the year-ago third quarter.
The Estimize forecast also calls for revenue to be less than 14 percent higher, relative to a year ago, at $442.14 million for the most recent period. Here they are a bit more pessimistic than Wall Street and company guidance. Lululemon is expected to share its results before markets open on Thursday.
See also: Analysts Differ On Future Direction Of BP
And Others
The following are consensus forecasts for other companies expected to share their financial results this week:
Barnes & Noble: EPS of $0.12, revenue of $988.05 million (four Estimize estimates)
Finisar: EPS of $0.26, revenue of $318.71 million (14 Wall Street estimates)
FuelCell Energy: net loss of $0.02 per share, revenue of $39.44 million (five Wall Street estimates)
Krispy Kreme Doughnuts: EPS of $0.17, revenue of $129.63 million (five Estimize estimates)
Men's Wearhouse: EPS of $1.05, revenue of $946.76 million (six Wall Street estimates)
Palo Alto Networks: EPS of $0.27, revenue of $258.80 million (21 Estimize estimates)
Quiksilver: net loss of $0.16 per share, revenue of $344.97 million (five Estimize estimates)
Restoration Hardware: EPS of $0.83, revenue of $501.76 million (four Estimize estimates)
Sunrun: net loss of $0.50 per share, revenue of $90.51 million (three Wall Street estimates)
TiVo: EPS of $0.11, revenue of $116.99 million (three Estimize estimates)
Yingli Green Energy: net loss of $0.27 per share, revenue of $504.37 million (seven Estimize estimates)
In the following week, watch from the latest quarterly reports from the likes of FedEx, Oracle and Rite Aid.
Keep up with all the latest breaking news and trading ideas by following Benzinga on Twitter.
Posted-In: HD Supply hovnanian KrogerEarnings News Previews Top Stories Trading Ideas Best of Benzinga
View Comments and Join the Discussion!