New Earnings Season Kicks Off: Alcoa, PepsiCo, Walgreens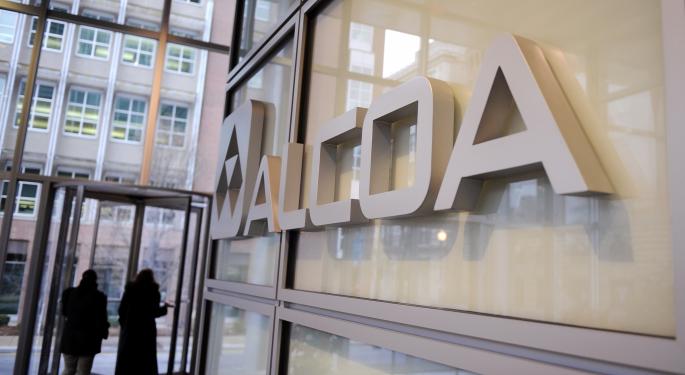 The traditional kickoff to a new earnings season comes when Alcoa Inc (NYSE: AA) reports its most recent quarterly results, as the aluminum giant is scheduled to do this week.
Wall Street analysts, on average, are looking for year-over-year growth in earnings per share (EPS), but for revenue to have slipped a bit in the second quarter.
PepsiCo, Inc. (NYSE: PEP) also is on tap to share its second-quarter results this week. For the beverage and snack giant, analysts are looking for declines on both the top and bottom lines, relative to the same period of last year.
The week's other highlight will be the fiscal third-quarter earnings from Walgreens Boots Alliance Inc (NASDAQ: WBA), operator of the largest drug store chain in the United States. A year-on-year surge in revenue is forecast, but EPS are expected to have slipped.
Below is a quick look at what is expected from these results, as well as a peek at the week's other most prominent reports.
See also: Credit Suisse Maintains Overweight On Chinese Telecoms Ahead Of Half-Year Earnings
Alcoa
The consensus forecast from Wall Street analysts calls for per-share earnings to have increased from $0.18 in the year-ago period to $0.23. Note that the forecast has dropped by a couple of pennies in the past 60 days, but analysts have underestimated EPS in the past four quarters by as much as eight cents.
The revenue forecast for the second quarter is $5.79 billion. That would be down fractionally from in the same quarter of last year. Note that revenues fell short of expectations in the previous period, and the decline is expected to be by more than 5 percent in the current period, which ends in September.
For another take on what to expect: The consensus earnings estimate from 44 Estimize survey respondents is $0.27 per share, with a revenue forecast of $5.91 billion.
Look for the world's third largest producer of aluminum to release its latest results Wednesday after the regular trading session ends.
PepsiCo
In its report early Thursday, this maker of Doritos, Cap'n Crunch and Mountain Dew is expected by Wall Street to say that EPS declined by eight cents from a year ago to $1.24 in the second quarter. However, PepsiCo has handily topped EPS expectations in the past four quarters.
The top line is forecast to have seen a year-on-year decline as well, by more than 6 percent to $15.80 billion. This is at a time when the soda industry is undergoing big changes. Revenues for the current quarter and the full year so far are expected to be lower as well.
The Estimize forecast is a little more optimistic. Some 24 respondents see per-share earnings on average coming in at $1.26, on revenue that totals $15.99 billion. But note that Estimze, like Wall Street, has tended to underestimate EPS in recent quarters.
Walgreens
The Illinois-based specialty retailer will post fiscal third-quarter EPS of $0.87 and $29.67 billion in revenue, if the Wall Street consensus forecast is accurate. That would compare to $0.91 per share and $19.40 billion in the same period of last year. Note that the EPS expectations have not changed in the past 60 days.
The consensus of 14 Estimize estimates has EPS of $0.89 and revenue totaling more than $30.28 billion for the period, so again a bit more optimistic than Wall Street. But like the analysts, Estimize way underestimated EPS back in the second quarter.
During the third quarter, shares of Walgreens hit a post-merger high around the time of its analysts meeting in April. It continues to be one of the most popular retailers in the United States. Like PepsiCo, the company will step into the earnings spotlight Thursday before the opening bell
See also: Family Dollar's Q3 Was Disappointing, But MKM Says It's A Non-Event
And Others
Earnings growth is also anticipated from A. Schulman, Barracuda Networks, Grupo Televisa and WD-40 when they report their latest results this week. But MSC Industrial Direct and Synergy Resources will show earnings declines, and NovaGold Resources will report a net loss, if Wall Street analysts are correct.
The new earnings ramps up next week, with reports due from Bank of America, Delta Air Lines, General Electric, Google, Goldman Sachs, Intel, Johnson & Johnson, Netflix, Wells Fargo and many others.
Keep up with all the latest breaking news and trading ideas by following Benzinga on Twitter.
Posted-In: Alcoa pepsico WalgreensEarnings News Previews Top Stories Trading Ideas Best of Benzinga
View Comments and Join the Discussion!