Oracle, Rite Aid & FedEx Highlight Quiet Earnings Week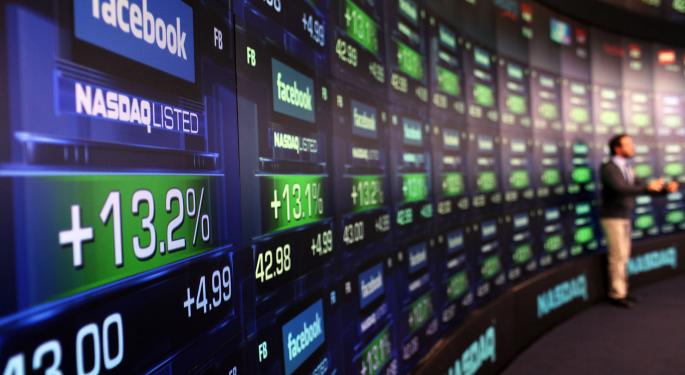 Things will be pretty quiet on the earnings front again this week as we wait for the new season to begin. However, a few household names will be taking their turns the spotlight.
If the consensus forecasts of Wall Street analysts prove correct, then FedEx Corporation (NYSE: FDX) and Kroger Co (NYSE: KR) will show year-over-year earnings growth when they share their latest quarterly results this week.
On the other hand, smaller earnings are expected from KB Home (NYSE: KBH), Oracle Corporation (NYSE: ORCL) and Rite Aid Corporation (NYSE: RAD).
Here is a quick look at what analysts are looking for from these results, as well as a peek at the week's other most anticipated reports.
See also: What You Don't Know About Banks Could Fill A Book
FedEx
The consensus estimate of 22 Estimize respondents calls for earnings per share (EPS) of $2.76, a gain of more than 10 percent from in the same period of last year. Also, revenues for the three months that ended in May are expected to have increased about 4 percent to around $12.31 million.
Note that the Wall Street EPS estimate for the fiscal fourth quarter is just $2.68, and that has not changed in the past 60 days. Look for this global transportation, e-commerce, and business services giant to release its latest results Wednesday before the regular trading session begins.
KB Home
When it shares its results first thing Friday, this Los Angeles-based homebuilder is expected to say its earnings for the most recent quarter came in at $0.10 per share, according to three Estimize estimates. That would be well down from the $0.27 per share posted in the same quarter of last year.
The Estimize forecast for nearly $650 million in revenue is higher than the Wall Street estimate of $622.70 million, and it also compares to last year's $565.21 million for the fiscal second quarter. Note that Estimize respondents overestimated review in the previous two periods.
Kroger
The consensus of 10 Estimize estimates is EPS of $1.19 and revenue that totaled $32.43 billion for the fiscal first quarter, when the supermarket chain reports Thursday morning. That would compare to the $1.09 per share earnings and revenue of $32.96 billion reported in the same period of last year.
Wall Street analysts see a gain in revenue for the period to $33.35 billion, but they also anticipate that revenue in the quarter that ends in July will be essentially flat year over year. So far, they do see revenue for the full year that is marginally higher than in the previous year.
Oracle
In its report late Wednesday, this networking and enterprise software giant is expected to say that its EPS slipped by a penny from a year ago to $0.91, according to 33 Estimize estimates. Wall Street analysts are a bit more pessimistic, placing earnings at $0.87 per share for the fiscal fourth quarter.
The Estimize forecast also has revenues down marginally to $11.16 billion for the most recent quarter, compared to Wall Street expectations of $10.95 billion. Both Wall Street and Estimize respondents, on average, overestimated revenue in the most recent quarter.
See also: All The Right Option Moves: Take The Improv Out Of Earnings
Rite Aid
The third-largest U.S. drug store chain will report $0.03 per share earnings for its fiscal first quarter, down a penny from the year-ago period, according to Wall Street. However, some 11 Estimize estimates put the figure at $0.07 per share. Wall Street way underestimated EPS in the past three quarters.
Revenue for the three months that ended in May will be around 3 percent higher to $6.68 billion, says Estimize. Both Wall Street and Estimize have underestimated revenues in recent periods. Look for Rite Aid to report it latest quarterly results before Thursday's opening bell.
And Others
Earnings growth is also anticipated from Adobe Systems, CarMax, Jabil Circuit and Red Hat this week.
If analysts' estimates are correct, earnings declines are in store for Pier 1 Imports and Smith & Wesson.
Upcoming earnings to watch for include those from BlackBerry, Monsanto and Nike.
Keep up with all the latest breaking news and trading ideas by following Benzinga on Twitter.
Posted-In: fedex KB HomeEarnings News Previews Top Stories Pre-Market Outlook Trading Ideas Best of Benzinga
View Comments and Join the Discussion!