Amazon Earnings Live Blog: Q1 Conference Call
Amazon.com, Inc. (NASDAQ: AMZN) reports earnings Thursday afternoon. The company is expected to hold a conference call at 5:30pm ET; below is a live blog of the events.
06:19:55pm: The conference call has concluded.
06:16:15pm: Analyst asks about guidance and references "sandbagging." Response: "We think it's an appropriate range for Q2."
06:11:55pm: Response: It's valuable for customers. Not ready to share numbers on that yet. "We're in 7 cities today [Prime Now]...and you should be expecting more."
06:10:25pm: Gene Munster asks: Could you give color on same-day and same-hour retail?
06:05:13pm: Amazon: We'll continue to invest in Prime..."We think that's a great platform to feed."
06:04:15pm: "There are opportunities to improve margins over time. You'll have to stay tuned..."
05:59:12pm: "Some of the investments we're making...one examples would be video content [for Prime]...what we've seen to date is that it's certainly still an investment for us, it's certainly impacting our operating results, but we like what we see. We see customers come in through the pipeline...they convert at a higher rate...we bring in new customers through our video pipeline."
05:51:55pm: "We're very excited about India...we have a sizable step up in investment [there]...it's a big opportunity and we're investing appropriately."
05:49:42pm: "There's a big opportunity with Prime...it's growing at a faster rate. We're going to continue to feed the Prime platform, continue to add selection in a lot of categories."
05:46:12pm: Prime is "growing very vast....Prime is video, devices...the common theme is: they're all really intertwined, and inextricably linked to our platform."
05:45:34pm: Company says it will not share Prime Now user statistics yet. "So far, customer response is great...we'll give you updates as we progress through the year."
05:44:58pm: Q&A begins.
05:44:55pm: Amazon mentions loss of $500M to $50M profit guidance for the second quarter.
05:40:11pm: AWS net sales rose 49% year over year to $1.566B. AWS operating income rose 8% year over year to $265M.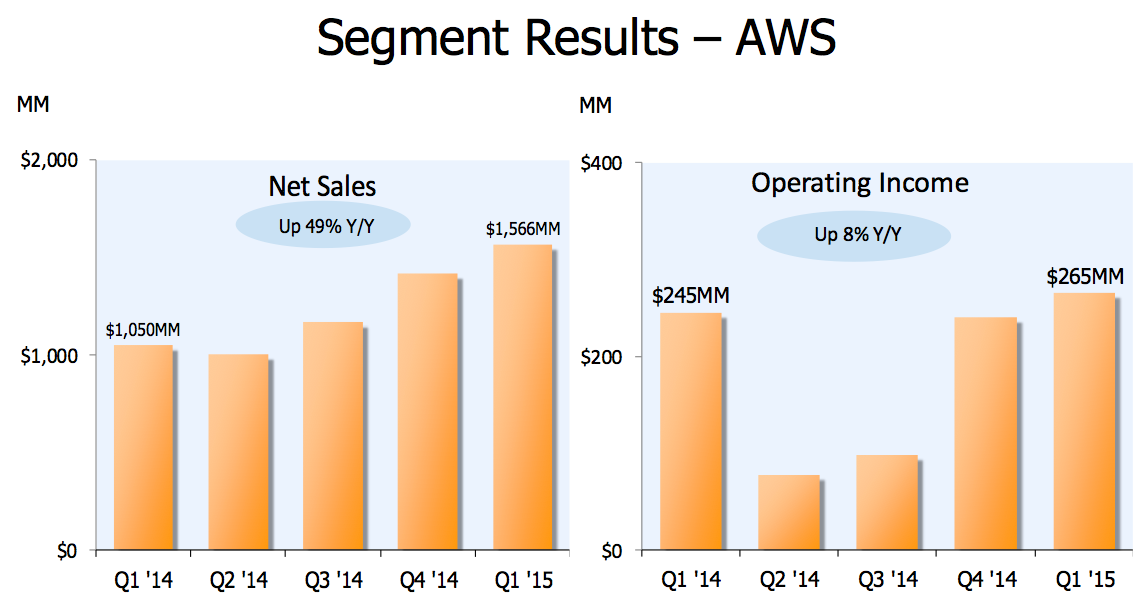 05:37:59pm: International operating loss was $76M -- was $33M this time last year.
05:37:55pm: International net sales fell 2% year over year, adjusted for FX, it rose 14% year over year.
05:37:14pm: In North America, net sales rose 24% year over year. Operating income rose 79% year over year.
05:37:14pm: Now discussing AWS figures, and other segmented financials.
05:35:12pm: Return on invested capital rose to 14% from 9% a year ago.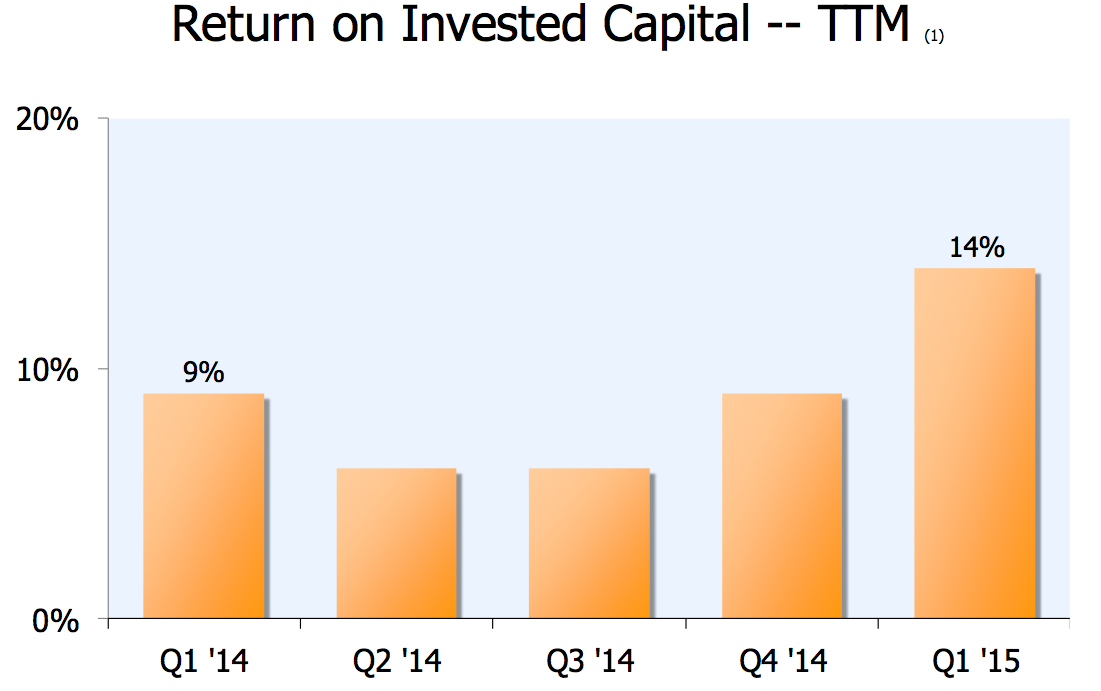 05:33:33pm: Conference call has begun.
05:22:12pm: Amazon shares up 7 percent after hours. Stock move, via Google Finance: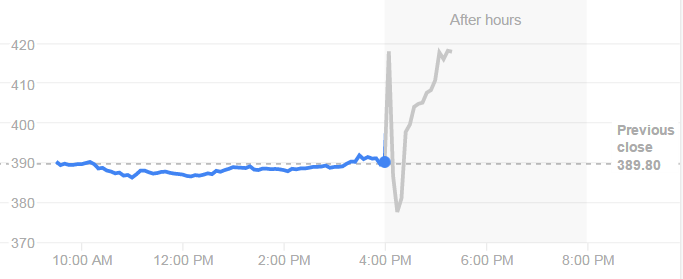 04:07:23pm: Amazon.com Sees Q2 Operating Loss of $500M to Profit of $50M, Sales $20.6B-$22.8B vs $22.12B Est.
04:01:48pm: Amazon Reports Q1 EPS -$0.12 Vs Est -$0.12, Sales $22.72B Vs Est $22.43B
Related Articles
Posted-In: Amazon Earnings Amazon live blogEarnings News
View Comments and Join the Discussion!