Morgan Stanley, Facebook, Coke... Some Huge Names Report Earnings This Week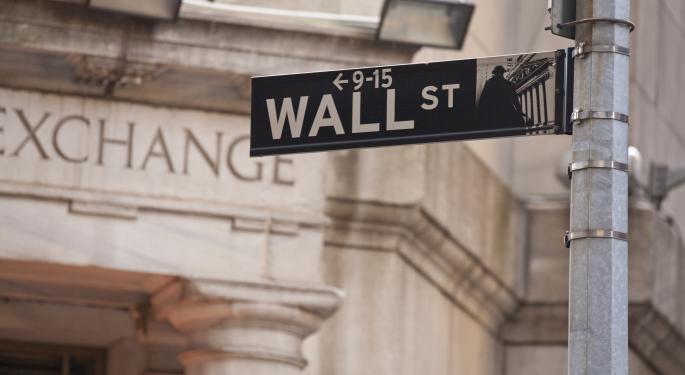 Lots of blue chips will be taking their turns in the earnings spotlight this week. Wall Street analysts have high hopes for the likes of American Airlines Group Inc (NASDAQ: AAL), Facebook Inc (NASDAQ: FB), General Motors Company (NYSE: GM), Google Inc (NASDAQ: GOOGL), Morgan Stanley (NYSE: MS) and Verizon Communications Inc. (NYSE: VZ). Consensus forecasts call for marginal to strong earnings growth from each of them.
However, AT&T Inc. (NYSE: T), The Coca-Cola Co (NYSE: KO), Microsoft Corporation (NASDAQ: MSFT) and Yahoo! Inc. (NASDAQ: YHOO) will show reduced earnings in their reports this week, if those analysts are correct.
Here is a brief day-by-day run down of what is expected from these and some of the week's other most prominent reports.
See also: Battle Of The Investment Banks: Goldman Sachs Vs. Deutsche Bank
Monday
Many big banks reported last week, and Morgan Stanley kicks things off this week. Some 36 estimates from Estimize suggest its first-quarter results will be earnings per share of $0.80 on revenue of $9.32 billion. That would be up from EPS of $0.68 and $8.80 billion revenue in the year-ago period.
Haliburton and Hasbro also are scheduled to report results Monday morning, but sharp declines in EPS are predicted for both.
Tuesday
Before the opening bell, Verizon is expected to say its EPS grew from $0.84 in the first quarter of last year to $0.94 most recently, according to 15 Estimize estimates. Revenue is forecast to total $32.37 billion, or to be around 5 percent higher year-over-year.
Results from Yahoo will be the highlight later in the day. The consensus of 47 Estimize estimates is $0.20, which would be a drop from $0.38 per share a year ago. The anticipated revenue of $1.05 billion would be around 3 percent lower than in the same period of last year.
Also on Tuesday, Amgen, Broadcom, Harley-Davidson, Kimberly Clark and United Technologies are expected to offer up earnings growth, while Baker Hughes, Discover Financial Services, DuPont, Lockheed Martin and Yum! Brands are believed to have smaller earnings. EPS from Under Armour are expected to be about the same as a year ago.
Wednesday
Before the regular trading session begins, Coca-Cola steps onto the earnings stage. Estimize has 23 estimates, with a consensus forecast of $0.44 per share in earnings and $10.67 billion in revenue. That is essentially flat on both the top and bottom lines, relative to the first quarter of last year.
Abbot Labs, Boeing and McDonald's also report Wednesday morning, with an EPS decline expected from the Golden Arches but earnings growth from the others.
Representing two generations of tech giants, AT&T and Facebook share results after the markets close. Estimize forecasts call for $0.65 (11 estimates) and $0.44 (125 estimates), respectively. That is a decline from the former and double-digit percentage growth for the latter.
As far as revenue, the consensus forecasts have AT&T posting $33.04 billion, a marginal year-on-year increase, and Facebook offering up $3.62 billion, which is sharply higher than in the year-ago period.
Others reporting late Wednesday include eBay and Qualcomm. Bottom line growth is expected from both of them.
Thursday
GM is scheduled to share its results before the markets open, and per-share earnings are expected to have surged more than 73 percent to $1.09. That forecast is based on 13 estimates collected by Estimize. Revenue for the first quarter is expected to be about 5 percent higher to near $39.52 billion.
On deck for post-session reports Thursday are tech giants Google and Microsoft. The former will report EPS of $6.82 and revenue of $14.34 billion (82 estimates), while the latter posts $0.58 EPS on $21.93 billion in revenue (39 estimates), if Estimize forecasts are accurate.
These consensus EPS estimates would represent a gain more than 8 percent on the bottom line for Google, but a decline of more than 14 percent for Microsoft. Note that Wall Street has overestimated Google's EPS in the past few quarters.
Also on Thursday, watch for anticipated earnings gains from AbbVie, Altria, Starbucks, 3M and United Continental, relative to the same period of last year. However, Amazon.com, Capital One, Caterpillar, Dow Chemical and Procter & Gamble are expected to have EPS that are lower. The forecast for Peabody Energy calls for a net loss.
See also: Activist Investors And Insider Buying: A Strong Signal
Friday
First thing Friday morning, look for American Airlines to report $1.77 EPS, based on 10 estimates from Estimize. That would be a jump from $0.54 in last year's first quarter. Yet revenue is predicted to have slipped a bit to $9.94 billion.
Xerox and Tyco International also will share results early Friday. Analysts are looking for an EPS decline from the former and bottom line growth from the latter.
Keep up with all the latest breaking news and trading ideas by following Benzinga on Twitter.
Posted-In: Coke Estimize GMPreviews Top Stories Trading Ideas Best of Benzinga
View Comments and Join the Discussion!