A Play-By-Play Recap Of Alcoa's Q1 Earnings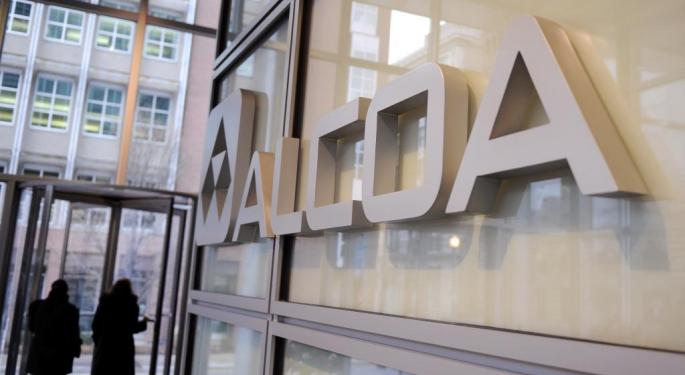 Alcoa Inc (NYSE: AA) reports first quarter earnings this afternoon, with a conference call beginning at 5:00pm ET. Below is a live blog of the events.
06:28:15pm Kleinfeld finishes call with long discussion of revenue growth concerns:
"Before we close, let me ask myself a question...I want to address [revenue growth]. We've grown year over year 7% on the revenue side...let's lock that in. I have also said the primary drivers of that have been organic growth, coming from auto and aeros...please help me explain that to the outside world."
"People are going to look at you [the analysts] to understand this."
Emphasizes that the source of organic growth is from autos and aeros. "Please help me explain this," Kleinfeld emphasizes again. "I think this is a very strong quarter performance and we should all be pleased...the acquisition strategy is showing dividends...I'm very comfortable with where we are."
"Let's continue to stay focused on the bottom line...put it in perspective...we've come a long way...the best is yet to come and we are very well positioned to get that done."
06:10:23pm: On whether or not Alcoa has a third M&A target in the future: "There's no need for further upstream integration...the best thing to create value will always be organic growth. We have been very strong in the organic growth side...in 2008 EPS profitability was 8%, and look at where we are today."
"That's a question of hard work, innovation has played an enormous role. You cannot do this by just [cost-cutting]..."
06:07:11pm: Kleinfeld: On Chinese competition: They're "abusing the intention of the Chinese government...we are monitoring them...I'm pretty optimistic that the Chinese government [will] stop this abuse."
05:58:55pm: Kleinfeld: Chinese competitors are "abusing Chinese stock policies."
05:57:18pm: Kleinfeld: The reason why we're seeing pressure on premiums is because "high premiums have attracted" Chinese competitors.
05:54:11pm: Alcoa Q&A begins.
05:44:57pm: We plan to have RTI as its own business segment with Alcoa, which will feed into Alcoa EPS.
05:40:11pm: Kleinfeld: RTI regulatory and shareholder approval should take another 2-5 months. It's "well on track."
05:26:59pm: Chinese demand in the heavy duty truck segment is expected to fall~30% this year. China packaging growth of 8-12% is expected, driven by beer. Full China numbers here:



05:26:18pm: "We do see improving signs in Western Europe," orders and registrations are up in heavy trucks.
05:26:15pm: Tightening our range to the upside in heavy truck forecast...company saw "record" orders last quarter.
05:23:55pm: Auto growth partially driven by light truck demand, a reflection of low gas prices.
05:23:13pm: Auto growth forecast wider, between 1 and 3 percent, according to Kleinfeld.
05:23:13pm: Kleinfeld: We expect 9 to 10 percent growth in aerospace this year. Regional jets a particularly "nice" highlight.
05:21:11pm: CFO talking about demand across the world. Demand for aluminum is described as "strong."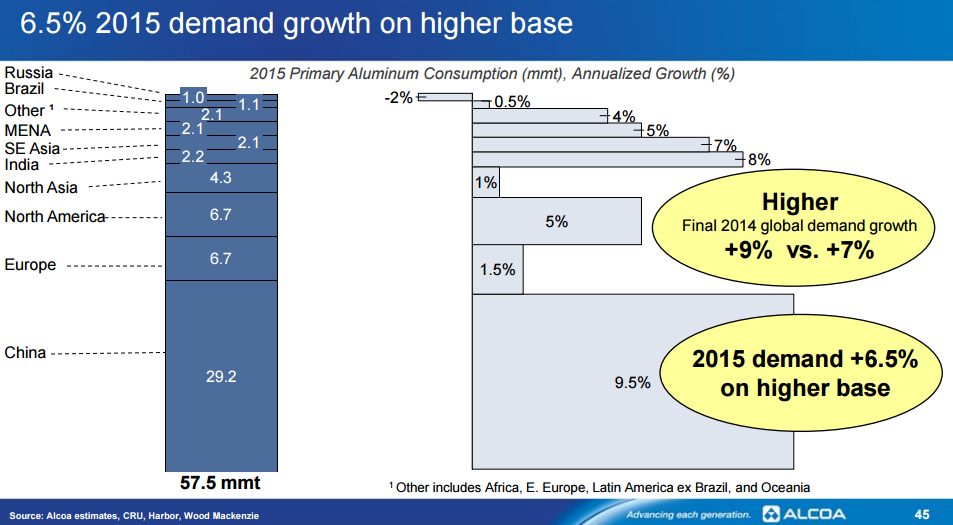 05:20:15pm: Summing it all up in one image: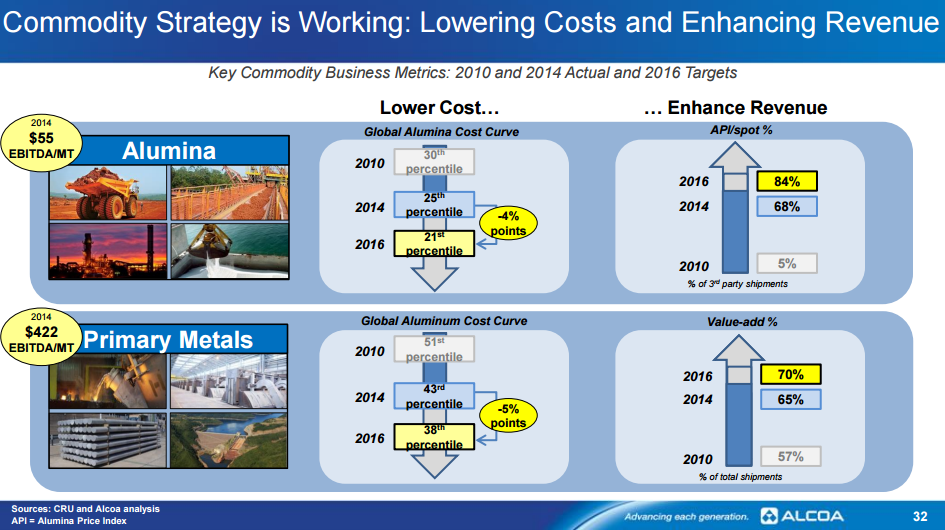 05:16:22pm: CFO recently highlighted Firth Rixson. "We strive to bring [it] in line..." Slide via presentation below: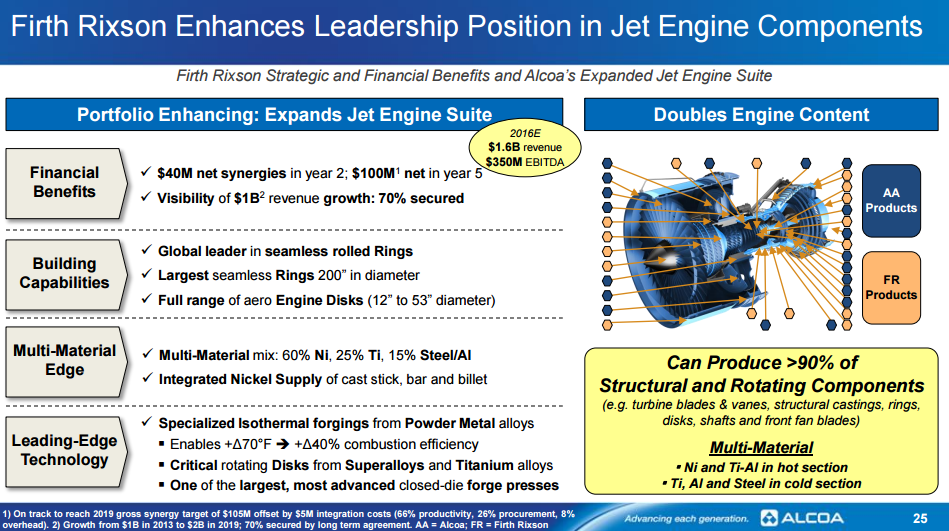 05:15:16pm: CFO: Lower energy sales prices in Brazil; lower energy cost in Spain
05:10:01pm: CFO on outlook for Q2: Aerospace to remain strong, softness in Europe, auto demand to remain strong. Two key points:
Net Energy impact slightly positive; lower costs and additional Brazil sales offset lower energy sales in other regions
Russia impacts and negative packaging price pressures continue ($19M)
05:09:22pm: Unfavorable energy costs largely driven by costs in Spain smelting operations.
05:08:22pm: CFO: 90% of restructuring charges are non-cash.
05:04:19pm: 14th consecutive quarter of improvement in upstream segment of business. Transformation "fully on track," Kleinfeld says.
05:02:16pm: CEO Klaus Kleinfeld begins conference call. "If you look under the hood, [revenue growth] has been driven by organic growth...in auto and aero."
04:54:44pm: Alcoa talks transformation plan in analyst presentation: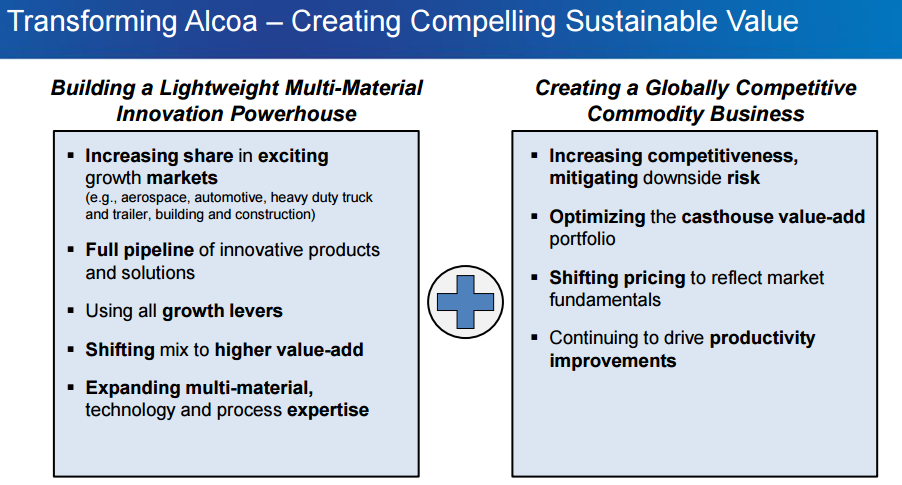 04:50:01pm: According to analyst presentation, Alcoa is seeing strength in aerospace and non-residential construction, weakness in Europe: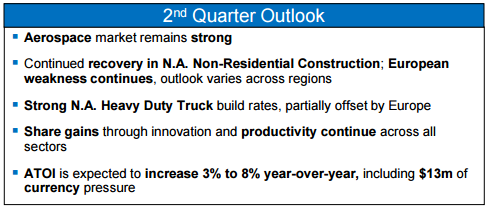 04:44:16pm: From FindTheBest:
04:27:11pm: Full breakdown of earnings report here.
When Alcoa beats, the market has averaged a 4% gain 3 months later Chart by @NautilusCap http://t.co/ytU8WZC43J $AA pic.twitter.com/7ViV8Ybd79

— StockTwits (@StockTwits) April 8, 2015
04:26:25pm: Alcoa shares now down 3.4 percent after hours.
04:16:17pm: Alcoa shares down 0.73 percent after hours on revenue miss. Stock rose 1.8 percent during Tuesday's session.
04:04:07pm: Alcoa Reports Q1 EPS $0.28 vs. Est. $0.26; Rev. $ 5.82B vs. Est. $5.94B
Related Links
Posted-In: Alcoa earnings Alcoa live blogEarnings News Best of Benzinga
View Comments and Join the Discussion!