GameStop Earnings Live Blog: Q4 Conference Call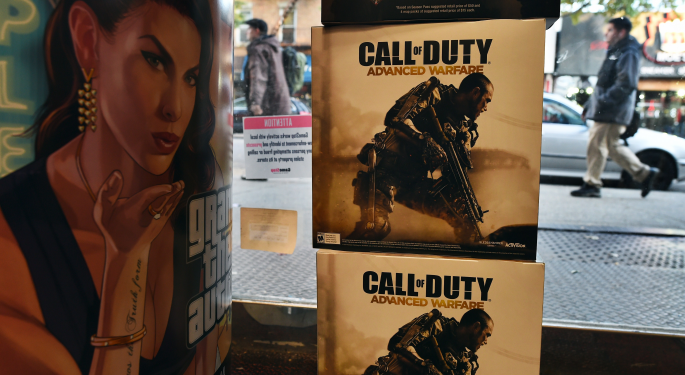 GameStop Corp. (NYSE: GME) reports earnings on Thursday afternoon. The company will hold a conference call at 5:00pm ET; below is a live blog of the events.
06:01:36pm: The call has ended.
05:59:51pm: 95% of the DLC that GameStop sells occurs in-store.
05:57:14pm: GameStop doesn't forecast price declines on hardware until it knows something.
05:50:09pm: AT&T and Apple frequently call GameStop to let the company know when a retailer is exiting the space.
05:46:43pm: GameStop said that the AT&T dealer business is extremely fragmented. GameStop wants to consolidate and improve this.
05:44:39pm: GameStop said that trade-in business is spread across all game genres, is not higher or lower for one type of game.
05:43:26pm: GameStop said DLC has accelerated since the retailer got into the business. Typically attaches 30 to 40 percent DLC to a title when it's released. Higher DLC prices lead to a slower attach rate.
05:35:10pm: PowerUp Rewards membership grew to more than 30 million in the US. Average members spend three times more than non-members.
05:34:32pm: GameStop expects non-gaming revenue to grow to $2 billion.
05:33:18pm: GameStop said it is now the number-one specialist Apple retailer.
05:29:03pm: GameStop hopes to convert a small number of locations to AT&T stores, especially when it can transfer GameStop merchandise to a nearby store.
05:27:45pm: GameStop thinks its in-store associates have helped sell digital downloads.
05:26:28pm: Pre-owned sales are starting to shift to the newer consoles (PS4, Xbox One) from older hardware. Pre-owned sales returned to growth in 2014.
05:24:02pm: GameStop's partners indicate that there will be fewer software bundles given away for free in 2015.
05:23:45pm: GameStop has a 46% market share for PS4 and Xbox One software.
05:19:19pm: 12% of AAA games sold last year were downloaded. 60% are estimated to have been given away in hardware bundles. These stats come from a DFC report due later this year, via GameStop.
05:13:59pm: GameStop closed 251 stores last year but acquired or opened 266 technology brands stores.
05:12:23pm: Hardware sales increased for the year but decreased in the fourth quarter. GameStop ended year with its highest market share ever for hardware and software.
05:08:31pm: "Our video game business has strong growth rate," said Raines. "Our pre-owned business will always be a strong foundation."
05:07:20pm: Partnership with AT&T is going well, GameStop is the carrier's second biggest partner. "Apple is also a great partner, and with the three acquisitions we made, we are now their largest independent retailer," Raines said.
05:05:37pm: Competitors who entered pre-owned market have not hurt GameStop, but have helped build awareness about the space, Raines said.
05:04:40pm: Raines: "Digital is a solid growth story for us."
05:03:54pm: J. Paul Raines, GameStop CEO: I'm very proud of the dedication and execution of our entire team.
04:59:14pm: The call is about to begin.
04:53:47pm: According to VGChartz, "Halo 5: Guardians" has been pre-ordered more than 190,000 times. It dominated the charts, followed by the PlayStation 4 version of "Batman: Arkham Knight." The site has pre-order stats for the top 40 games in America across all retailers, including GameStop.
04:46:12pm: More than $1 billion in trade-in credit is returned to GameStop customers every year. This figure is important because most of those customers spend the credit on new software and hardware. Without GameStop, consumers' video game buying power would be reduced by more than $1 billion.
04:38:42pm: On March 3 GameStop announced that it had increased its regular annual cash dividend from $1.32 to $1.44 per share.
04:35:08pm: GameStop also recently announced that it now accepts Apple Inc.'s (NASDAQ: AAPL) mobile payment service, Apple Pay.
04:27:29pm: Earlier this month GameStop announced that all US locations will allow customers to sell gift cards from other stores. Customers can exchange the card for GameStop credit and buy merchandise on the spot.
04:14:56pm: Gamestop shares down 3.71 percent after-hours.
04:12:35pm: Gamestop Expects To Reduce Video Game Stores Count By 3% In 2015
04:09:26pm: Gamestop Sees FY 2015 EPS $3.60-$3.80, Sees Q1 EPS $0.53-$0.60
04:07:05pm: GameStop Reports Q4 EPS $2.15 Vs Est $2.16, Sales $3.48B Vs Est $3.62B
Disclosure: At the time of this writing, Louis Bedigian had no position in the equities mentioned in this report.
Related Links
Posted-In: conference call Gamestop earningsEarnings News Best of Benzinga
View Comments and Join the Discussion!