Oracle Q3 Earnings: A Play-By-Play Recap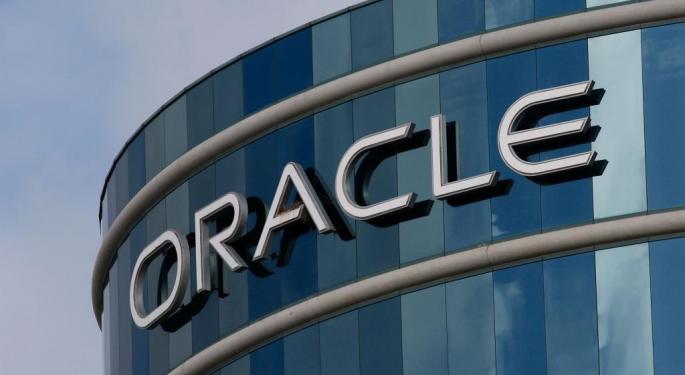 Oracle Corporation (NYSE: ORCL) reports earnings on Tuesday afternoon. Below is a live blog of the events.
The conference call is expected to begin at 5:00pm EDT.
05:51:22pm: The conference call has concluded.
05:44:12pm: Marketing growth in the quarter was over 200%. That's the best proof of our relationships. When you look at our competitors, "we are simply growing faster."
05:38:59pm: We have "very clearly," the strongest platform based on experience compared to small competitors and Salesforce.
05:36:17pm: Nomura analyst asks about native SaaS. Oracle response: "It wasn't called the cloud 10 years ago, it was called Saas...we started a project 10 years ago to re-write everything. In Fusion..every single line of code is brand new...they're completely re-written for the cloud."
05:30:12pm: More on SAP: "We don't see them as a cloud competitor...we only talk about them when we get a question on the call."
05:29:12pm: More on SAP: "We don't see them as a cloud competitor...we only talk about them when we get a question on the call."
05:28:27pm: On SAP's competition: "This is 30-year old code renamed S/4HANA."
05:27:23pm: When asked what use cases are driving PaaS growth: "You can take any workload, any database that you have...and move [it] with the push of a button, and run it in the Oracle cloud. Nobody else can do that...Salesforce.com PaaS is based on propriety technology...our platform is based on Java -- and industry standard -- and the Oracle database -- an industry standard."
05:23:55pm: Company expects to sell more SaaS and PaaS business than Salesforce in 2015. "That might come as a big surprise to a lot of people out there...you won't have to wait very long to see who wins this."
05:19:33pm: Our cloud revenue is already about a $2 billion run-rate...We expect Q4 bookings of $300 million, $50 million higher than before. We expect next year's bookings growth to be more than 100%.
05:19:23pm: Expecting Q4 Adj. EPS $0.90-$0.96 vs $0.94 Est.
05:19:11pm: We're adding customers at more than 10x the rate of Workday.
05:18:13pm: Fusion bookings have grown more than 200% every quarter this year.
05:14:14pm: In terms of M&A, we're focused on "finding the right companies and the right valuations."
05:12:26pm: Anticipating "enormous" Q4 growth; "when you compare the same nine months last year to the first nine months of the year this year, our capital expenditures is up about $350 million.
05:11:55pm: EPS would have been six year higher were it not for currency headwinds.
05:11:12pm: "We continue to gain share against IBM and HP."
05:10:11pm: "We're clearly growing faster than Salesforce."
05:08:22pm: The conference call has begun.
04:43:01pm: A historical look at EPS, courtesy of FindTheBest:
04:29:05pm: Oracle stock up 3.6 percent after-hours.
04:25:01pm: Notable quote from Chairman and CTO Larry Ellison in PR: "We are well on our way to selling over $1 billion of new SaaS and PaaS business in calendar 2015. Salesforce.com has announced that it also expects to add about $1 billion of new SaaS and PaaS business this year. So it's going to be a close race who sells more in the cloud this year, us or them. Stay tuned."
04:01:59pm: Oracle Raises Qtr. Dividend from $0.12 to $0.15/Share
04:00:30pm: Oracle Reports Q4 EPS $0.68 Vs Est $0.70, Sales $9.33B Vs Est $9.46B
Related Links
Posted-In: Earnings News Best of Benzinga
View Comments and Join the Discussion!