Adobe Earnings Live Blog: Q1 Conference Call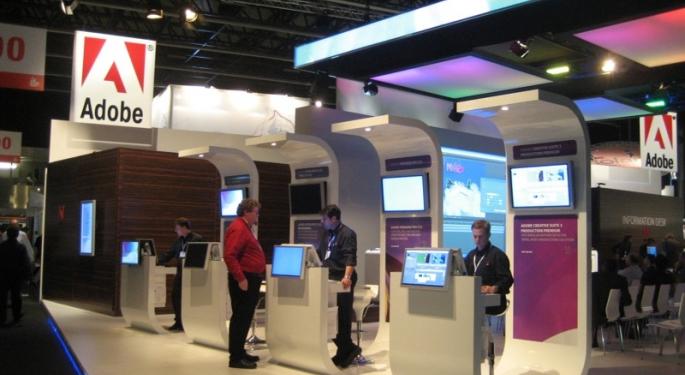 Adobe Systems Incorporated (NASDAQ: ADBE) reports earnings on Tuesday afternoon. Below is a live blog of the events.
The conference call is expected to begin at 5:00pm EDT.
05:57:01pm: The call has come to a close.
05:56:14pm: Narayen said Document Cloud reception has been positive. He said the company is in great shape and they remain focused.
05:55:40pm: Narayen said that Q1 tends to be a weak quarter and then build up. There should be a sequential increase. Thinks next update on Document Cloud will be positive.
05:50:52pm: Garrett said there will be a step up in CC subscribers from Q1 to Q2.
05:48:10pm: Narayen reiterated that Adobe has not provided Fotolia (which it acquired) subscriber numbers. Adobe has instead focused on its market potential.
05:47:49pm: Garrett on keeping marketing expenses growth low: "We manage the cost structure of the company very, very carefully. We've got the money we need to invest in the business."
05:44:07pm: Narayen plans to convert users (such as those who use Elements) to paying customers through Creative Cloud Photography. "We have a very carefully constructed campaign to target them," he said.
05:41:23pm: Narayen said there is tremendous headroom in Creative Cloud installed base that the company is moving toward.
05:38:35pm: Narayen said there is tremendous demand for signatures.
05:37:12pm: Narayen said the revenue Adobe sees for Cloud Complete is higher than it was for the Creative Suite offering.
05:34:09pm: Narayen said that Marketing Cloud customer numbers are in the thousands.
05:31:21pm: Narayen: bookings growth was in-line with targets.
05:30:40pm: Narayen thinks there's a large opportunity "for us to win."
05:29:58pm: Narayen noted the massive shift from paper to digital, thinks Adobe is in a great position to be a part of this transition with documents that are beautiful, can be edited.
05:26:23pm: Garrett on full-year targets: "We hedge a large portion of our net revenue versus expense." He said the company has been doing it for years and it works very well.
05:19:46pm: Mark Garrett, Executive Vice President and CFO: "In Q2 of FY15, we are targeting a revenue range of $1 billion 125 million to $1 billion 175 million dollars."
05:12:27pm: Narayen believes Adobe is driving the future of digital media and marketing in a way that no other company can.
05:11:13pm: Narayen said that partners play a "significant role" in its go-to market strategy and ecosystem of companies who "recommend, sell, and deliver Adobe Marketing Cloud solutions continues to grow."
05:06:33pm: Adobe President and CEO Shantanu Narayen said he was "blown away" by the tremendous response from customers/partners/press when celebrating the 25th anniversary of Photoshop.
05:03:20pm: The call has begun.
05:00:45pm: The call is about to begin. In the meantime, one customer shared her Adobe success story on Twitter:
just closed a deal in 33 minutes using Adobe #EchoSign #esignature solution http://t.co/SX3LnIwK2J

— Delia Knight (@deliaknight) March 17, 2015
04:47:29pm: Adobe isn't getting much buzz on Twitter, but CNNMoney's Paul R. La Monica had this to say:
Expectations too high for Adobe? Beat on earnings and sales. Company even referred to results as "strong." But $ADBE down 4% after hours.

— Paul R. La Monica (@LaMonicaBuzz) March 17, 2015
04:46:11pm: Earlier today Adobe announced the Document Cloud, a new service to manage "critical documents" in the home and office across multiple devices.
04:44:19pm: A historical look at earnings, courtesy of FindTheBest:
04:28:34pm: Stock down 3.4 percent after-hours.
04:17:17pm: Adobe Offers Conference Call Slides Ahead of Presentation: Sees Q2 Adj. EPS $0.41-$0.47 vs $0.48 Est., Sales $1.125B-$1.175B vs $1.18B Est.
04:05:25pm: Adobe Reports Q1 EPS $0.44 Vs Est $0.39, Sales $1.11B Vs Est $1.08B
Related Links
Image credit: Christian Van Der Henst S, Flickr
Posted-In: Earnings News Best of Benzinga
View Comments and Join the Discussion!