Shake Shack Earnings Live Blog: Q4 Conference Call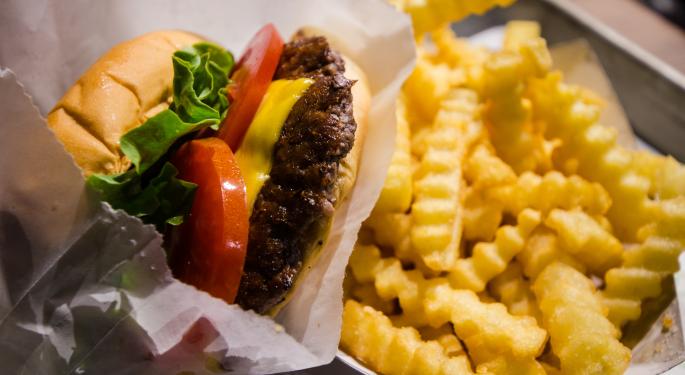 Shake Shack Inc (NYSE: SHAK) reports earnings this Wednesday afternoon. Below is a live blog of the events.
05:50:55pm: The conference call has concluded.
05:49:11pm: "We're looking forward to being a public company as the years roll forward."
05:44:44pm: "As we look at Japan, we're fully rolling...making sure we're set for 2016 launch...we're going to do 10 great Shacks with our partners there, and we'll take it from there." Says the company noticed Japanese interest by looking at customers of NYC location.
05:43:09pm: 2015 is "really right where we've planned it," the international Shack opening focus will be in the Middle East, UK and London.
05:30:23pm: February was record-setting cold in New York and Boston, and "we felt that a little bit."
05:29:19pm: Only eight new shacks will be added to comp base this year..."We're going to continue to be conservative."
05:27:44pm: "We never dreamed we'd be here today..."
05:27:01pm: All buns, worldwide, will now be non-GMO.
05:19:12pm: A chart of all store openings from 2014: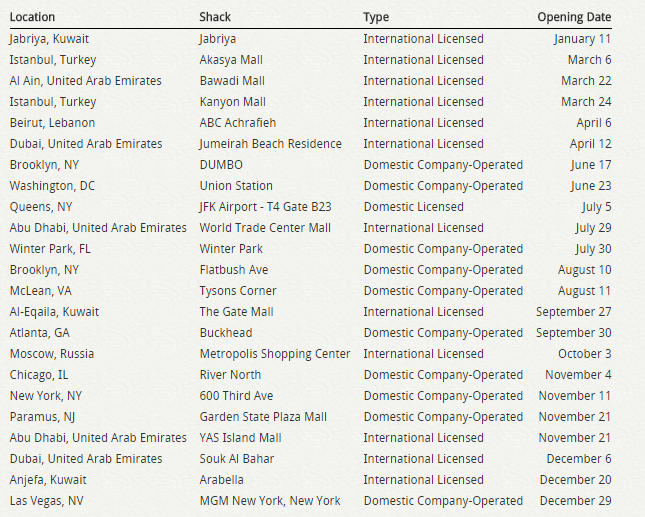 05:18:45pm: FY Same-Shack sales increased 4.1%, excluding sales from the 53rd week; FY Shack sales increased 42.6% to $112.0 million.
05:16:13pm: Q4 Same-Shack sales increased 7.2%, excluding sales from the 14th week; Q4 Shack sales increased 51.6% to $33.1 million.
05:15:11pm: Total revenue increased 51.5% to $34.8 million.
05:13:11pm: Up to 10 new Shake Shacks in Japan over the next five years; the first will open in 2016.
05:12:05pm: Opened new stores Orlando, Chicago, Las Vegas, the latter of which is the first Shake Shack west of the Mississippi. Entering Austin and Baltimore this year.
05:08:05pm: Management calling Shake Shack's category "fine casual," a mix of fine dining and fast casual. "Who ever wrote the rule that what we've come to know as 'fast food' is how it was supposed to be?"
05:06:05pm: "The beauty of Shake Shack is that we never set out to be anything more than support of an art project."
04:27:12pm: Shake Shack stock is down 6.3 percent after hours.
04:26:11pm: Conference call is expected at 5:00pm EST.
04:03:45pm: Sees FY15 Sales $159M-$163M.
04:02:15pm: Shake Shack Reports Q4 Adj. Loss of $0.01/Share vs Loss of $0.03/Share Est.
Related Links
Image credit: m01229, Wikimedia
Posted-In: Earnings News Best of Benzinga
View Comments and Join the Discussion!