Apple's 'Spring Forward' Event: A Play-By-Play Recap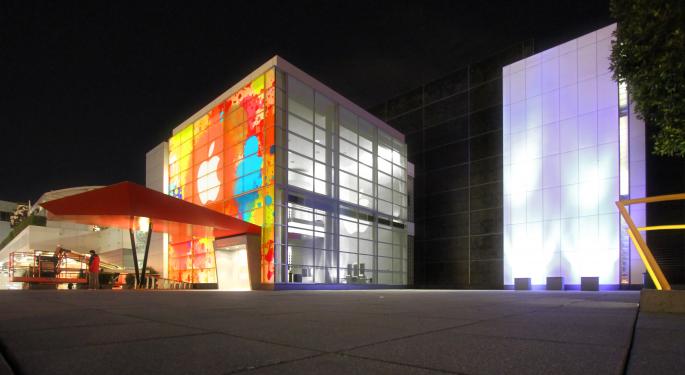 Apple Inc. (NASDAQ: AAPL) is expected to unveil a boatload of product details at its "Spring Forward" event this afternoon. A live blog of the event is below, which begins at 1:00pm EST.
02:35:31pm: Apple event has ended.
02:32:12pm: Apple Watch ad debuts. Showcases customization of face, health features.
02:31:15pm: Apple will begin taking Watch orders on April 10; will be available on April 24.
02:30:33pm: Apple Watch Edition is $10K.
02:29:11pm: Apple Watch price points: $549-$1049 and $599-$1099, depending on band.
02:26:11pm: Apple Watch Sport product points: $349 and $399.
02:24:22pm: Apple Watch Sport is one category. Made of new alloy.
02:22:22pm: Apple Watch battery life is 18 hours.
02:17:13pm: Watch can be used for hotel check-in, and serve as room key.
02:11:11pm: Watch's Siri offers users location-sensitive reminders, brief looks at a choice of apps. ESPN, Salesforce and The Weather Channel are specifically mentioned.
Related Link: Pro: If Apple Doesn't Deliver 'Wow' Factor, Stock Will Sell Off
02:00:12pm: Apple Watch will send reports of health activity, and will suggest "move targets" for coming week ahead. Cook: "It's like having a coach on your wrist."
01:58:23pm: Apple Watch features "Digital Touch" feature for Watch-to-Watch communication. Can animate shared images, send heartbeat, tap watch to alert friends. "A whole new way to communicate."
01:58:23pm: Watch can receive calls. "The day is finally here," Cook says. Emails can be read in full.
01:57:44pm: Watch faces are customizable. New feature "Glances." Can swipe for weather, calendar, control music, and check heart rate.
01:53:33pm: Cook: "Apple Watch is the most personal device we've ever created..we've designed [it] to appeal to a variety of people."
01:52:22pm: Price points for new MacBook are $1299 and $1599. Will begin to ship on April 10.
01:50:44pm: New MacBook operates in silence. Is the first all-metal MacBook. New USB connector is a single port for charging, video output, and data transfer.
01:39:15pm: Apple stock up from $127.26 to $128.39 between 1:10pm and 1:41pm. HBO Now news was made at 1:08pm.
01:38:12pm: Schiller: Trackpad has software tracking software, similar to Watch.
01:37:12pm: New MacBook display is Retina, 12 inches. 2304 by 1440 pixels.
01:36:12pm: Schiller: Keyboard has individual LED light for each key.
01:35:05pm: MacBook features all-new keyboard. A "new invention" in keyboard technology.
01:34:02pm: Phil Schiller: We had to reinvent every technology in it to deliver. The new MacBook weighs two pounds. "Even at its thickest point, it's just 13.1mm thin."
01:33:44pm: New MacBook comes in Gold finish.
01:32:22pm: Apple announces MacBook redesign.
01:30:30pm: Cook: For every year over the last decade, the Mac has outgrown the industry. MacBook sales grew 20 percent last year while the industry shrank.
01:29:55pm: Research Kit will be released next month.
01:29:29pm: Research Kit is open source.
01:20:20pm: "Now, anyone with an iPhone can contribute to Parkinson's Research." It has multiple Parkinson's diagnostic tools to test a user's symptoms.
01:19:12pm: Apple announces Research Kit. It turns the iPhone into a "powerful diagnostic tool."
01:18:12pm: Williams: "Perhaps the most significant challenge [of medical research] is the communication flow...there are hundreds of millions of iPhone users out there, many of those who would contribute if" they could.
01:17:57pm: Jeff Williams takes stage to discuss iPhone's impact on medical research.
01:15:20pm: Now every major car brand has committed to delivering Car Play. "There will be more than 40 new models of cars shipping by the end of the year...unbelievable momentum."
01:14:16pm: Cook: Almost 700,000 locations accept Apple Pay. Over 2,500 banks now signed up for Apple Pay. Coca-Cola plans to have 100,000 Pay-equipped vending machines by the end of the year.
01:13:13pm: Apple recently sold its 700 millionth iPhone.
01:12:60pm: Cook: Lowering the price of Apple TV to $69.
01:09:15pm: HBO Now will cost $14.99 per month, in time for Game Of Thrones debuts in April.
01:08:12pm: HBO Now is launched. Apple is the exclusive partner.
01:06:44pm: Cook: "We love HBO. Over the years, they have created groundbreaking shows that have created a part of our culture."
01:05:44pm: Cook: Over 120 million people visited our stores last quarter.
01:04:44pm: Cook: West Lake store is an example of new Apple Store design..."We've opened 6 stores in China in the last 6 weeks alone...we have 21 stores in China, we have a plan to be at 40" soon.
01:03:33pm: CEO Tim Cook takes stage.
01:02:11pm: Apple video intro begins, coverage of Apple Store mania in West Lake, China.
Related Links
Image credit: Roger Jones, Wikimedia
Posted-In: News Previews Events Tech Trading Ideas Best of Benzinga
View Comments and Join the Discussion!