JC Penney Q4 Conference Call: A Chronological Recap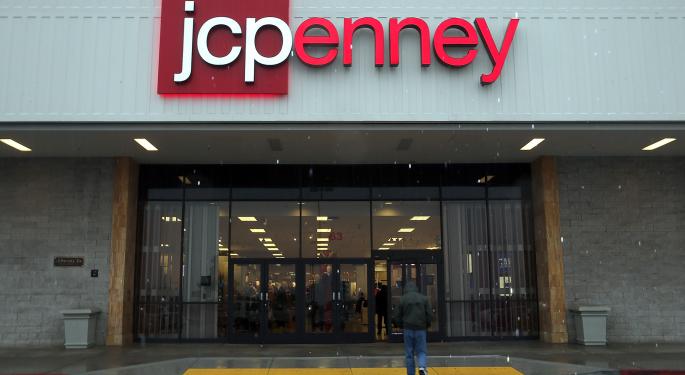 J C Penney Company Inc (NYSE: JCP) reported earnings on Thursday afternoon. Below is a live blog of company's conference call.
Check out JC Penney's earnings review here.
05:28:58pm: Shares down ~9.8%.
05:28:01pm: Conference call has ended.
05:27:05pm: May have lost 10M customers to Home business by dropping Home from catalogue. 'Big Book' will also be repurposed for digital.
05:25:58pm: Asset sales: Maybe $50M for the year. Nothing planned right now.
05:24:10pm: Asia FX won't have significant impact on buy or price. Don't see any risk from a call standpoint.
05:23:05pm: Store closings did have an impact on SG&A of ~$25-40M
05:21:31pm: The mid-tier cust. has languished. Haven't seen a surge in results due to low gas prices.
05:21:03pm: Inventory was down ~9% in 2014. Expect to grow inline with comp sales in 2015.
05:18:12pm: We have very few people in the minimum wage category.
05:17:16pm: Home is one of the big opportunities. 'Need to get productivity back up.'
05:12:02pm: It's about people, product and place (and omnichannel)
05:10:03pm: Another 100 Disney shops to be rolled out in 2015
05:09:32pm: Sephora is greatly received, continue to grow. Centerpiece of center core.
05:08:10pm: Haven't added a lot of brands from the outside; we exited 14 brands that didn't resonate from the customer in the previous strategy. Private brands are performing well.
05:04:17pm: Record: Expect $2-2.1B worth of liquidity by end of next year
05:01:14pm: EBITDA commitment is 'clearly' what the team is focused on
05:00:48pm: Margin benefit initiatives kick in the second half of 2015
04:59:10pm: Q&A session begins
04:57:04pm: FY2015 guidance comp store sales to be 3-5%; free cash flow to be neutral
04:56:21pm: $2.8 billion free cash flow increase YOY
04:54:12pm: Do not believe port issues affected sales, but Jan. did see a drop.
04:52:02pm: Record: SG&A decreased $121M or 210 basis points compared to the prior year. Room to improve.
04:49:56pm: Dot-com business grew 12.5% in Q4
04:49:32pm: Mid-single digit increase in Q4 in transactions
04:47:54pm: CFO Edward Record: Total sales increased 3.4% to $12B+
04:45:13pm: Home, central core and omnichannel most impt. areas of growth
04:44:02pm: Pres. Marvin Ellison: hosting all store managers together for the first time in 5 years in March
04:42:31pm: App launch helped improve conversion
04:41:10pm: Bringing back more print marketing in 2015
04:40:01pm: Testing Hallmark cards and gifts
04:39:40pm: Men's shoe moving to men's dept.; allows to expand women's dept.
04:35:42pm: Launched Spring marketing campaign at the Oscars
04:34:15pm: Sales grew 4.4% in Q4, gross margin up 500 basis points YOY
04:33:10pm: CEO Mike Ullman: generated over $50M in free cash flow in 2014 - 'We're back'
04:31:02pm: JC Penney conference call begins
04:29:18pm: Shares of JC Penney down ~7%
04:07:57pm: JC Penney Reports Q4 Same-Store Sales Growth 4.4% vs 3.8%; Sees FY15 Comps Growth 3-5%
04:07:09pm: JC Penney Reports Q4 EPS $0.00 Vs Est $0.11, Sales $3.89B Vs Est $3.68B
Further Reading
Posted-In: Earnings News After-Hours Center Best of Benzinga
View Comments and Join the Discussion!