Herbalife Q4 Earnings: Conference Call Live Blog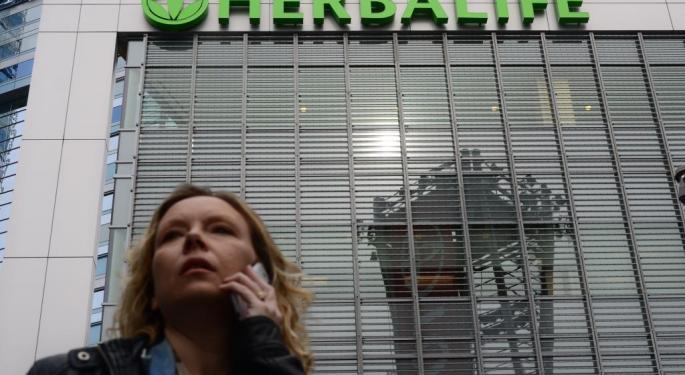 Herbalife Ltd. (NYSE: HLF) reports earnings on Thursday afternoon. Below is a live blog of the events. The conference call is scheduled to begin at 5:30 PM ET.
06:11:11pm: Johnson: Online ordering will create a "huge opportunity" for the company. "We're going to return Herbalife to the place you expect it to be."
06:08:01pm: Johnson: "There is just normal noise you get from a consumer..class action..but that's just commonplace."
06:07:11pm: Response: "Our focus on growth and sustainability," a shift toward more gradual sales leader qualification programs.
06:06:09pm: Pivotal analyst asks what surprisingly high retention rate growth was driven by.
06:05:06pm: Stock now flat after-hours.
05:59:19pm: Currency negatively impacted Q4 adjusted EPS by $0.31.
05:52:22pm: Expenses incurred responding to attacks on the Company's business model are mentioned. Highlighted below: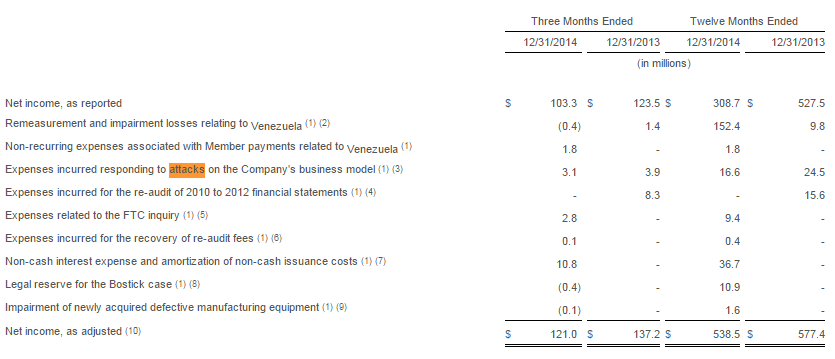 05:50:13pm: Currency negatively impacted Q4 adjusted EPS by $0.31.
05:47:59pm: Volume in Venezuela was down 70%, and reported net sales were down 90%. It should "continue to affect results throughout much of the year due to exchange rate differentials."
05:46:13pm: Stock now down .98% after hours.
05:46:11pm: Johnson: "We know the transition we've embarked on is the right one."
05:45:55pm: FX headwinds and marketing plan rollout are responsible for guidance adjustments. "None of the changes...should have a material effect beyond" the next 12 months. "We remain confident in our...transition."
05:44:33pm: Johnson: We've leased space in the Nanjing province for a new manufacturing facility -- the third in China, and the largest.
05:43:33pm: China sales grew double-digits last quarter, sales growth is returning to previously stagnant areas like Germany.
05:42:22pm: 3-12 month qualification in Korea more than doubled last year.
05:40:12pm: Johnson: Customers able to buy directly from sales leaders on Herbalife's online website; "the rollout of GoHerbalife.com has been hugely successful."
05:39:39pm: Johnson: "As a reminder there were historically two ways to become a sales leader...a one month path and a two month path." Now, a third model -- a 12 month path -- first tested in Russia, is now showing promising results in other areas of the world. Retention is higher.
05:37:58pm: Johnson: Retention rates have doubled since 2003. It's "what sets us apart."
05:35:50pm: Johnson: "We are not happy with these top line results."
05:33:50pm: Johnson: We had the most customers last year than in any year in history.
05:33:50pm: Michael O. Johnson: We are focusing on our transformation..."a more gradual path toward becoming a sales leader"
05:30:12pm: Currently listening to "We Are Here" pre-call, the Herbalife anthem. Full lyrics here.
04:22:33pm: Herbalife shares now up 6.2%.
04:20:22pm: First quarter fiscal 2015 and full year fiscal 2015 guidance: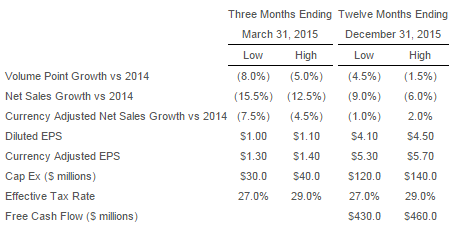 04:15:41pm: Herbalife Sees FY15 Adj. EPS $4.10-$4.50 vs $5.08 Est.
04:15:03pm: Herbalife Shares Down 5%
04:14:15pm: Herbalife Reports Q4 EPS $1.41 Vs Est $1.22, Sales $1.13B Vs Est $1.16B
04:10:11pm: No earnings figures have been announced yet. Shares are up 1.46% after hours.
Further Reading
Posted-In: Earnings News Best of Benzinga
View Comments and Join the Discussion!