LinkedIn Q4 Earnings: A Chronological Recap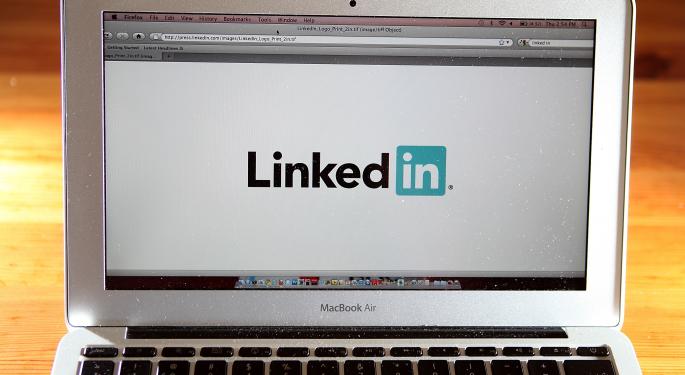 Want an edge on trading these stocks? Try this.
Learn more about investing in the tech sector with real-time trading picks from experts like the Steady Trader.
To refresh this post for the latest updates, click here.
LinkedIn reported earnings this Thursday afternoon. Below is a live blog of the highlights, delayed by 10 minutes.
LinkedIn Corp (NYSE: LNKD) Update:
05:47:27 pm: LinkedIn Q&A session ends.
05:41:36 pm: LinkedIn shares up 8% after hours
05:26:07 pm: CFO Sordello ends, Q&A session begins
05:25:47 pm: CFO Sordello: We will continue to aggressively invest in our member and customer platforms to pursue the vision of building the world's first economic graph and realizing LinkedIn's full potential.
05:25:27 pm: CFO Sordello: We improved our member experience by investing in mobile, content and the successful launch in China
05:24:10 pm: CFO Sordello: We expect non-GAAP EPS of approximately $0.53 for Q1 and approximately $2.95 for the full year
05:23:43 pm: CFO Sordello: With respect to the balance sheet, the November convertible offering further strengthened our cash position with minimal dilution and interest, while providing flexibility to invest in our strategic roadmap. We ended the year with $3.4 billion of cash and marketable securities
05:22:21 pm: CFO Sordello: Revenue outperformance resulted in Adjusted EBITDA of $179M, a 28% margin compared to $111M and 25% margin last year.
05:19:16 pm: CFO Sordello: Premium subscriptions grew 38% to $121M, contributing 19% of revenue, compared to 20% last year.
05:17:25 pm: CFO Sordello: Marketing Solutions grew 56% to $153M, representing 24% of total sales versus 22% in 2014.
05:16:41 pm: CFO Sordello: Business with existing customers was a particular point of strength, driven in our core markets in North America, EMEA, and with global strategic customers.
05:15:51 pm: CFO Sordello: Talent Solutions performed well during the year's seasonally strong quarter, growing 41% year-over-year to $369M, and representing 57% of sales versus 58 % last year.
05:13:57 pm: CEO Weiner finishes, hands stage over to CFO Steve Sordello
05:10:41 pm: CEO Weiner: In Q4, more than 75% of new members came to LinkedIn from outside the US. China, with roughly 1 in 5 of the world's professionals, emerged as a focus in 2014.
05:09:59 pm: CEO Weiner: Increasingly, we are seeing more well known business influencers such as Eric Schmidt, Arianna Huffington and Suze Orman, use SlideShare to engage an active professional audience that is seeking out deep knowledge on specific subjects.
05:08:02 pm: CEO Weiner: There are now more than 3 million active job listings on LinkedIn, a greater-than 10x increase from a year ago.
05:06:11 pm: CEO Weiner: During Q4, cumulative members grew 25 percent to 347 million, unique visiting members grew 23 percent to an average of 93 million per month, and member pageviews grew 34 percent, well ahead of unique member growth.
05:05:37 pm: CEO Weiner: For Q4, overall revenues grew 44 percent to a record $643 million. We delivered adjusted EBITDA of $179 million, and non-GAAP EPS of $0.61 cents. For the full year 2014, revenue was $2.22 billion, up 45 percent, and we delivered adjusted EBITD
05:02:30 pm: LinkedIn Q4 conference call begins
04:40:50 pm: See prepared slides for the LinkedIn Q4 presentation here.
04:08:35 pm: LinkedIn Fourth Quarter and Full Year 2014 Business Results Conference Call set to begin at 5:00 pm ET
04:07:09 pm: LinkedIn Shares Up ~4 On EPS
04:03:40 pm: LinkedIn Sees Q1 Adj. EPS ~$0.53 vs $0.55 Est., Sales $618-$622M; Sees FY15 Adj. EPS ~$2.95 vs $2.73 Est.
04:02:06 pm: LinkedIn Reports Q4 Adj. EPS $0.61 vs $0.53 Est.
03:52:15 pm: LinkedIn Q4 earnings preview.
The preceding article is from one of our external contributors. It does not represent the opinion of Benzinga and has not been edited.
Posted-In: Earnings News Events After-Hours Center Best of Benzinga
View Comments and Join the Discussion!