10 Times Jack Ma Said He Doesn't Care About Alibaba Shareholders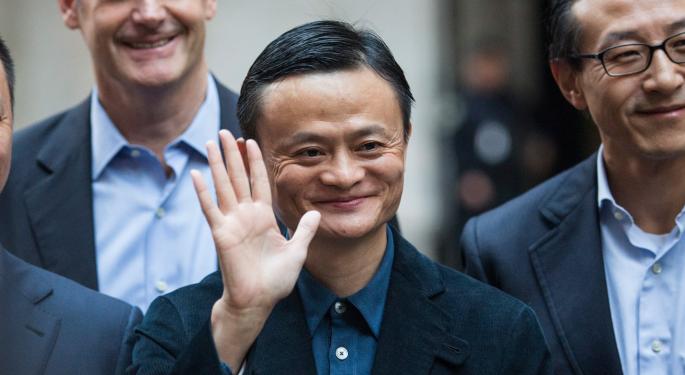 Jack Ma, founder of Alibaba Group Holding Ltd (NYSE: BABA), is fond of saying that the customer is No. 1, employee is No. 2 and the shareholders are No. 3. Perhaps a strange sentiment for the CEO of a public company to express, but Ma has been beating that drum since Alibaba was founded in 1999.
Here are 10 colorful ways that Ma reiterated that point.
1. Ma's customer-first approach: "It's customers No. 1, employees, two, and shareholders, three. It's the customer who pay us the money, it's the employees who drive the vision, and it's the shareholders who when the [financial] crisis comes, these people ran away. My customers and my people stayed." – UpStart Business Journal, April 16, 2014
2. Screaming at the 10th anniversary party in 2009: "Let the Wall Street investors curse us if they wish. We will still follow the principle of customers first, employees second and investors third." – Bloomberg, November 10, 2014
3. If shareholders don't like it, Ma doesn't care: "[They can] go invest in other companies that put shareholders first." – Forbes, May 7, 2009
Related Link: Yahoo Rallies, Calls Alibaba Return To Shareholders 'Historic'
4. Long before its IPO, the media was fixated on Ma's "religion of business": "Customer number 1, employee number 2, shareholder number 3. If the customer is happy, the business is happy, and the shareholders are happy." – All Things D, June 1, 2011
5. To Charlie Rose: "I have said on numerous occasions that we will put 'customers first, employees second and shareholders third.' I can see that investors who hear this for the first time may find it a bit hard to understand. Let me be clear: as fiduciaries of the company, we believe that the only way for Alibaba to create long-term value for shareholders is to create sustainable value for customers. So customers must come first." – Mashable, September 17, 2014
6. In a letter sent to employees before the IPO filing, Ma reiterated the point: "After the IPO, we'll still uphold the policy of 'customers first, employees second, and shareholders third.'" – Reuters, May 13, 2014
7. On 60 Minutes: "If you want to invest in us, we believe customer No. 1, employee No. 2, shareholder No. 3. If they don't want to buy that, that's fine. If they regret, they can sell us." – Benzinga, September 28, 2014
8. Even on Alibaba's IPO day: "I always believe that customer is number one, employee number two and shareholders are number three." – CNBC, September 19, 2014
9. On the stock price movement: "For me, the price, up and down, my people worry about that. I want to make the customer happy." – The Independent, September 22, 2014
10. About his responsibility to help investors make money: "After I'm 50 years old, which is today 50 years old, I am spending money, trying to make sure more people get rich. Because you cannot spend a lot of money. […] This is a headache." – The Weekly Standard, September 19, 2014
Related Tweets on $BABA:
.@DrStoxx Says Alibaba Is A 'Sell The News' Play $BABA http://t.co/KRfwVNOFxv #premarket

— Benzinga.com (@Benzinga) January 29, 2015
This Hedge Fund Manager Says 'Stay Away' From Alibaba $BABA http://t.co/ymzp6UwtAN

— Benzinga.com (@Benzinga) January 29, 2015
Alibaba Needs An 'Apple-Esque' Quarter To Ignite The Stock $AAPL $BABA http://t.co/wo1zV65iz4

— Benzinga.com (@Benzinga) January 29, 2015
Posted-In: Jack MaTop Stories Be Your Own Boss Best of Benzinga
View Comments and Join the Discussion!