#PreMarket Primer: Wednesday, December 24: Sony To Release 'The Interview' Despite Threats Of Violence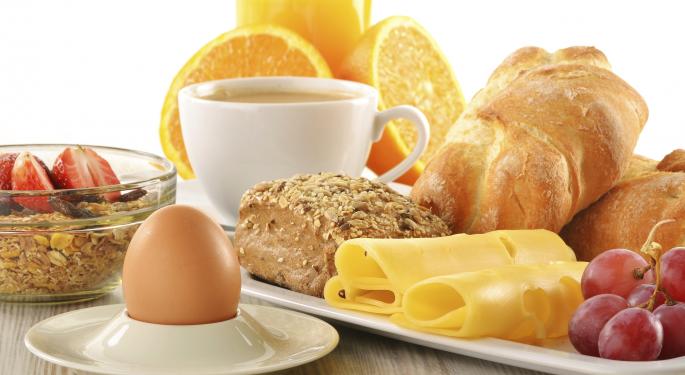 After deciding to cancel the premier of its latest film "The Interview," Sony Corp (NYSE: SNE) has changed its mind and will release the movie on December 25.
Hackers that broke into Sony's computer system and released internal documents have threatened violence against theaters showing the film, but the movie producer has decided to allow a limited number of theaters to show the film. The hacking attack has been linked to North Korea, and though the U.S. has been unable to come up with an appropriate response, President Obama praised Sony's reversal saying that canceling the premier due to threats would set a dangerous precedent.
In other news around the markets:
On Tuesday, Greece's parliament was unable to elect a new head of state, propelling the nation one step closer to a period of political and possibly financial instability. Current Prime Minister Antonis Samaras' candidate was unable to gain the two-thirds majority needed for election, meaning that the nation's lawmakers will meet again on Monday for a third and final vote. Many worry that if Samaras' candidate is not elected on December 29, the nation's snap elections will end with Greece exiting its bailout program early and possibly defaulting on some of its loans.
U.S. consumer sentiment rose to its highest level in almost eight years in December, a sign that the nation's recovery has helped boost confidence. Cheaper gas prices coupled with an improving labor market helped propel the consumer sentiment index to 93.6, a marked increase from November's 88.8 reading and above expectations of a 93.5 reading.
Deteriorating oil prices are likely to force U.S. shale-oil companies to cut back on their production as the price of drilling is more expensive than current prices will allow. However, stiff competition has them maintaining their output in hopes that rival companies will cut before they do. U.S. laws prevent the energy companies from coordinating in order to influence prices, so they are unable to collectively cut back.
U.S. stocks rose to record highs on Tuesday after GDP figures confirmed that the U.S. economy is taking strides toward being able to stand on its own without the help of the Federal Reserve's super low interest rates. Third quarter GDP came in at 5 percent, a far cry from expectations of 4.3 percent growth. The figure helped boost U.S. share markets, but left many investors wondering what it means for fourth quarter GDP. With inflation figures so low, many are worried that fourth quarter GDP will be markedly lower, or that rising inflation will pressure the Fed.
Asian Markets
Asian markets were higher with the exception of the Shanghai composite, which fell 1.94 percent. The NIKKEI was up 1.24 percent, the KOSPI rose 0.39 percent, the Shenzhen composite increased 0.22 percent and the Hang Seng index was up 0.07 percent.
European Markets
European markets were mixed; the FTSE rose 0.28 percent, the STOXX 600 was up 0.05 percent and Italy's MIB gained 1.46 percent. However the CAC 40 lost 0.22 percent and the DAX was flat.
Energy futures were lower; Brent futures lost 1.49 percent and WTI futures were down 1.58 percent. Gold and silver gained 0.16 percent and 0.46 percent, respectively, while industrial metals were mostly lower. Copper was flat, aluminum was down 0.59 percent, zinc lost 0.18 percent and tin was down 3.44 percent.
The euro was steady at $1.2204 on Wednesday morning and gained 0.08 percent against the pound and 0.11 percent against the yen. The dollar was lower against the yen, down 0.20 percent. The greenback also lost 0.21 percent to the pound and 0.16 percent to the Australian dollar.
Notable earnings reports released on Tuesday included:
Walgreen Company (NYSE: WAG) reported first quarter EPS of $0.81 on revenue of $19.55 billion, compared to last year's EPS of $0.72 on revenue of $18.33 billion.
No notable earnings expected on Wednesday.
Economics
With the shortened day of trading, Wednesday's economic calendar will be very thin with U.S. oil inventory data being one of the only notable releases.
Tune into Benzinga's pre-market info show with Dennis Dick and Joel Elconin here.
View Comments and Join the Discussion!
Posted-In: Earnings News Emerging Markets Eurozone Futures Commodities Previews Options