These 2 Dodge & Cox Funds Are Big Hewlett-Packard Owners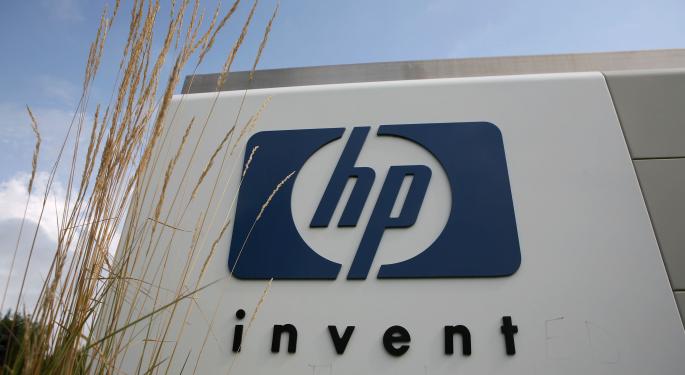 When companies report earnings, big institutional owners such as mutual funds look for an opportunity to either add to or pare positions.
Post-earnings price movements driven by funds are most evident in smaller or younger stocks, which tend to be more volatile.
However, even when a widely held S&P component like Hewlett-Packard Company (NYSE: HPQ) reports, an astute chart reader can spot institutional buying or selling.
For example, when Hewlett-Packard reported quarterly results in August, the stock vaulted 5.35 percent in the next session, with enormous trading volume.
Hewlett-Packard is owned by more than 2,000 domestic mutual funds and hedge funds, and that number has been growing. It's a mainstay of large-cap and index funds, including the Dodge & Cox Stock Fund (MUTF: DODGX), the Vanguard Total Stock Market Index Fund Investor Shares (MUTF: VTSMX), the Vanguard 500 Index Fund Investor Class (MUTF: VFINX), the DFA U.S. Large Cap Value Portfolio Institutional Class (MUTF: DFLVX) and many others.
Related Link: Get International Diversification With These 3 Funds
Dodge & Cox Stock Fund
The Dodge & Cox Stock Fund is the largest owner of Hewlett-Packard, holding 3.69 percent of shares. That accounts for 4.19 percent of total fund assets, making Hewlett-Packard its top holding. The fund's objective is long-term growth of income and principal. Fund assets total more than $58 billion, with the core holdings being U.S. and European large-cap names.
Top sectors are financial services, technology and health care. After Hewlett-Packard, other heavily weighted stocks in the fund are:
Microsoft Corporation
Capital One Financial Corp.
Wells Fargo & Co
Novartis AG (ADR)
The fund's one-year return is 15.6 percent.
Dodge & Cox International Stock Fund
The second-largest institutional owner is another Dodge & Cox fund, the Dodge & Cox International Stock Fund (MUTF: DODFX). This actively managed fund mainly invests in non-U.S. stocks, and investments may include emerging markets.​ The fund tends to concentrate on countries with stable economic and political systems.
Assets total more than $64 billion. The largest holdings are:
Roche Holding AG
Sanofi
Naspers Limited
Novartis AG (ADR)
Credit Suisse Group
The fund's one-year total return is 6.4 percent.
View Comments and Join the Discussion!
Posted-In: Credit Suissee Group Naspers Limited Roche Holding AG SanofiEarnings Best of Benzinga