Dow, S&P 500 Close At Record Highs To Kick Off Thanksgiving Week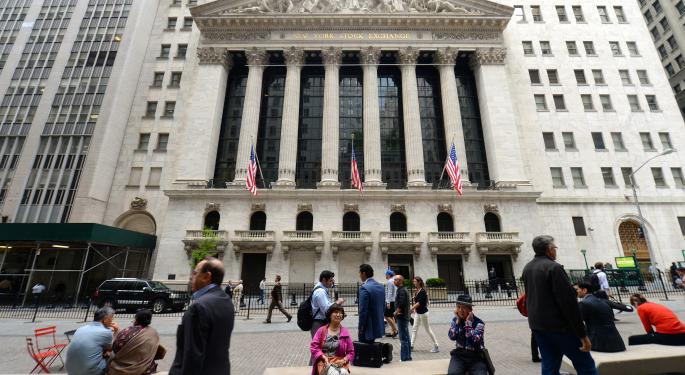 U.S. stocks were mostly higher on Monday to kick off the shortened trading week that will pause on Thursday and close at 1 p.m. ET on Friday for Thanksgiving.
Speaking to CNBC, bond guru Jeffrey Gundlach said that the Federal Reserve may raise its rates in 2015, but not for fundamental reasons.
"The Fed should not be raising interest rates, and yet they don't want to be at zero. They're in a conundrum," Gundlach said. "They might raise rates just to see what happens."
Economic data showed the U.S. services sector expanded in November, but at a slower rate than October.
The Dow gained 0.04 percent, closing at 17,817.90.
The S&P 500 gained 0.29 percent, closing at 2,069.41.
The Nasdaq gained 0.89 percent, closing at 4,754.89.
Gold gained 0.03 percent, trading at $1,198.00 an ounce.
Oil lost 1.16 percent, trading at $75.62 a barrel.
Related Link: UPDATE: Raymond James: Oil Prices, Oil Stocks 'Within Weeks Of Bottoming'
News Of Note
October Chicago Fed National Activity Index fell to +0.14 (versus expectations of +0.40) from +0.29 in September.
November U.S. PMI Services Index Flash fell to 56.3 (versus expectations of 57.3) from 57.1 in October.
November Dallas Fed Manufacturing Outlook remained unchanged at 10.5 (versus expectations of 8.0) from 10.5 in October.
A new poll from Gallup states that U.S. consumers will spend $720 on holiday gifts this year, a 2.3-percent increase from last year.
U.S. Secretary of Defense Chuck Hagel announced his resignation after serving fewer than two years.
Equities News Of Note
Analysts at Raymond James downgraded Chevron Corporation (NYSE: CVX) to Outperform from Strong Buy with an unchanged $140 price target. Shares lost 0.83 percent, closing at $117.59.
Analysts at Raymond James downgraded Exxon Mobil Corporation (NYSE: XOM) to Market Perform from Outperform while removing a previous $106 price target. Shares lost 1.13 percent, closing at $95.72.
Analysts at Citigroup downgraded Verizon Communications Inc. (NYSE: VZ) to Neutral from Buy. Shares lost 1.41 percent, closing at $49.50.
Trina Solar Limited (ADR) (NYSE: TSL) reported its third-quarter results Monday morning. The company earned $0.14 per share, missing the consensus estimate of $0.15. Revenue of $616.80 million missed the consensus estimate of $641.00 million. Shares lost 5.26 percent, closing at $10.35.
CNBC's Scott Wapner tweeted that rumors of a Carl Icahn involvement in IBM (NYSE: IBM) are false. Shares gained 0.76 percent, closing at $162.15.
Tesla Motors Inc (NASDAQ: TSLA) CEO Elon Musk said that the company is in talks with BMW over potential partnerships in battery technology and that his company plans on having a battery production plant in Germany within six years. Shares gained 1.62 percent, closing at $246.72.
Wal-Mart Stores, Inc. (NYSE: WMT) added Tom Horton, former CEO of American Airlines to the company's board of directors. Shares gained 0.89 percent, closing at $85.40.
Related Link: FBR: Lions Gate's 'Hunger Games' Opened 'Leaner Than Expected'
United Technologies Corporation's (NYSE: UTX) CFO Gregory Hayes will replace Louis Chenevert as CEO, effective immediately as Chenevert retired abruptly without any explanation. At the same time, the company reaffirmed 2014 EPS guidance of $6.75 to $6.85 on revenue of around $65 billion. Shares lost 1.37 percent, closing at $108.79.
3D Systems Corporation (NYSE: DDD) has agreed to acquire Cimatron (NASDAQ: CIMT) for $97 million, or $8.97 per share. Shares of 3D Systems gained 6.69 percent, closing at $37.50, while shares of Cimatron surged 42.27 percent, closing at $8.65.
Quote Of The Day
"Unfortunately, America's corporate governance system is dysfunctional. Many rules have evolved over the years to protect incumbent boards and managements from becoming accountable." - Carl Icahn.
Posted-In: 3D Systems BMW Carl Icahn ChevronEarnings News Global Markets Best of Benzinga
View Comments and Join the Discussion!