Benzinga Weekly Preview: ECB Policy Meeting To Shed Light On Bank's Plans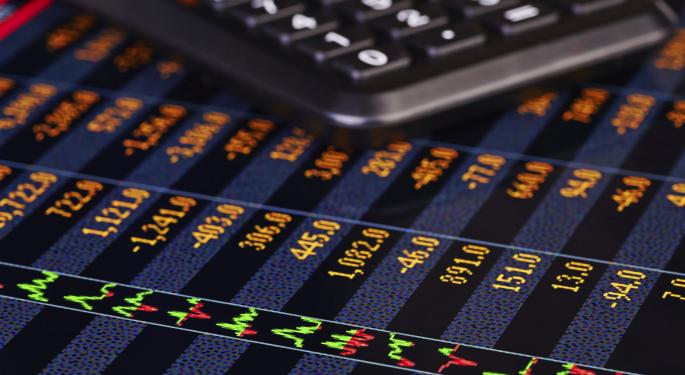 The European Central Bank will be in focus this week, as investors wonder whether or not the bank will provide any indication of its future stimulus plans.
Though the ECB has committed itself to doing whatever it takes to keep the region's economy afloat, several of the bank's members have come forward in recent weeks saying that they are hesitant to expand stimulus any further until more reforms are made in individual eurozone nations. This week's meeting isn't expected to bring about any major policy changes; instead the focus will be on the press conference following the meeting.
Key Earnings Reports
Next week investors will be waiting for several key earnings reports including Michael Kors Holdings Limited (NYSE: KORS), Time Warner Inc. (NYSE: TWX) and priceline.com Incorporated (NASDAQ: PCLN).
Michael Kors Holdings Limited
Michael Kors is expected to report EPS of $0.89, compared to last year's EPS of $0.71.
On October 10, Janney Capital Markets gave Michael Kors a Buy rating, cautioning that consumer spending remains a challenge.
"Overall, September comps were slightly better than expected, though traffic remains choppy post Labor Day. We believe global issues are impeding consumer spending, and with lack of a shopping catalyst until Black Friday, we believe consumers will be bargain hunting throughout October. However,we believe that well-controlled inventory levels entering 3Q14 are preventing the need for deeper-than- planned promotions(unless product offerings are an issue)"
On October 28, Credit Suisse gave Michael Kors a Neutral rating, saying that discount brands like Primark will take away from the company's value.
"We believe Primark's impact on the softlines sector will be felt most at teen and basic fashion specialty chains (ANF, AEO, ARO, URBN) as branded products (RL, PVH, KORS) will be protected by their brand equity and will likely still be able to command premium price points. In basic fashion apparel, we are more positive on the Old Navy concept as a value competitor but remain cautious on The Gap brand's pricing structure as it is currently not aligned with this new reality for deep value fashion basic products. In the teen space, we are encouraged by ANF's current initiative to reduce costs and work to lower AURs ahead of this round of apparel pricing deflation, a strategy that will likely help narrow the gap between the brand's current premium pricing and Primark's entry level apparel price points."
On October 1, Morgan Stanley gave Michael Kors an Overweight rating, saying that the firm believes KORS is a great buying opportunity.
"Within the past week KORS dropped 5% on fears of heightened inventory and incremental promotions pressuring gross margin. While our store checks found ~15% more of the store on discount at Retail (primarily camouflage collection), we have observed similar differentials on prior occasions without damage to gross margin. Store checks in both January and June found 15%+ differential and both quarters delivered gross margin increases of 20 bps, meeting (and even beating 1Q) management guidance (Exhibits 5-6). We think the incremental promotions reflect a combination of some normalization and less commercial product execution in the camouflage collection, not brand decay as the stock reaction would suggest. The camouflage collection largely drove the differential in promotions we observed in stores. Management's -50 bps GM guidance appears more than sufficient to absorb this temporary promotional bump."
Time Warner Inc.
Time Warner is expected to report EPS of $0.94, compared to last year's EPS of $1.01.
On October 16, Bank of America gave Time Warner a Buy rating with an $85.00 price target, saying that the company's many networks have several opportunities in the pipeline.
"Following its rejection of FOX's $85+ takeover bid this summer, TWX hosted an upbeat Investor Day on 10/15, providing visibility on its accelerating, content-driven (and standalone) growth profile. Importantly, TWX's new EPS targets of 'close to' $6 in CY16E and 'more than' $8 in CY18E offered a better than expected window into management's five year plan, which is driven by: (1) low double digit AOI growth at Turner, (2) low double digit AOI growth at HBO and (3) high single digit AOI growth at Warner Bros. The majority of this outlook is driven by visible affil. fee gains."
On October 16, Topeka Capital Markets gave Time Warner a Buy rating with a $90.00 price target following an upbeat analyst day with the company.
"On the heels of TWX's analyst day, we are upgrading the shares to 'Buy' and establishing a brand new, 12-month target of $90 (from $70), correlating to a reasonable multiple of 15.0x estimated 2016 non-GAAP earnings of $6.00/share. While the $6.00/share guidance bogie issued by TWX management yesterday was more or less expected, it is the $8.00/share earnings bogie by 2018 that actually sways our opinion on this name, as now, the company is set to grow non-GAAP EPS by an enviable CAGR of 18.5% through 2018."
Also on October 16, Wedbush gave Time Warner an Outperform rating, saying that the investor day with the company helped confirm the firm's bullish predictions.
"Among other observations at TWX's investor events in New York on Tuesday and Wednesday, we saw the upside in the guide at Warner Bros. and HBO's OTT announcement as affirming two key parts of our thesis when we upgraded the shares at the beginning of last year: 1) profit growth on margin lift at the studio, and 2) increased valuation of HBO."
Wunderlich Securities was also positive on Time Warner following analyst day and gave the company a Buy rating with a $93.00 price target on October 16. The analysts at Wunderlich noted that the company's Turner network will likely continue growing in the long term.
Turner growth strategies provide upside. These include i) stabilized or improving ratings off breakthrough programming rather than an assumed decline, ii) the millennial advantage with Adult Swim and truTV, iii) monetization of digital and multiplatform viewing, and iv) a global kids strategy in concert with Warner Bros. The global kids strategy should unite Turner and Warner Bros. and feature assets such as Looney Tunes, Hanna-Barbera, and the Lego relationship with particular emphasis on rectifying the lag in licensing and merchandising. CNN is the leader in mobile news (with younger demos than Fox News) while Bleacher Report has eclipsed Yahoo (YHOO- NR) as the #2 sports site."
priceline.com Incorporated
Priceline is expected to report third quarter EPS of $20.50 on revenue of $2.83 billion, compared to last year's EPS of $17.30 on revenue of $2.27 billion.
On October 13, Macquarie Capital gave Priceline an Outperform rating, saying that the company the company will have several growth opportunities in the long term.
"As more rentals become online bookable over time, PCLN (OP-rated, $1,595 PT) can leverage two of its key strengths: SEM and eCommerce conversion. PCLN's rental listings volume is growing steadily (~1% week/week growth over the past month, Booking.com's playbook for hotel contracting appears to be an asset here) and increased use of SEM will likely follow. As for AWAY (Neutral rated, $39 PT), the rental category's LT evolution to online bookings is a double-edged sword; it improves the customer experience in various ways, but it also attracts OTA competitors already well-versed in the key leverage points of this new model. How seamlessly AWAY can navigate this shift is unclear, but we remain more positive than negative on the stock, given AWAY's listings and brand advantage/headstart in the "sticky" for-rent-by-owner category."
On October 10, Susquehanna Financial Group gave Priceline a Positive rating with a $1,475.00 price target, saying that the company is likely to continue prospering despite the slowdown in Europe.
"We like Priceline too as our latest hotel revenue manager conversations indicate continued Priceline share gains within the OTA and online travel spaces in the U.S. and Europe. These solid travel trends should translate to continued strong core Priceline gross profit growth, as we model ~33% and ~34% core gross profit growth in 3Q and 4Q, respectively...roughly in-line with 2Q. Combining the "core" with Kayak and OpenTable (See Fig 4) we see ~34%-37% gross profit growth in the back-half of 2014."
On October 15, Credit Suisse gave Priceline an Outperform rating with a $1,550.00 price target, citing resilient demand in the third quarter.
"While the depreciation of the euro in 4Q14 has been the focus of investor attention, our analysis suggests that the sensitivity of PCLN's business to changes in the EUR/USD rate has declined over time, suggesting that regions outside of Europe have increased in importance. Even though the US dollar has demonstrated broad-based strength, we note: (1) The magnitude of this strength (relative to the USD/EUR rate) in key seasonal travel markets, such as Southeast Asia and Brazil is less pronounced (2) We believe Booking's US efforts continue to pick-up momentum, and are hence an offset. As such we lower our Int'l Bookings and Adj. EBITDA estimates for 4Q14 by 500bps vs. a rate equivalent to the 700bps decline seen in the EUR/USD rate."
On October 2, FBR & Co gave Priceline an Outperform rating, noting that both Priceline and Expedia have the upper hand as far as online travel booking.
"Rate parity was born in the post-9/11 recovery. Chains were pushing to drive direct business and worried that OTA discounting would undermine pricing integrity. Rate parity clauses are now standard for EXPE and PCLN and have evolved to their advantage. Hotels cannot offer a better price on their own sites, and smaller OTAs are effectively blocked from discounting. With little price discrepancy, EXPE and PCLN have the edge in search channels given their large advertising budgets and high conversion rates. Without rate parity, hotels could keep the best price for their own sites, and smaller OTAs could discount by giving up commission dollars. That said, even with discounts it would likely be tough for small OTAs to challenge EXPE and PCLN given their dominance in search channels, significant financial resources, and ability to discount themselves. Independent hotels could keep a better price for their own sites, but many have subpar sites with low conversion and limited search visibility. Finally, EXPE and PCLN each own metasearch sites, which would presumably rise in relevance with a wider spread in hotel pricing."
Economic Releases
Aside from the central bank meetings taking place next week, investors will be focusing on U.S. labor data for a better clue about the nation's economic progress. After GDP figures showed that the U.S. economy fared better than expected in the third quarter, investors will be scouring employment data for any signs of weakness.
Daily Schedule
Monday
Earnings Releases Expected: Loews Corporation, Ryanair Holdings plc, Sysco Corporation, Texas Roadhouse, Inc.
Economic Releases Expected: Japanese manufacturing PMI, Australian trade balance, US manufacturing PMI, Greek manufacturing PMI, German manufacturing PMI, Spanish manufacturing PMI
Tuesday
Earnings Expected: Tesco Corporation, CVS Corporation, Office Depot, Inc., priceline.com Incorporated, Alibaba, Motorola, Inc., 21

st

Century Fox, TripAdvisor, Inc.
Economic Releases Expected: Chinese services PMI, US factory orders, US redbook, US trade balance, eurozone PPI, British construction PMI
Wednesday
Earnings Expected: Tim Hortons Inc., Duke Energy Corporation, Time Warner Inc.
Economic Releases Expected: US oil inventory data, US composite PMI, US services PMI, eurozone retail sales, British services PMI, eurozone composite PMI, eurozone services PMI, German services PMI, French services PMI, Italian services PMI, Spanish services PMI
Thursday
Earnings Expected From: No notable earnings expected
Economic Releases Expected: European Central Bank and Bank of England policy statement and interest rate decision, British manufacturing production, British industrial production
Friday
Earnings Expected From: CVR Energy, Chevron Corporation
Economic Releases Expected: Chinese trade balance, US unemployment rate, British trade balance, Spanish industrial production, French trade balance, German trade balance, German industrial production
View Comments and Join the Discussion!
Posted-In: Earnings News Previews Global Pre-Market Outlook Markets Trading Ideas Best of Benzinga