Earnings Expectations For The Week Of October 20: The Crunch Continues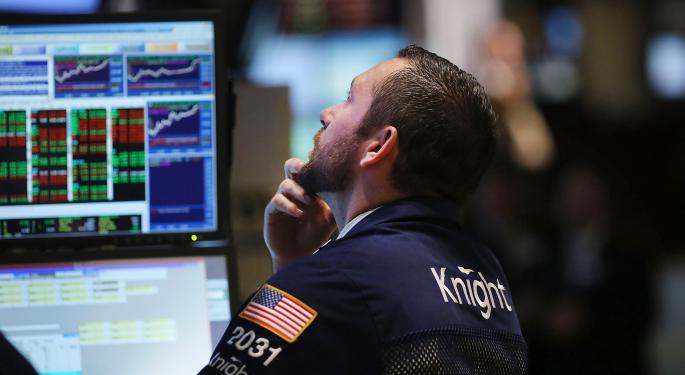 The earnings crunch continues this week, with quarterly reports due from tech and drug giants, the big automakers, airlines and many more.
Analysts are looking for year-on-year earnings growth from the likes of:
However, the forecasts for AT&T Inc. (NYSE: T), Ford Motor Company (NYSE: F), Microsoft Corporation (NASDAQ: MSFT) and Yahoo! Inc. (NASDAQ: YHOO) call for shrinking earnings.
Here is a quick day-by-day run down of analyst expectations for these and some of the week's other prominent reports.
See also: Benzinga Weekly Preview: Earnings Season Is In Full Swing
Monday
Apple's third-quarter report after the markets close will be one of the week's highlights, as it is the company's first since the launch of the iPhone 6. The Cupertino, Calif.-based company is expected to say that it had earnings per share (EPS) of $1.31 and that its revenue totaled $39.85 billion for the three months that ended in September. That would be up from $1.18 per share earnings and $34.74 billion in revenue in the year-ago period. Note that 30 days ago the consensus EPS estimate was just $1.29.
Monday's other anticipated earnings gainers include Gannet, Halliburton, IBM and Texas Instruments. Peabody Energy is expected to post its largest per-share net loss in the past year.
Tuesday
Verizon steps into the earnings spotlight before the opening bell, while Yahoo shares its most recent results late Thursday. Analysts are looking for EPS from the former to have increased from $0.77 a year ago to $0.91 in the third quarter. The forecast for the latter has EPS four cents lower than a year ago to $0.30.
Revenue is expected to tell a similar story: up more than 4 percent to $31.58 billion at Verizon and down more than 3 percent to $1.04 billion for Yahoo. Note that the consensus EPS estimates for both companies have ticked down by a penny or two in the past 60 days.
In addition, Broadcom, Discover Financial Services, Kimberly-Clark, Lockheed Martin and United Technologies are expected to show earnings gains on Tuesday. EPS will be flat at Coca-Cola and lower at Harley-Davidson and McDonald's, if analysts are correct.
Wednesday
Late in the day, AT&T is expected to post a profit of $0.64 per share, which would be two cents less than in the same quarter of last year. Note that its earnings fell short of consensus estimates by a penny in the previous period. Yet, the anticipated third-quarter revenue of $33.26 billion would be more than 3 percent higher year over year.
Analysts on average believe Abbott Laboratories, Boeing, Dow Chemical, EMC, U.S. Bancorp and Weatherford International will report earnings growth in the middle of the week. However, quarterly EPS are expected to be the same as a year ago at Xerox.
Thursday
This will be one of the busiest days of the earnings season so far. The forecast for Comcast calls for a more than 8 percent gain in earnings to $0.71 per share, as well as for revenue of $16.84 billion, which more than 4 percent higher than in the same period of last year. The consensus EPS estimate is unchanged from 60 days ago. The media giant will share its results before the opening bell.
Also in a before-the-open report, GM will post per-share earnings of $0.98 on revenue of $39.60 billion, if the consensus forecast is correct. That would compare to EPS of $0.96 and $38.98 billion in revenue in the year-ago period. That consensus EPS estimate has ticked down by two cents in the past 30 days, and EPS fell short of expectations in two of the past four periods.
After the markets close, the earnings spotlight will fall on Microsoft, for which earnings of $0.49 per share are forecast. That would be down about 21 percent from a year ago, and the lowest quarterly EPS in the past year. However, analysts also expect revenue of $22.02 billion for the third quarter, or growth of almost 19 percent.
Also on Thursday, look for earnings gains from American Airlines, Celgene, Dunkin' Brands, Juniper Networks, Nokia, Pandora Media, Potash Corp. of Saskatchewan, Southwest Airlines, 3M, United Continental and Union Pacific, as well as for lower EPS from American Electric Power, Caterpillar, Eli Lilly, JetBlue Airways, KKR, Occidental Petroleum and PulteGroup.
However, Altera is forecast to post earnings that are about the same as a year ago. Analysts are looking for a second quarterly net loss in a row from Amazon.com.
See also: Top 20 Financial Pundits To Follow On Twitter
Friday
To wrap up the week, analysts are looking for Ford to say that EPS for its third quarter dropped more than 55 percent from a year ago to $0.20. Revenue is expected to have retreated less than 2 percent to $33.22 billion. The car maker is scheduled to share its results before the opening bell.
EPS are also expected to have drooped at drug makers AbbVie and Bristol-Myers Squibb, but to have grown at consumer products giants Colgate-Palmolive and Procter & Gamble, as well as ostensible economic bellwether UPS.
Keep up with all the latest breaking news and trading ideas by following Benzinga on Twitter.
Posted-In: Apple AT&TEarnings News Previews Top Stories Pre-Market Outlook Trading Ideas Best of Benzinga
View Comments and Join the Discussion!