Alibaba Group Holding Ltd And Oracle Corporation: A Tale Of Two Technology Stocks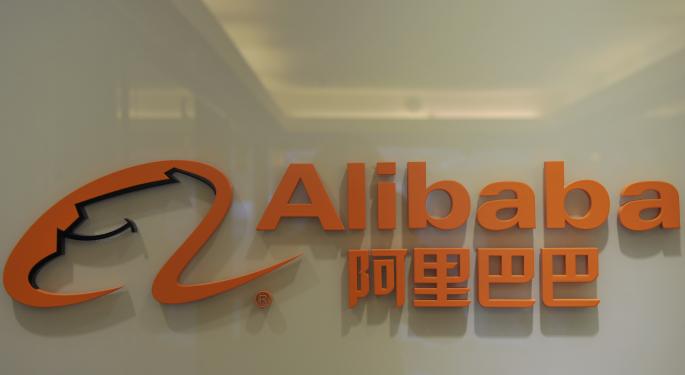 An incredible amount of attention has been lavished upon Alibaba Group Holding Ltd (NYSE: BABA) as the company became public in one of the most hyped IPOs in history.
Alibaba, already very profitable, fast growing and having a stranglehold on the burgeoning Chinese E-commerce market is a company that –- for the right price –- almost any investor would love to have in their portfolios. While the IPO is priced at $68 per share, the first secondary market shares traded in the $93 dollar range, illustrating the fierce demand.
Over the last 12 months the company has brought in $8.5 billion in revenues, $3.7 billion in net income and top line growth of about 50 percent year over year. The $3.7 billion in net income (or free cash flow) equates to about $1.69 per share and a simple P/E of around 53.
Related Link: 2 Great Ways To Invest In Commodities
Established, Cheaper
On the opposite end of the spectrum is Oracle Corporation (NYSE: ORCL). Oracle is a large established software company that recently grabbed some headlines with the changing of top management. Founder Larry Ellison has stepped down as CEO and transitioned to executive chairman of the board and chief technology officer, while Mark Hurd and Safra Catz are now sharing the CEO duties.
Some investors were disappointed by the latest earnings report that showed mixed overall results and brought the stock down about 6 percent. Oracle, over the last 12 months, has brought in $38.5 billion in revenues, $14.8 billion in net income and delivered top line growth of about 3 percent year over year. The $14.8 billion in net income (or free cash flow) equates to about $3.00 per share and a P/E of around 12.9.
The Better Buy?
Does the much higher growth rate for Alibaba make that stock the better buy despite the much higher valuation ratios? Or does the significantly lower price to revenue, free cash flow and earnings ratios of Oracle make that a better pick?
The answer depends on an investor's growth expectations and risk tolerance.
Instead of trying to come up with a "fair value" for both companies, another (more useful in this case) metric comes from solving for another variable. Assuming an investor demands a 10 percent total return for either stock, consider how much future earnings growth is needed to generate that return given current valuations.
Using a discounted cash flow model with the current cash flows, a 10 percent discount rate and the current stock prices as hard inputs, the future growth rates to justify current valuations can be calculated.
Growth Expectations
As one might expect, the resulting future market growth expectations for the companies are very different.
For Alibaba free cash flow must grow at an annual 30 percent for the next five years, 18 percent for the following five years and then slow down to an overall GDP pace of around 3 percent per year. Many other "combinations" of growth will get close to the same answer, but this version gives a good idea of the 'breakeven' expectations.
For Oracle, the bar is set much lower. Oracle simply has to grow at 3 percent per year for the next 10 years and 2.5 percent thereafter to get an investor 10 percent on their money.
The analysis does not tell you what stock will return the most over the next 10 years but gives an investor a good idea of the future growth levels the companies have to achieve to get the same amount of total return (10 percent per year).
Value and more conservative investors will most likely be attracted to the more predictable cash flows and modest expectations built into Oracle stock, while growth investors would prefer the explosive potential of Alibaba.
Posted-In: Alibaba Oracle Corp.Long Ideas IPOs Tech Trading Ideas Best of Benzinga
View Comments and Join the Discussion!